This post may contain affiliate links. Read my disclosure policy here.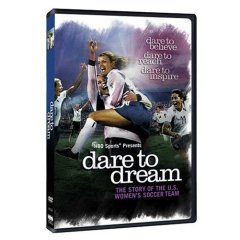 I thought that Dare to Dream: The Story of the U.S. Women's Soccer Team might be a great show to watch with my nine-year-old soccer playing daughter. I could never quite get her interested (she's not much of a movie buff), so I watched it alone one rainy afternoon. I'm so glad that I did. This is a HBO films DVD, and is rated TV-PG. I would rate it a PG-13 for several uses of language (more than I would hear on an hour long TV adult drama). That aside, this is quite an inspiring drama. As women, we've come to take for granted that we can do anything we want, we can achieve, and we can be noticed.  Few opportunities are considered to be for men only; however the disparity between men's and women's professional sports is great.  This DVD chronicles the choices that the women made which allowed them to be a part of the most well-known and successful professional women's team (in America, anyway).  It is told as a sort of retrospective looking at the women who really became the faces of the team and helped encourage those younger soccer stars that professional athlete is a career option, not just a hobby or a pipe dream.
Mia Hamm joined the team when she was only fifteen years old.
Joy Fawcett returned to practice only a few weeks after having her first baby, and managed to balance starting a family and playing sports on the road.
Michelle Akers played in spite of battling Chronic Fatigue Syndrome.
After retiring after playing for seventeen years as a team, these women, along with Julie Foudy, Brandi Chastain, and Kristine Lilly, look back on how they helped build the sport and foster the dreams of girls everywhere.
We have five copies to give away (U.S. addresses only).  Leave a comment if you'd like to win, and we'll draw a winner on Saturday, October 20.