This post may contain affiliate links. Read my disclosure policy here.
Today, my Olivia and Susan's Sophia and Julia were all sick with fevers. All were incredibly fussy and needy — only Mommy would do!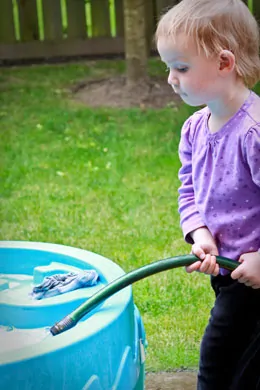 At about 3pm, Olivia decided she wanted to go see Sophia and Julia. The benefit of them all being sick is we don't have to worry about keeping them apart.
In hopes that Sue's kids would distract Olivia and I might get a bit of work done, I packed up Olivia, my laptop and my camera and headed over to Susan's. (My mom did me a huge favor and picked up Jackson after school and brought him to me at Susan's house.)
At one point in the late afternoon, Olivia got it into her head that she wanted to play outside in Susan's tiny, townhouse backyard, with their filthy, haven't-used-since-last-summer, water toy.
Now it may be the first day of summer, but summer hasn't arrived here. It was hardly weather for feverish children to engage in water play, but I thought maybe we could just go outside for a few minutes, stay dry, and satisfy her need for outdoor water play. (Yes, I know. Crazy mom fantasties!)
Only problem — the water toy was full of old, dirty water that had been growing all kinds of bacteria and algae (or whatever still water does!) for the past how many months.
I had no choice. I had to clean it.
Here is the closest I have to a BEFORE picture. Trust me — the water and algae that had been in there was vile! You can see the sides are still dirty. I hadn't washed them yet.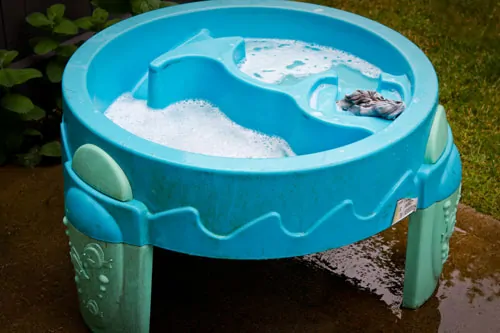 Olivia helped. She scrubbed: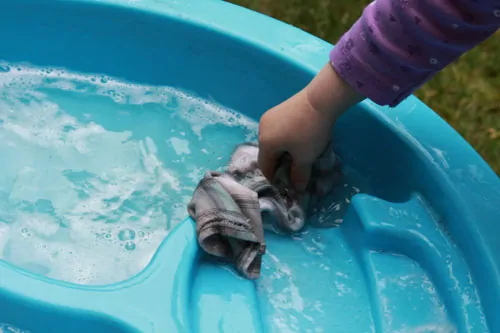 And then she got inspired to clean ALL of the toys in the backyard: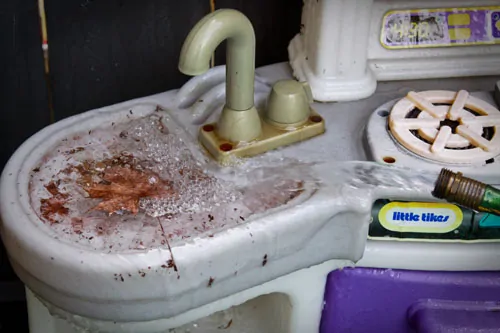 Julia came out for a few moments and gave Olivia directions on washing away a spider web: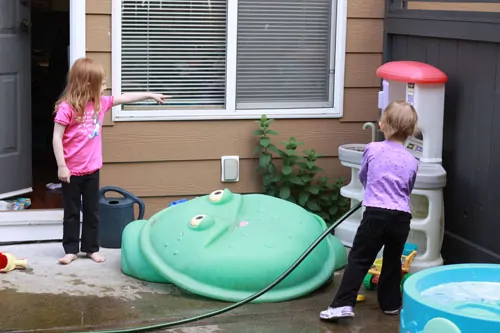 And then we cleaned the slide: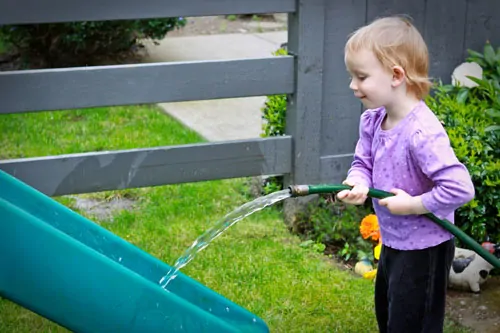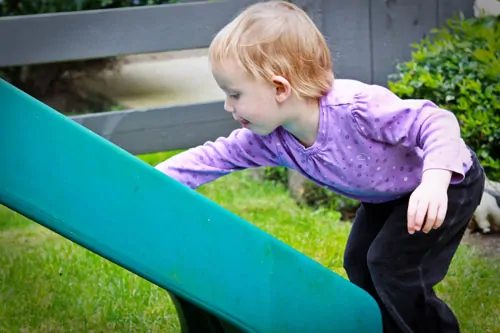 And here is the only AFTER photo I have. Because after this shot, my camera card was full. AND when I opened the door to our home office to put down my camera, Olivia turned the hose into the house to "clean" the soapy footprint I made. I screamed for Susan and for the next 20 minutes we tried to dry up the office floor and the piles of stuff Susan had next to her desk. Yes, after that I had no more energy in me to take further after shots. So here it is — get excited: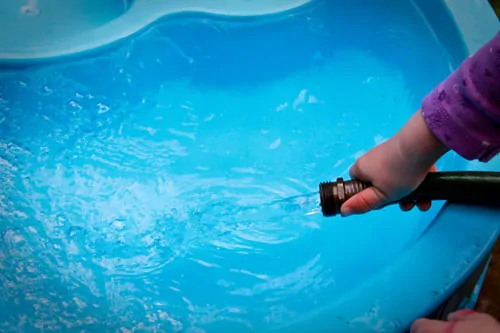 PS – The rest of the toys don't look nearly as good as this shot. I didn't really get them cleaned to perfection. Remember, I was cleaning with a sick toddler on a cool June afternoon when I was more than ready to sit down and eat dinner. And really, my goal was to clean the water toy. SO, tackle accomplished. Yes, we moms get to decide how much we care to tackle. Right?
PPS – Yes, Olivia was completely soaked by the end and I had to change all her clothes. And my jeans were soaked too. Fortunately, Olivia and I can always find clothes that fit us at Susan's house.