This post may contain affiliate links. Read my disclosure policy here.
Getting ready for school with Land's End…
It's time for back-to-school shopping! And I must admit with Jackson heading off to kindergarten, I am probably even more excited and nervous than he is. I am savoring all the anticipation and preparation, while still somewhat in shock that my baby is heading off to school already.
What about you and your kids – is your house buzzing with first-day-of-school excitement? What purchases are your kids most interested in?
According to a recent survey, 97 percent of kids 6 – 12 report that they "love wearing a new outfit to school on the first day of class." When pressed for what they thought was the most important, must-have item, girls chose jeans (27 percent), while boys chose backpacks (34 percent).
This past week we hit the store to buy Jackson's school supplies and today Jackson tried out his new Land's End Backpack.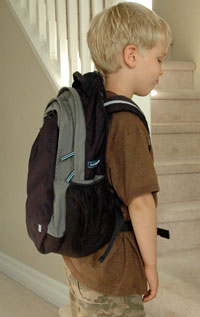 The Ergo Backpack features:
A back panel that adjusts for the best fit
Extra comfy memory foam shoulder straps
360° reflective trim to improve visibility
Hip belt to help stabilize the load
For music addicted kids – a MP3/CD player pocket and cord port that keeps them connected to their music
Two sizes – the Ergo – 17″Hx14″Wx7 1/2″D and the Ergo Jr. – 14 1/2″Hx14″Wx7 1/2″D
This backpack is perfect for keeping your kids comfortable while packing all their stuff back and forth to school. You can check out Land's End various backpack styles to find the right pack for your student.
And as usual, Land's End has a ton of totally cool clothes for the new year too. From adorable Mary Jane shoes to great jeans to colorful tees and polos – I could go crazy shopping for it all!
If you have some items still to buy on your back to school list, don't forget to check out Land's End.
And if you want to have a free shopping spree – leave your comment to be entered in our Land's End contest. Thanks to Land's End, we are giving one of you a $100 gift certificate to get your student(s) suited up in style! Just leave a comment and you will be entered in the draw. We will announce the winner in one week. (This contest is only open to US shipping addresses.)
Good luck and have a great school year! 🙂