This post may contain affiliate links. Read my disclosure policy here.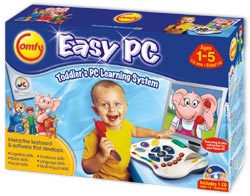 Julia thinks they probably do… because she loves hers!
The Comfy Easy PC System is a uniquely designed keyboard with accompanying software created specifically for children aged 1 to 5.
Julia (age 2) loves being a big girl and taking her turn on the computer.
When you purchase the Comfy Easy PC System, it comes with a special keyboard, a cable to allow easy Plug and Play connection to your home PC and a First Steps software CD. You can then select different software games for your child based on their age and skill level.
You simply plug the keyboard into your home computer, run a simple installation program and your youngster is ready to go!
You can watch an online demo here.
The Comfy Learning System only costs $69.99 and then the software programs are each $19.99.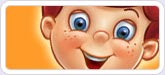 But… the friendly folks at Comfyland are going to give one of you an Easy PC System plus your choice of one software program for free!!!
Simply enter a comment and see if your tot is the lucky winner. (It's also a nice idea to link back here to let your readers have a chance to win too.)
We'll announce the winner Friday, Aug 24th.
UPDATE — The winner is Connie from Thoughts of a Wannabe. Congratulations!!!