This post may contain affiliate links. Read my disclosure policy here.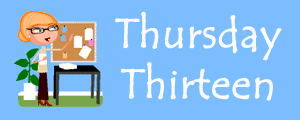 Banner by Chaotic Home
Today I was sitting at my laptop, visiting Wordless Wednesday posts, and feeling really stressed. No – I wasn't stressed about the WW posts, but about some other issues swirling around in my mind.

So I got up and went outside. I sat down on my porch, closed my eyes, and with my face turned to the warm sun, breathed out a deep breath and prayed. Not any specific words, just breathing out the stress and worry and leaving it in God's hands.

And that made me think of this Thursday Thirteen list.
13 Reasons I Love to Pray
I get to commune with the Almighty Creator! "'Then you will call upon me and come and pray to me, and I will listen to you. You will seek me and find me when you seek me with all your heart. I will be found by you,' declares the Lord." Jeremiah 29:12-14
I can unburden my worries and leave them with Him. "Do not be anxious about anything, but in everything, by prayer and petition, with thanksgiving, present your requests to God." Philippians 4:6
I become more peaceful. "And the peace of God, which transcends all understanding, will guard your hearts and minds in Christ Jesus." Philippians 4:7
I can thank Him for all He has done. "You are my God and I will give you thanks; you are my God, and I will exalt you." Psalm 118:28
I can experience joy. "My lips shout for joy when I sing praise to you – I, whom you have redeemed." Psalm 71:23
My mere prayers become powerful in His Name. "Until now you have not asked for anything in my name. Ask and you will receive and your joy will be complete." John 16:24
I can be disciplined and corrected. "Those whom I love I rebuke and discipline." Revelation 3:19
I can pray for people I love, and even for those I have never met. I can pray for situations I can't understand and with words I don't know. "In the same way, the Spirit helps us in our weakness. We do not know what we ought to pray for, but the Spirit himself intercedes for us with groans that words cannot express." Roman 8:26
I can surrender to God's will and be released from my imperfect plans. "As for me, I am in your hands; do with me whatever you think is good and right." Jeremiah 26:14
I can find wisdom and guidance. "If any of you lacks wisdom, he should ask God who gives generously to all." James 1:5
I can ask for forgiveness and receive it. "If we confess our sins, he is faithful and just and will forgive us our sins and purify us from all unrighteousness." 1 John 1:9
I can find comfort. "The Lord comforts his people and will have compassion on his afflicted ones." Isaiah 49:13
I can find the strength to go on. "He will keep you strong to the end, so that you will be blameless on the day of our Lord Jesus Christ." 1 Corinthians 1:8
Get the Thursday Thirteen code here!
The purpose of the meme is to get to know everyone who participates a little bit better every Thursday. Visiting fellow Thirteeners is encouraged! If you participate, leave the link to your Thirteen in others comments. It's easy, and fun! Be sure to update your Thirteen with links that are left for you, as well! I will link to everyone who participates and leaves a link to their 13 things. Trackbacks, pings, comment links accepted!
View More Thursday Thirteen Participants