This post may contain affiliate links. Read my disclosure policy here.
Do you have a teenager who is learning to drive? If you have teens who are nearing the age of getting their licenses or they have just gotten their driver's license, be sure to join our #LetsMasterThis Twitter Chat with Liberty Mutual on Thursday, August 9th at 2 pm Eastern.
UPDATE: Thank you to everyone who joined the chat. We had a fantastic conversation and learned so many great tips from everyone.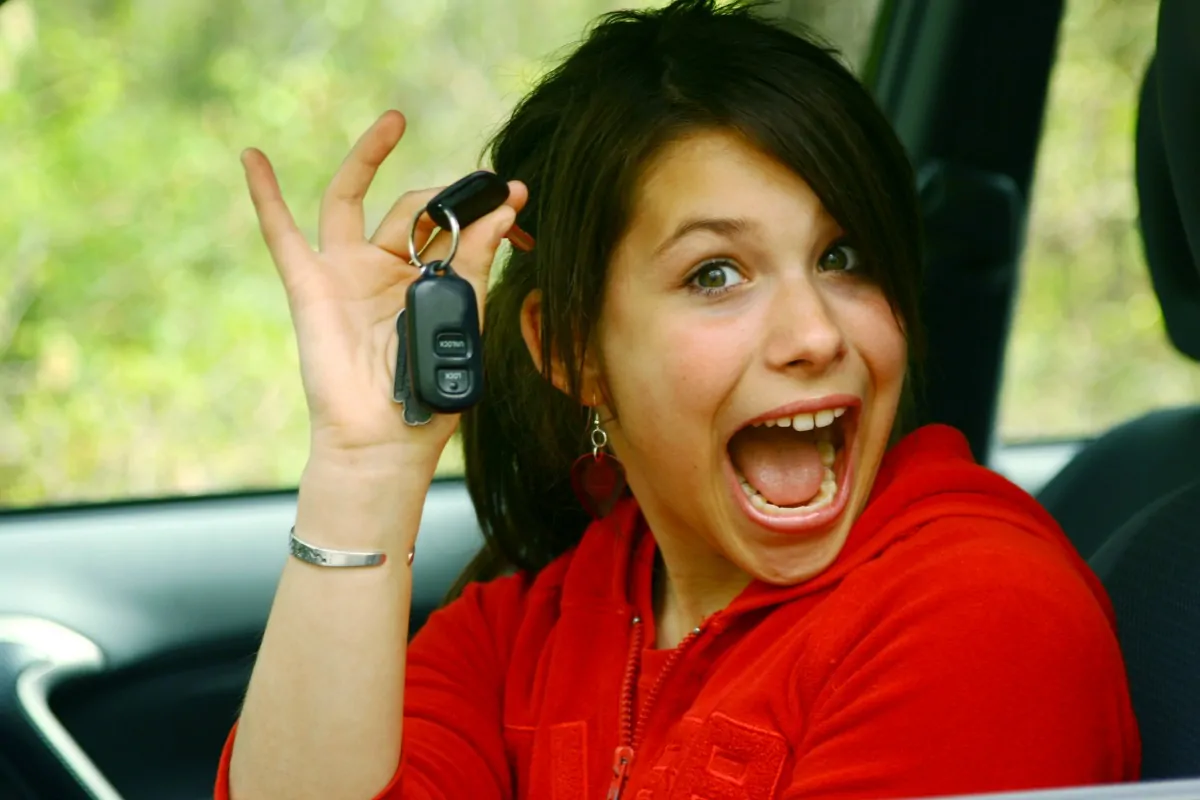 We are excited to join Liberty Mutual again to host another helpful chat about safe driving tips for teens. We will learn real life tips and share ideas to help you promote safe driving with your teenager.
The best part of a Twitter Chat… or a Twitter Party as we like to call them… is hearing from you and all the participants who join the conversation.
We're looking forward to hearing about your experiences with your teens!
So please be sure to join us for the #LetsMasterThis Twitter Chat with Liberty Mutual on Thursday, Aug 9th at 2pm to 3pm Eastern.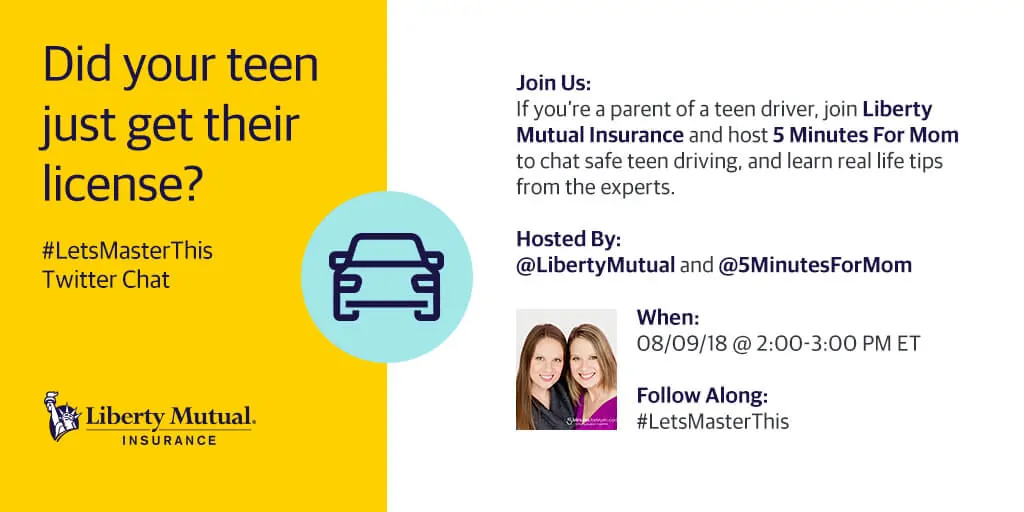 And to turn the chat into a party, we're giving away prizes! Join the chat to have a chance to win one of four $100 Visa gift card giveaways!

#LetsMasterThis Twitter Party Details
Date: Thursday Aug 9th
Time: 2:00 – 3:00 pm Eastern / 11:00 am – 12:00 pm Pacific
Hashtag: #LetsMasterThis
Hosted By
Prizes:
There will be 4 (FOUR) $100 Visa gift card prizes awarded during the party. NO RSVP required. Winners will be randomly chosen from those participating during the chat with the hashtag #LetsMasterThis. Eligibility: Prizing is open to both US and Canadian residents.
Highlights From The Twitter Chat
Here are a few tweets from the chat… you can see the entire thread at #LetsMasterThis.
I'm a mom so my day is booked from morning to night.

Did you know that 27% of parents admit to multi-tasking while driving in the @LibertyMutual study? #LetsMasterThis #ad pic.twitter.com/z5Ysya0MBL

— 5minutesformom (@5minutesformom) August 9, 2018
@LibertyMutual study found that 27% of teens admit to speeding 10+ MPH over the speed limit. Make sure your teen knows this behavior isn't acceptable and could have serious consequences. #LetsMasterThis pic.twitter.com/zTVih6Da7T

— Liberty Mutual (@LibertyMutual) August 9, 2018
The @LibertyMutual study found that 37% of us use apps while driving – almost as often as our teens! #LetsMasterThis #ad pic.twitter.com/tzfgmLPIM5

— 5minutesformom (@5minutesformom) August 9, 2018
30% of parents who don't always enforce rules say it's because it's hard to monitor their teens. Tools like @LibertyMutual's RightTrack can help monitor your teen's behavior on the road. https://t.co/tGlb2JkzeI #LetsMasterThis pic.twitter.com/XJasS5QXkC

— Liberty Mutual (@LibertyMutual) August 9, 2018
Parents and teens should set driving rules together to help keep everyone safe on the road. The Teen Driving Contract is the perfect tool to start the conversation. https://t.co/X8IByTZnS5 #LetsMasterThis

— Liberty Mutual (@LibertyMutual) August 9, 2018
Even at a stop sign or red light, I never text or check my phone. The @LibertyMutual survey found that 34% of parents consider using their phone at red lights and stop signs to be safe. Yikes! #LetsMasterThis #ad pic.twitter.com/jJqXhojbHr

— 5minutesformom (@5minutesformom) August 9, 2018
#Study – 65% of parents say they speed because they're running late. Being somewhere on time isn't worth putting you and others on the road at risk. #LetsMasterThis pic.twitter.com/8SNg4OAUW5

— Liberty Mutual (@LibertyMutual) August 9, 2018
Pin it for Later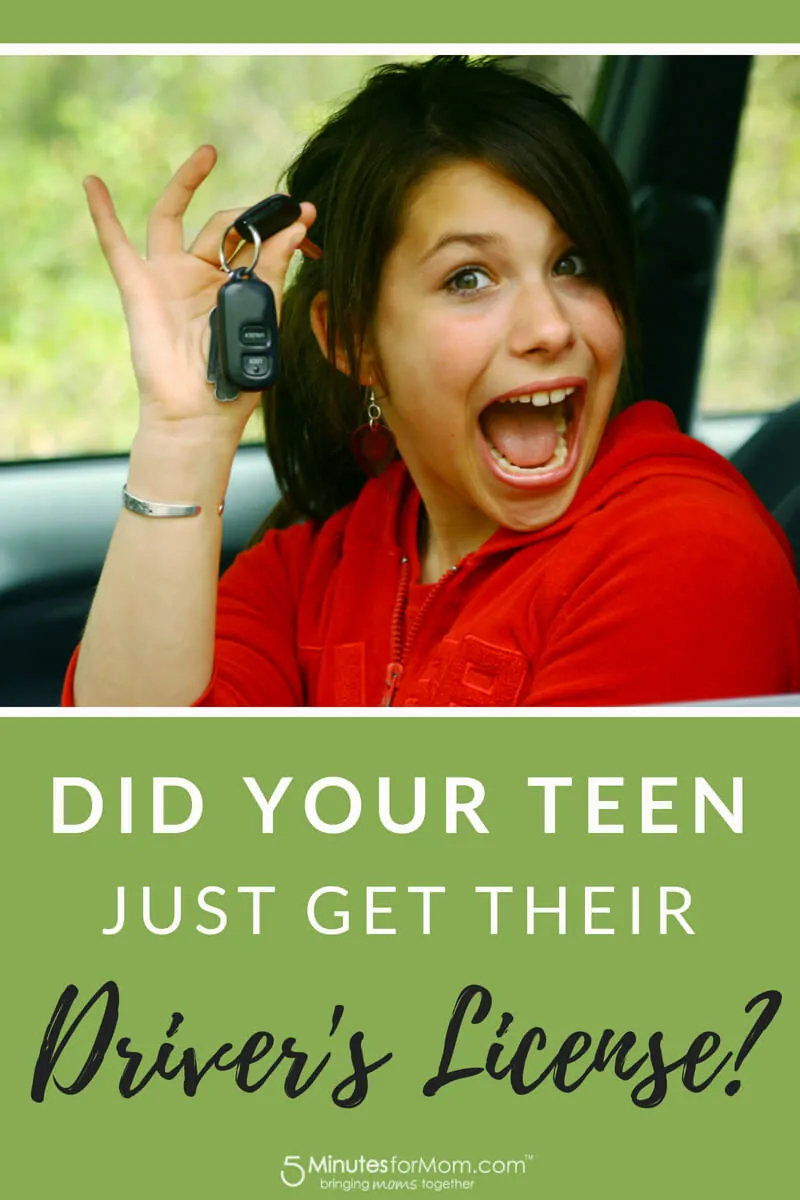 Disclosure: This post and the Twitter Party is sponsored by Liberty Mutual Insurance.
Written by Susan Carraretto, co-founder of 5 Minutes for Mom
Talk with me: @5minutesformom and Facebook.com/5minutesformom
Pin with me at pinterest.com/5minutesformom