This post may contain affiliate links. Read my disclosure policy here.
Jennifer Donovan here, in partnership with Workman Publishing's Big Fat Notebooks series, to offer some ideas to help optimize your tween's study space at home.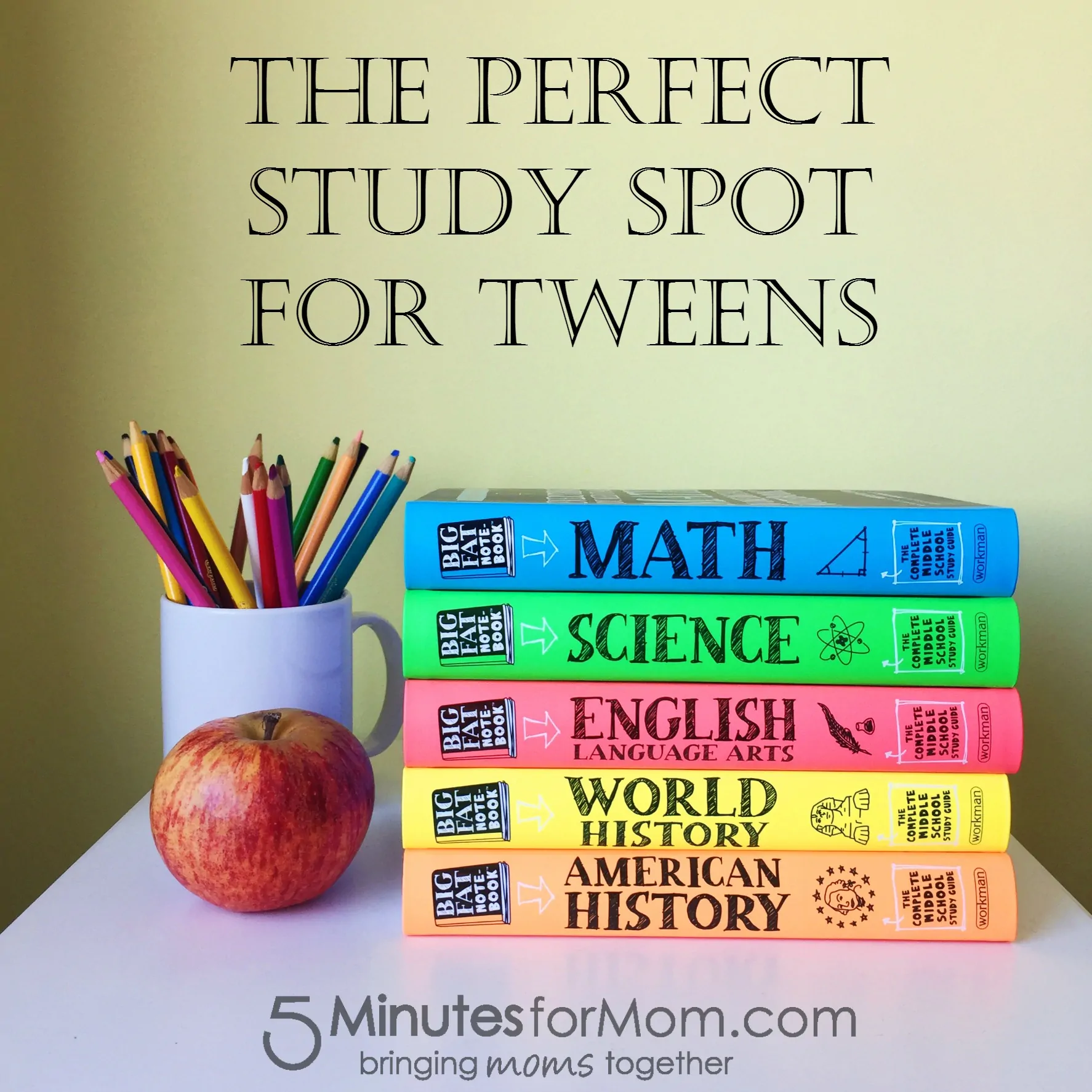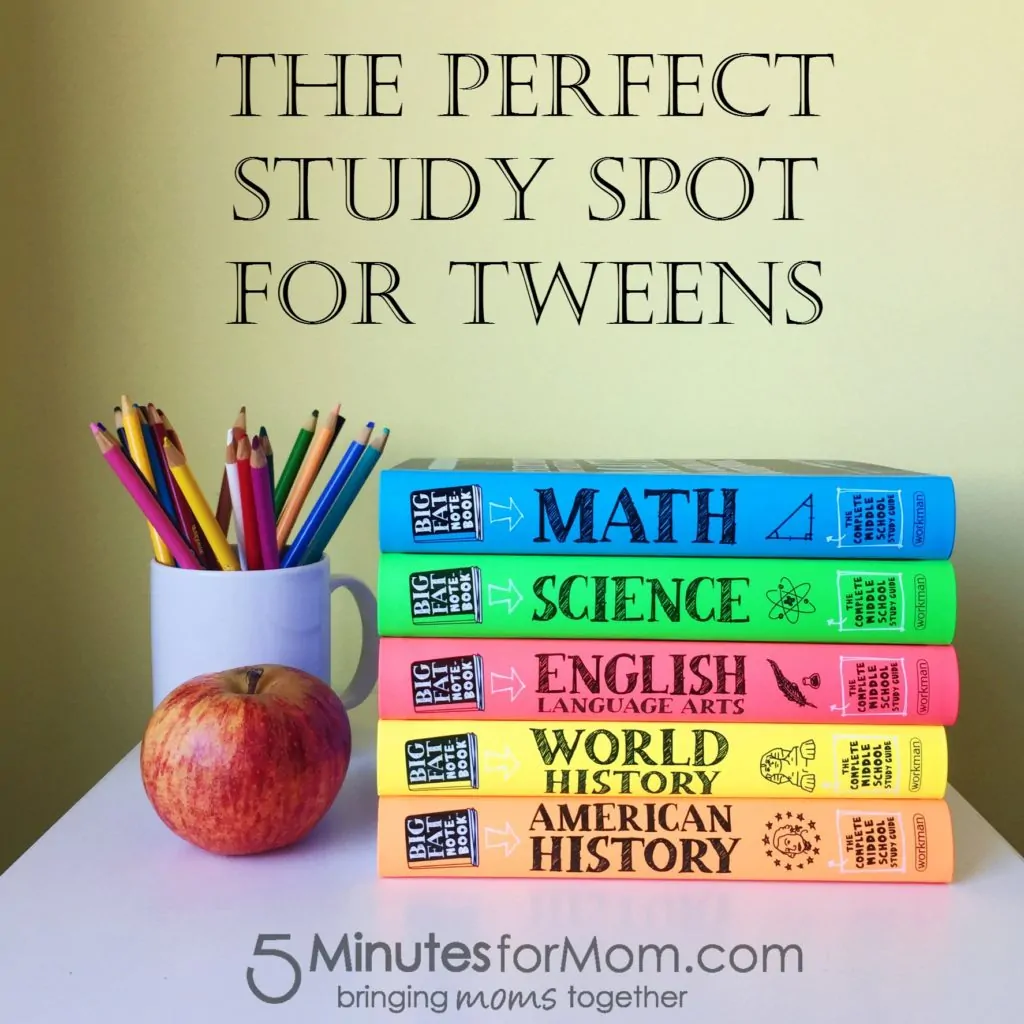 Individualize
I have a son in middle school and a daughter who is in her freshman year in college. The two of them have highly different needs when it comes to the perfect study environment, and it taught me that it is crucial to a child's success to think about his or her individual needs. The following points will help you consider some of the elements that can make your child's study spot perfect for him or her.
Environment
An area with good lighting and writing surface is critical to doing neat work. Even my son quickly recognized that doing his homework upstairs in his room did not work for him. One's brain associates certain spaces with specific activity. His room is generally for sleeping or reading or relaxing.
I've read that just sitting down in a designated space can get a person more ready to do that activity. So having a designated study space can make it that much easier to buckle down to the task at hand. Some students need complete quiet and privacy, whereas background activity can help others focus.
My son is in the latter group. He stays on track better if he's in a public area and has some company. There's a desk in the living room, right off the kitchen, that meets all the requirements.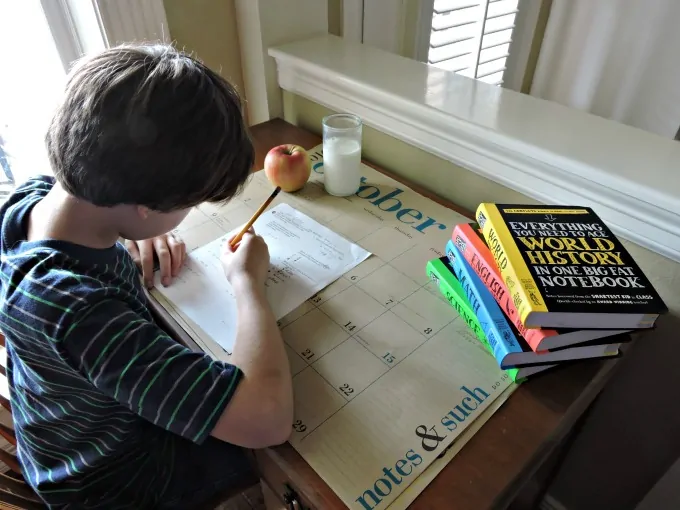 Eats
I don't know if the food helps him focus, or he likes the distraction of not only focusing on the dreaded work in front of him, but Kyle enjoys a snack when he's hitting the books.
He's a big milk drinker, and he needs the fat and protein, so that usually accompanies his snack. If we have baked goods in the house, he might have dessert, but he often reaches for an apple or strawberries, knowing that never gets an objection from me.
Empower
One of the ways I empower my son is allowing him to decide WHEN he does his homework. Experts say that a designated time and place is key, but I do not think that it always has to be right after school. When he was in elementary school, which had a later start time, he enjoyed doing his homework at the kitchen table first thing in the morning, before school. He woke well before he had to catch the bus, and he was focused then.
Things have changed, and not just the earlier start time of middle school.
The adolescent hormones have kicked in, so his body naturally stays up later and is not enjoying the earlier wake up call. Since I do not allow electronics after a certain time at night, and he's not ready to go to bed yet, Kyle has decided to work on his homework before bed.
Allowing him to choose when he works on his assignments puts him to be in the right frame of mind when he sits down to work.
Another way that I empower him is by giving him resources. Before I respond to any call for help, I make sure that he has double-checked any teacher's instructions or handouts. If that does not clarify it for him, he (and I) have the Big Fat Notebooks reference series for further instruction. It is especially helpful in Math or English, because we can see examples of the point in question.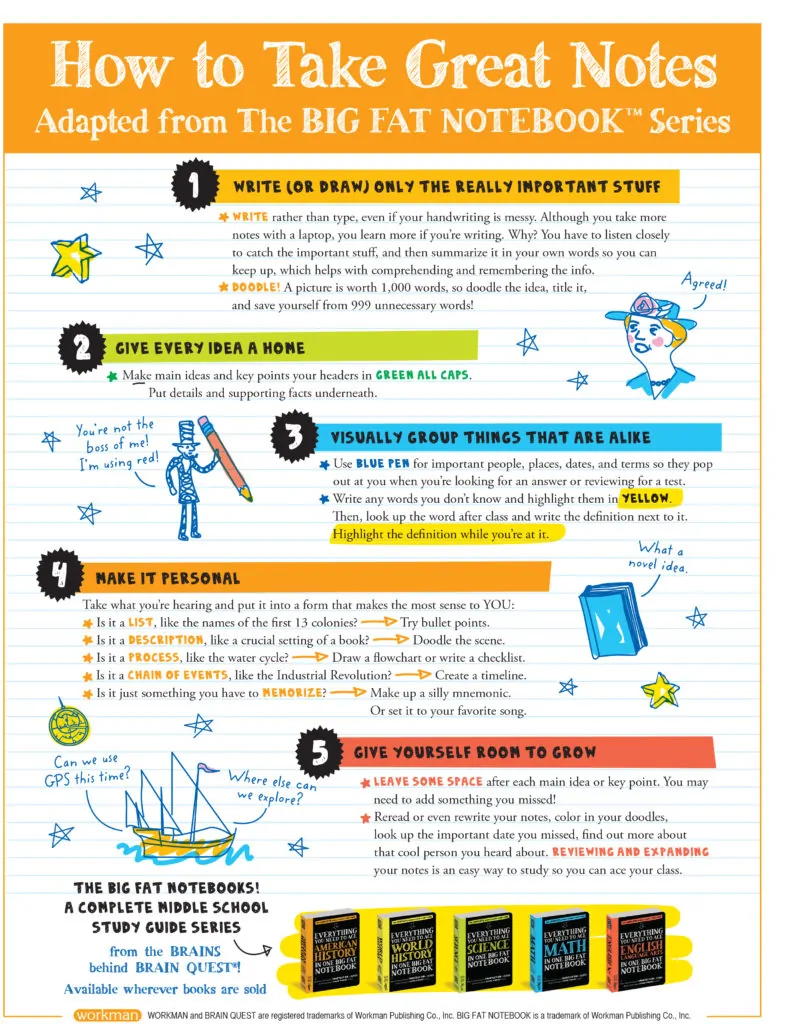 My son's history teacher made a video showing the students (and the parents who inevitably help their kids) how to use an interesting note-taking strategy when reviewing for a test. I liked that they are helping the students learn this important skill of note-taking, and empowering them to learn how to best retain the knowledge needed for a test. When I saw this Big Fat Notebook resource that confirmed some of the same ideas — like using pictures to represent concepts — I knew they were on the right track.
Find out More
It's the revolutionary study guide series just for middle school students from the brains behind Brain Quest.
The BIG FAT NOTEBOOK series is built on a simple and irresistible concept — borrowing the notes from the smartest kid in class. There are five books in all, and each is the only book you need for each main subject taught in middle school: Math, Science, American History, English Language Arts, and World History. Inside the reader will find every subject's key concepts, easily digested and summarized: Critical ideas highlighted in neon colors. Definitions explained. Doodles that illuminate tricky concepts in marker. Mnemonics for memorable shortcuts. And quizzes to recap it all.
The BIG FAT NOTEBOOKS meet Common Core State Standards, Next Generation Science Standards, and state history standards, and are vetted by National and State Teacher of the Year Award–winning teachers. They make learning fun and are the perfect next step for every kid who grew up on Brain Quest.
Visit the Official Site
Follow the Workman Blog
Purchase #BigFatNotebooks at the following retailers:
SOCIAL MEDIA
Follow @WorkmanPub on: