This post may contain affiliate links. Read my disclosure policy here.
If I could afford to rip all our carpets out and put flooring down I would. The thought of all the germs clinging to the carpet fibers horrifies me. No matter how often I vacuum, I know I am not really "cleaning." The carpet may look cleaner, but the bacteria, mold and dust mite eggs that were lurking beneath the dirt and dust are still there.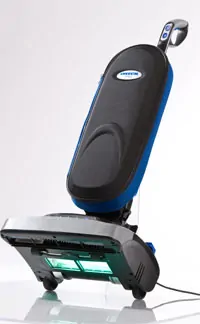 So when the opportunity to test out the Oreck Halo vacuum, the "world's only UV-C germ-killing vacuum," appeared in our inbox I jumped at the chance. Even if it doesn't kill all the germs and bacteria on my floors, at least it is moving in the right direction!
According to Oreck, the Oreck Halo kills germs, bacteria, viruses, allergens and mold without using any chemicals or sprays.
This germ killing action is thanks to the Patented Halo light chamber. "The light produced by the patented Oreck Halo light chamber magnifies and concentrates ultraviolet light in the C spectrum. UV-C light is a natural source of light that the sun produces and can be a better alternative to harsh chemicals… Labaratory studies prove it to be effective at reducing bacteria, germs, and other contaminants on various floor surfaces."
Now, I am no scientist and I have no lab at my disposal to test Oreck's findings. But as I said, even the promise of some germ killing gets me excited. I have a toddler who eats off the floor and carpets that are a decade old!
"With each back and forth motion of the Oreck Halo, you'll see up to an 80% reduction in the bacterial load found on carpet."
– Dr. Stan Kikkert, Microbiologist
Here is a video demonstrating how the Oreck Halo works:
As for my home testing? I am pleased with the Oreck Halo and will be using it as my new vacuum. (I just have to hide it so Susan doesn't steal it from me!) 😉
Although it isn't the lightest or easiest to maneuver, the Oreck Halo has powerful suction and slides easily under furniture.
As well, according to Oreck, the Oreck Halo has disposable cloth dust filter bags made with one of the highest quality HEPA materials for maximum air filtration and home air quality that help trap 99.95% of the dirt and germ particles that the Oreck Halo kills and suctions from carpets and floors.
Overall, I feel like vacuuming with the Oreck Halo is helping to reduce the germs and allergens in my home — while I am easily vacuuming up all the visible dust, dirt, and debris. That makes it a win-win to me!
For more information on how you can enter to win this innovative vacuum, valued at $599.99, read below.
Here's how you can enter to win:
See our Christmas Giveaway 2009 post to read more about
participating in our Christmas Giveaway

Either link back to this post and include a Christmas Giveaway 2009 button in that post or on your sidebar, or link to the individual giveaways you choose to enter. We have a ton of different buttons and styles for you to choose from. Click here to get the button codes. (If you post and include the button, either in your post or on your sidebar, and link back here, you are good for all the giveaways. No more linking required.)
You can check out the Oreck Halo and then come back to this post and leave one comment below telling us what feature you find most exciting about the Halo.
You may earn additional entries for the following:
If you are already subscribed and are on our newsletter list, you qualify for these two additional entries. Go ahead and leave your additional comments below.
Spread the word to your friends via your blog, twitter, etc.
Remember to leave a comment for each thing you do!
Entries are open until Friday, December 4th at 12pm EST.
Our winner will be drawn randomly and we will announce the winner Saturday, December 5th. Please make sure to check our site and your email address to see if you have won a prize. We must receive your reply within 5 business days. (If you want your prize to arrive in time — the sooner we hear from you, the better!)
This contest is open to US AND Canadian shipping addresses. Due to legal restrictions, this promotion void where prohibited.
Please see our site's Terms and Conditions of Use for a complete list of our Contest and Giveaway Rules.
* We received an Oreck Halo to review.
Written by 5 Minutes for Mom co-founder, Janice Croze.