This post may contain affiliate links. Read my disclosure policy here.

RUVAcards is a mom-owned, mom run design company that offers eco friendly products that are both functional and beautiful. From their greeting cards, invitations, birth announcements and every day stationary to their precious magnets that arrive in a vintage tin, RUVAcards offers a wide variety of sweet products.
RUVAcards goal is to help people celebrate their connections to each other through personalized stationery, greeting cards and newly added gifts. They have an eclectic selection of cards from Independent Designers country wide, Recycled content paper and 100% recycled envelopes. Recently they were featured in Everyday by Rachel Ray for their kid's artwork holiday cards.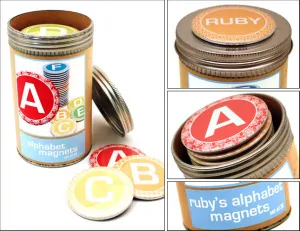 In this year's Christmas Giveaway, you have the chance to win a set of RUVAcards magnets as well as a set of personalized stationary. The Magnets are a very fun gift for preschoolers learning to spell. They are also handy for hanging up the artwork that your little ones love to so proudly display. The Alphabets Magnets set includes 26 magnets in 13 colors and patterns all packaged in a personalized vintage container. The best part is that they'll customize an extra magnet for you with the name of your child, and the color of your choice!
The set of stationary cards is personalized with your child's artwork. Just send RUVAcards a scanned copy of your child's drawing and they will create custom stationary out of it. Each stationary set includes 16 cards and envelopes.
For more information on how you can enter to win these fabulous prizes, read below.
See our Christmas Giveaway 2009 post to read more about
participating in our Christmas Giveaway

Either link back to this post and include a Christmas Giveaway 2009 button in that post or on your sidebar, or link to the individual giveaways you choose to enter. We have a ton of different buttons and styles for you to choose from. Click here to get the button codes. (If you post and include the button, either in your post or on your sidebar, and link back here, you are good for all the giveaways. No more linking required.)
Please leave one comment below to enter this giveaway. You may earn additional entries for the following:
1. Subscribe to our Feed
2. Sign up for our Newsletter
If you are already subscribed and are on our newsletter list, you qualify for these two additional entries. Go ahead and leave your additional comments below.
Of course, if you are not a blogger but would like to enter, you may still do so. Leave us your email address and let us know if you have promoted the contest via Facebook or Twitter for additional entries.
This contest will be open from November 17 to December 4th. A winner will be selected and announced on December 5th.
Christmas will be here before we know it, so enter to win today and get working on those holiday cards!