This post may contain affiliate links. Read my disclosure policy here.
We reviewers at 5 Minutes for Books love stories. That goes without saying, right? I have always loved to lose myself in the pages of an engaging book, especially when it's a fictional tale weaved together with expert storytelling. But not all storytelling has to be crafted from someone's imagination, and I have a solid appreciation for memoir, too, as it often utilizes a similar manner in which to tell the author's story, though the content itself is true. Not all of us can be published authors, but we all have stories to tell.
How do you share your stories?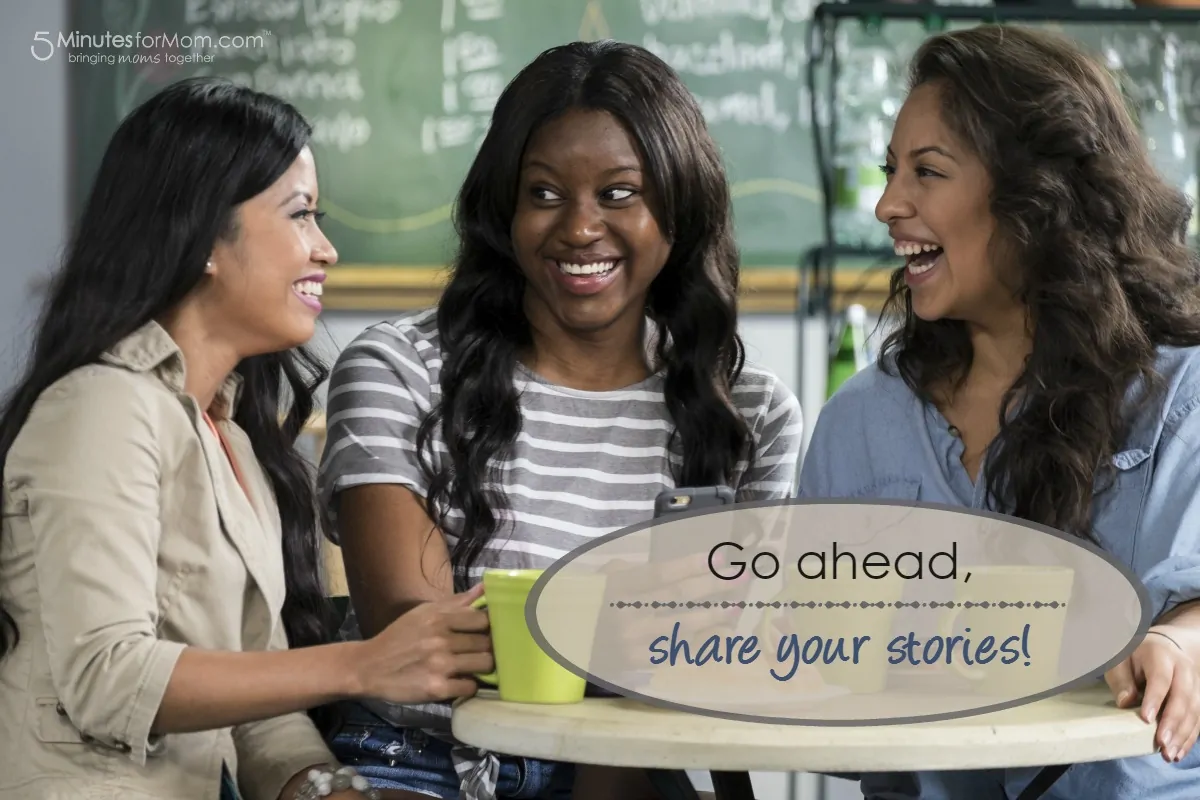 An evening gathering with friends may often involve a few bottles of wine and a table laden with delicious goodies, but the biggest appeal of getting together for me is always the camaraderie, which inevitably is built through the sharing of stories. Friends of mine know all about how I met my husband way back when we were freshman in college, along with other tales of my children's births, some ridiculously memorable public tantrums (of my children's, not my husband's), and plenty of other personal tales that quite often carry a healthy dose of self-deprecating humor. I know so many of their lives' highlights, as well, from our years of friendship, and plenty of days and nights hanging out. And it's not just the happy, shiny stories, either, for we all hold within us tales of sadness and woe that are worth telling, too.
It's one thing to know the important stories of those in our inner circles, but what about the people with whom we come in contact when we're out and about? Do we listen to their stories? This is a thought I've contemplated frequently as I sit on the bus, for public transportation brings you into close quarters with strangers, and if you ride often enough, some faces will become familiar, and you'll discover that many people inherently want to tell their stories whether they know you or not.
The woman with the lilting accent of "The Islands," as she calls her home, told me all about her world travels one day as I rode the bus from the center of town back home. I was only on for about ten minutes, but I learned so much about this one woman's experiences teaching English in a West African village, as well as her love of a London rainy day. The pride she holds in the work she's done all over the world was evident, and I wished I had a longer bus ride to share with her. Other riders may not be as forthright, but I still wonder. What stories could the elderly man share of his life in a time and place I'd never known? What has that young mom experienced as her baby has grown? What sights have these people seen? What is the funniest thing they've ever had happen to them?
I've blogged on and off for almost ten years now, and while I've never made any of the "top blogs" lists or had viral-territory stats, I've loved sharing my stories with anyone who has been interested in reading them. As my filter is pretty nonexistent, you'll find it all– the good, the bad, and the absolutely ugly (like my experiment with growing out my eyebrows, for example). Personal blogging is essentially self-publishing one's memoir, often in (pretty close to) real time. Though my blog reading has gone down from those peak days in the mid-2000s, I still enjoy taking in the stories of good friends, especially those I don't get to see regularly.
I can't forget Facebook, where stories are shared a few lines at a time. Compact storytelling at its finest, I love to read recaps of conversations friends have had with their children, or brief descriptions of the ups and downs of someone's day. Stories don't have to be sweeping in scope to interest me; in fact, there is a unique beauty in the mundane and everyday aspect of status-as-story.
In one week's time, I'll be taking my boldest step yet in putting my story out there. While the trend may have faded several years ago, the shine of the six-word-memoir that I penned a few months after the birth of my third child never faded for me, even now as he's about to turn eight. Those six words will soon be tattooed on the inside of my right forearm, a fitting summary for all of my stories combined: honorable intentions, heartfelt efforts, mixed results. 
A tattoo may be an extreme manner to tell one's story, and likely not for everyone. So I'm curious to know- how do you tell your stories? What would be the highlights of your memoir?