This post may contain affiliate links. Read my disclosure policy here.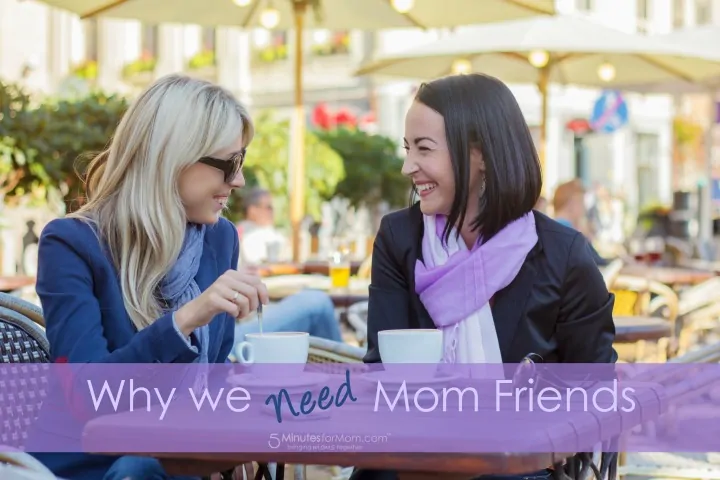 Even though it's hard to watch our kids navigate the sometimes-tricky waters of friendship, it really is easy for them. In preschool and early elementary school, proximity and context is king. They play with the kids who live on their street or who sit at their table in class. When they hit the tween years, their friendships deepen, get more joyful and sometimes more angsty, but even when friendships end, there are always new friends popping up as they join different clubs or sports or change schools, all the way through high school and even college.
As moms, we go through the same stages, and our friendships often center around our kids. I know when my kids were younger, some of my best friends were moms from the same preschool, baseball team, kindergarten class, or neighbors with kids the same age as mine.
But as the kids get older, we get busier. Seriously, the days of working around a young baby's schedule seems to be a piece of cake as compared to getting school-aged kids to their activities, helping them with their homework, waiting up for teens who are driving or riding in cars with other teens. Because they are more independent, we don't always have time to visit with other moms there, and even if we do, we don't have the time or energy to take it to the next level. If you've recently moved, or close friends from the younger years haven't gone the distance, sometimes it's hard to find mom friends.
3 informative, inspirational, and sometimes hilarious books on friendship
Melanie Shankle's Nobody's Cuter Than You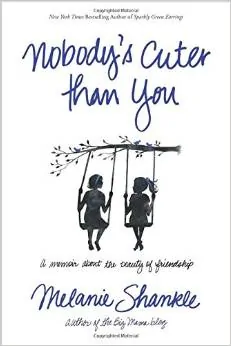 Big Mama is funny and has a knack for sharing sentimentally in just the right way. Readers of her blog know about her friendship with Gulley, which is a force to be reckoned with, but if you were born in the early 1970's like I was, the references as she reminisces about elementary, middle school and high school friendships will take you right back.
The book trailer video perfectly captures how we've dropped the ball on real-life friendships in this new online world we inhabit. It shows her tender side, but not the humor, which I guarantee you'll find in the pages as well.
This book is an enjoyable humorous read. It's not a how-to guide but rather an inspirational reminder about how important women friends are. Hopefully it will encourage you to reach out, go deeper, or do the work to preserve the friendships you have.
Read my full review of Nobody's Cuter Than You at 5 Minutes for Books.
Women are Scary by Melanie Dale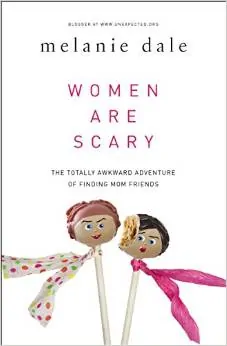 Are you familiar with Melanie Dale from Unexpected.org? I wasn't, but after reading her book Women are Scary: The Totally Awkward Adventure of Finding Mom Friends, I am a definite fan.
I loved this book!
It was laugh-out-loud funny throughout, but also full of practical advice and her own honest experiences, built around the idea of dating Mom friends and going from first to fourth base with them.
Find your first-base friends at common places like children's activities, church groups, neighborhood playgrounds. Those who interest you and make a spark are those who you should invite to second base.
Second base involves doing something together outside of the common place. Melanie provides ways to do this, if you feel awkward, like doing something impromptu right after the event ("Let's go to McDonald's with the playplace and grab lunch." and even giving advice about the kind of places to meet up — like a contained park where the kids can safely play and moms can talk as opposed to a park area with many exits and a lake that have to be vigilantly guarded.
At third base you've invited the friend to your home turf. She shares more than one very very funny story about how her family let it all hang out in this situation, and if they weren't chased away, she knew the friend was a keeper. She also gives practical advice about how to prepare your kids for a playdate in their home or for visiting someone else's home.
Going to fourth base with a mom date means that you do things without the kids. Your share more deeply and at this stage, there is real work that often has to go into maintaining the friendship. I feel that most of my friendships are at this stage, though I recently went to second base with a new friend who I enjoy, and to third with another. Melanie encourages us not to give up and how we can continue friendships in the midst of busy times or trials.
She also tackles the awkwardness of breaking up, giving some examples of when and why that might need to happen and very practical examples about how to get out of a friendship that isn't working for you. Sometimes making excuses and putting off get-togethers works, but she is also clear that if you've gone to fourth base with a friend, you have to be straight with why the friendship isn't working for you.
One of my favorite and most helpful sections was about what to say. It's in a chapter called "Small Talk for Small Talk Haters" and includes a whole section on saying something encouraging. That thing you are thinking in your head, like how great her hair looks or how amazing her jeans fit — say it! Go one step further and compliment her child. Then she gave a list for the really small-talk impaired about safe conversation topics, like age of children, where someone is from, recommendations for services/doctors/restaurants etc, share a recipe or recent bargain find.
Melanie is a Christian and does share a few Bible verses, but since she struggles with feeling "too churchy for some or too morally repugnant for others," the base is very large. One one page she is quoting the Bible, and on the next she might be quoting Friends or Adam Sandler's Billy Madison, so I feel like this book is for every mom — no, every woman.
I am an "old mom" not a "new mom," and I found this book helpful, but it would be especially helpful to a brand-new mom or a woman of any age who has moved or changed life circumstances and thus needs a way to connect with women. Even though Melanie's examples are about moms and she shares how important "momlationships" are, I am definitely going to pass it on to one of my fourth-base friends even though she's not a mom.
Soul Friends by Leslie Parrott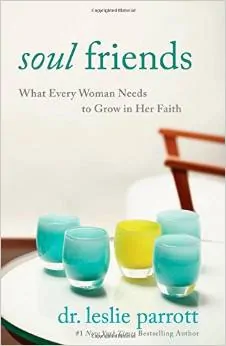 Soul Friends: What Every Woman Needs to Grow in Her Faith is by Dr. Leslie Parrott and is a totally different kind of book. She shares vignettes from her own life about how her friends have helped her and she has helped them to navigate through the stages of faith: quest, calling, crisis and communion.
Her real life examples and stories from Winnie the Pooh drive her points home.
This is a book about why friendships are important and how they can help us, but it's more a book about how we can hear God and follow Him and how others are often instrumental on that journey.
What about you? How important are mom friends in your life? Where have you met your closest friends?