This post may contain affiliate links. Read my disclosure policy here.
Thanks to you – our loyal readers – this blog has grown into a fabulous community where we can feature talented bloggers and bring moms together.
The best part of the growth of 5 Minutes for Mom is that we get to share opportunities with so many different moms. Whether it's spreading the reach of a blogger's voice or giving a mom a real work at home job, we are blessed to be part of the process.
And now we have new job openings and opportunities to join our team.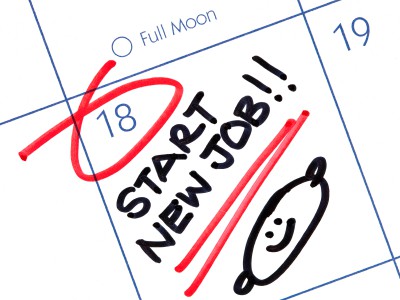 Over the years we've had many wonderful bloggers and assistants work with us on our team, including our FABULOUS virtual assistant Jennifer Sikora who handles all the advertising and communications for 5 Minutes for Mom. Jennifer has been with us since August 2011 and we hope she will continue working with us for years to come. She's a perfect fit for our team and does a fantastic job.
We also want to recognize the wonderful work Lolli has done for us as a part-time managing editor for several months. We're lucky to still have Lolli writing with us, but the demands of her own blog and her photography business keep her from being able to spend the hours needed for the managing editor role. In fact that part time managing editor role has grown and we are now looking for…
A Full-Time Work-At-Home Managing Editor
Yes, we're excited to embark on the journey of finding a new managing editor for 5 Minutes for Mom.
This is a NEW position… one that we're thrilled to offer because for the right person, it will bless her with a full-time, work-at-home professional blogging position.
Are you the one we're looking for?
Click here to see the full details and application form.
Social Media Assistant
We're also looking for a part-time social media addict to work very closely (yet virtually) with Janice and me to expand the reach of our brand and increase visitor numbers to our blogs and social media pages such as Facebook, Google+, YouTube, Pinterest and Twitter.
Click here to see the full details and application form.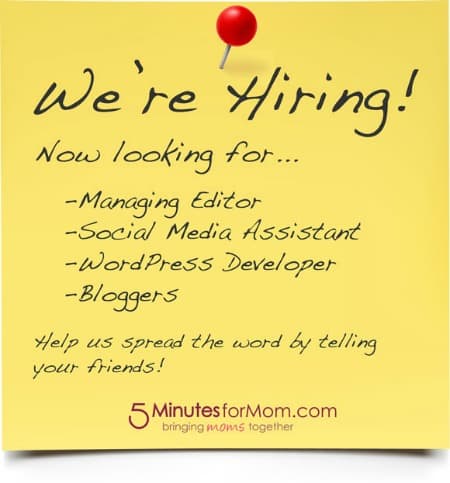 WordPress Developer for Thesis
To take on the project of merging our "sister site" blogs into 5MinutesForMom.com and other projects, we need an experienced WordPress Thesis Developer/Installer.
Click here to see the full details and application form.
Writers
There are lots of opportunities for writers to join our team.
We love to feature talented writers as guest contributors and we want to provide more ways for writers to get their voices (and their linked bylines) noticed in the blogosphere. So we have increased the number of guest posts we publish, expanded guest contributor topics and are providing writers with the option of writing posts based on specific writing prompts such as a headline or specific topic.
(Hint, hint… we occasionally get to send lucky writers on all expense paid trips to places like LA, NY or Mexico.)
If you're a talented blogger and interested in guest posting or regularly contributing on one of our blogs, fill out the form below.
Click here to see the full details and application form.
Please Spread The Word – One Of Your Friends Might Be The Right Fit
When we put a call out for new team members, it's exciting but, at the same time, such an overwhelming process because with so many applicants, we hate to disappoint anyone. Hopefully, everyone who applies will understand the impossible task it is for us to choose.
Please help us by spreading the word to all your friends. In these difficult economic times many people are struggling to find work and we're honored to be creating a few jobs and other chances to expand a blogger's reach.
We hope to create some more perfect matches – like we've found with Jennifer – where a woman's talents and search for work fit the position we have to offer.
Please note we are closing comments on this post. If you'd like to apply for one or more of the positions, please use the links above to complete the application form. If you'd like to ask us a question or give us a suggestion or some other feedback, please use our contact form here.