This post may contain affiliate links. Read my disclosure policy here.
This post is written and photographed by Janice Croze, co-founder of 5 Minutes for Mom, and is sponsored by the fabulous folks at Minted.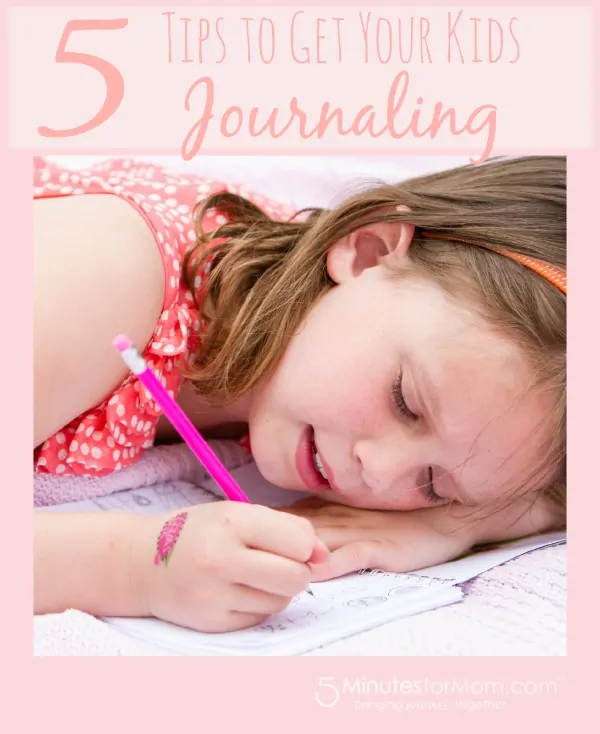 Learning to write well and communicate effectively is critical for our children's success in life.
Tell your kids
that
and they will be about as excited to start journaling as they would be to learn which leafy vegetables contain the most vitamins and fiber.
BUT, engage your kids' creativity, imagination, and curiosity, and they might just get hooked on journaling for good.
When I was a kid, my most treasured "toys" were little notebooks and matching pencils. I had branded sets, like Snoopy and Holly Hobbie, and generic designs, like strawberry patches or flower wreaths. I hoarded collected them as fast as I could fill them up with drawings, doodles, and notes.
As a preteen and teenager, I began journaling regularly and rarely went a night without writing in my journal.
Now, as a mom, I still love notebooks and I always keep my kids stocked up on notebooks, notepads, and plenty of pens and pencils. There is something so inviting about a brand new notebook. (Unfortunately, as grown ups, we usually fill up our notebooks with To Do lists not journal entries!)
My six year old daughter Olivia loves to write, draw, and doodle. She begs for new notebooks and notepads as much as I did at her age. She seems to constantly be drawing or writing, peppering me with questions, "Mom, how do you spell…?"
As Olivia gets older, I want to ensure that her early jottings develop into a regular journaling habit that allows her to grow her creativity while encouraging her to reflect on her own thoughts, ideas, and experiences.
But as technology speeds up life and makes "alone time" even more scarce, how can we help kids to turn off social media, stop texting, and instead pick up a pen and start journaling?
5 Tips to Get Your Kids Journaling
1. Provide your kids with inspiring journals, notebooks, or diaries
A new journal or special notebook can stir up enthusiasm for a young writer — or an old one!
A journal is something to treasure and so I am in love with these journals from Minted. You or your child can personalize a notebook with your own photos, images, and text.
You can choose from hundreds of designs that are created exclusively for Minted by their community of independent designers and then customize them to match your child perfectly.
I made these two designs for my children: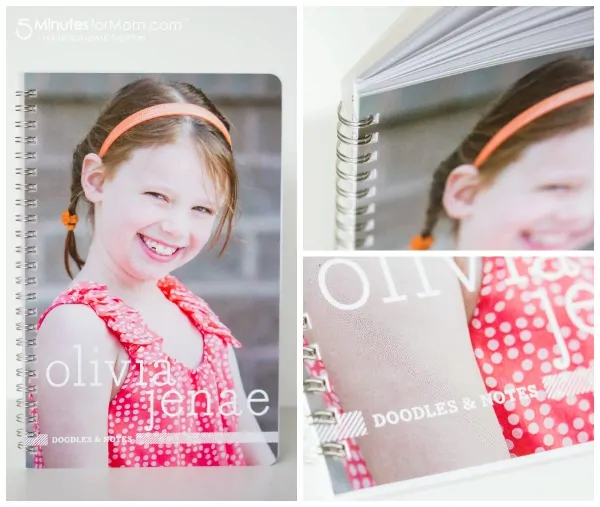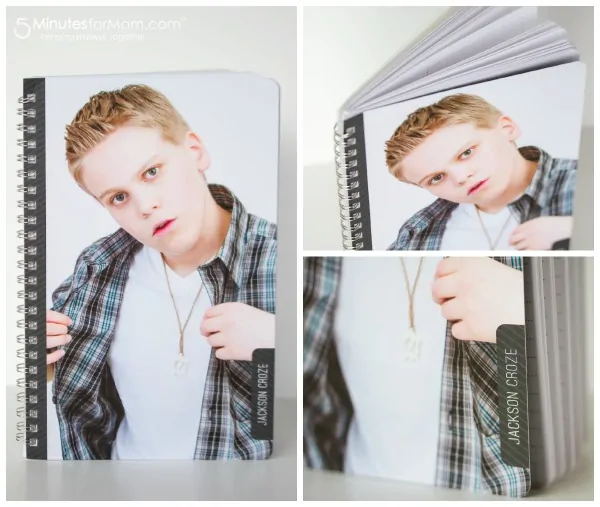 2. Let them "stay up late"
Setting aside time for journaling will help kids establish a routine of writing. Days disappear so quickly, and so evening can be the natural time to have kids quiet down and reflect on their day.
Summertime is a great opportunity to get kids in the habit of writing before bed — and you can entice them by giving extra time before lights out. (If you don't want to push their bed time later, try encouraging a quiet time for writing in their rooms before bedtime.)
3.Help them with writing prompts
Okay — one, two, three — be creative!!! Ya. That doesn't always work.
Thinking of something to write about can be tricky for everyone. But you can help spark your kids' imaginations – and memories – with some simple writing prompts.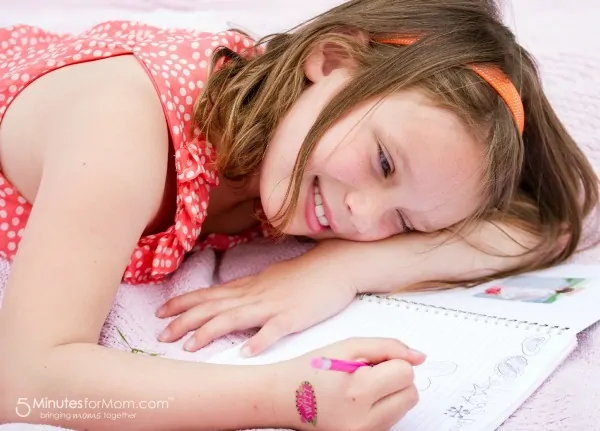 You can ask them a leading question, write some prompts down for them to choose from, or even fill a jar with prompts you have compiled and get them to pick a new topic each day.
Prompts can be questions such as:
What do you like about yourself?
What makes you laugh out loud?
What was your favorite day at school?
If you could fly, where would you go and why?
If you could talk one "animal language," which would it be and why?
Who is your hero and why?
4. Encourage all forms of creativity and journaling
Journaling doesn't have to be just about recording your day or your thoughts.
We want our kids to journal so that they can have a regular time and place to slow down and process what is going on in their minds, their hearts, and their worlds.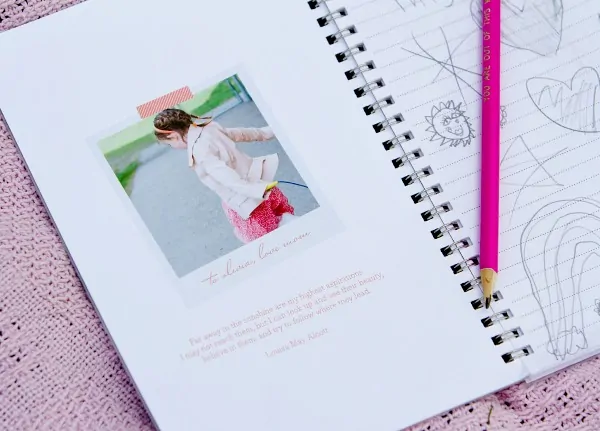 Encourage your kids to express themselves in different forms — from drawings, to stories, to diaries, etc.
They may even wish to create different kinds of journals and have books dedicated to different areas, such as a sketch book, a collection of quotes, a daily journal, or even a scrapbook or "swipe file" of things that inspire them.
5. Read your children entries from your own journals
The downside to blogging is that I have stopped writing in my daily journals. I am so frustrated with myself for letting this lifelong habit of mine disappear. Yes, I have hundreds of blog entries recording the last eight years of my life, but I don't have the hand written notebooks filled with reflections meant only for me and my children.
When my son was six years old and his baby sister had entered the scene, I used to curl up at night with him and read to him from the journal I kept when he was a baby.
We both loved this special time together where we could revisit my days as a first time, terrified-but-madly-in-love, young mom.
I don't have the same journals for Olivia. I was so exhausted as a working mom of two, that by the time I got them both to sleep, I collapsed in bed. As much as I wanted to write a journal just for her, I just didn't make it happen. Fortunately, I do have blog posts and lots of photos and videos to share with her.
Reading journals you kept when your kids were babies or toddlers – or even journals or diary entries you wrote when you were young – can be both an inspiration for them as new writers and a wonderful opportunity for your kids to get a deeper look inside you.
Minted has so many incredible offerings — if you would like a $100 gift certificate to Minted.com, here is your chance… Leave us a comment telling us which Minted product is your favorite.
Follow Minted @minted, facebook.com/minted, and pinterest.com/minted

This post is written and photographed by Janice Croze, co-founder of 5 Minutes for Mom and owner of Janice Croze Photography, and is brought to you by the fabulous folks at Minted. As always, our opinions are 100% our own. And yes, we LOVE Minted!
More Creative Activities For Kids
Here are more ideas to inspire your kids creativity…