This post may contain affiliate links. Read my disclosure policy here.
Here at 5 Minutes for Mom, we love finding ways to save you time and money.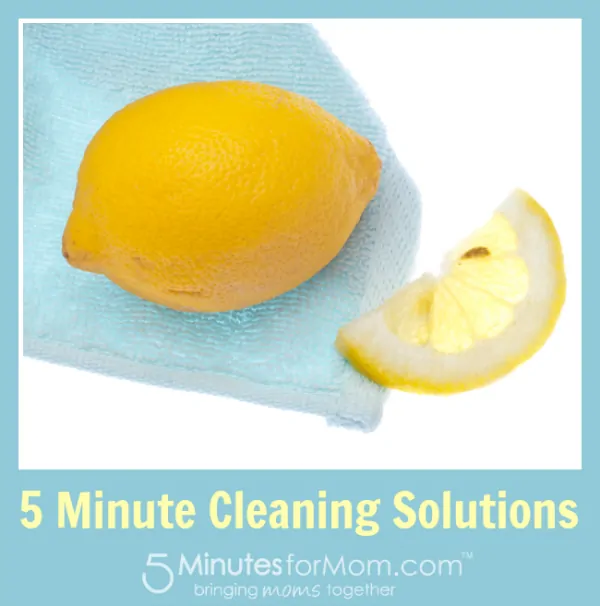 We've shared many posts over the years with quick cleaning ideas and ways to naturally clean your home.
You'll love these fan favorites:
5 Minute Fridge Cleaning
Follow these steps to keep your fridge fresh and clean…
Cleaning your fridge by starting at the top and moving down.
Regularly check food expiration dates and toss old produce.
To make cleaning extra easy, you can line the shelves with plastic wrap.
Use an old toothbrush and toothpaste to clean inside chrome pieces.
To freshen fridge drawers, soak a cotton ball in vanilla and place it in the drawer.
If there is mold, clean it off with a mix of salt and vinegar.
To get rid of tough odors, you can sprinkle some fresh coffee grounds on a plate and leave it in your fridge until the bad smell is gone. The smell of coffee will go away quickly afterwards.
10 Clever Cleaning Tips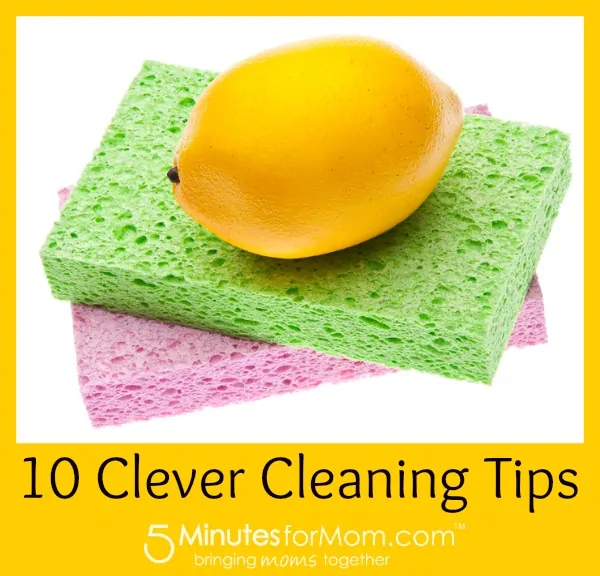 Do you want to save time cleaning? Do you want to learn some brilliant housecleaning tricks using natural products you already have around your house?
We shared 10 helpful cleaning tips over at BISSELL, here's a taste of what you'll find…
Use newspaper instead of paper towel when cleaning windows and mirrors. The newspaper works wonders and doesn't leave streaks. Plus you'll save money.

Use a vacuum extension tool to dust blinds and lampshades and even the inside of drawers.

Clean your sponges in the microwave with lemon. Simply wet the sponge with lemon water and then microwave on high for a minute.

Put half an apple or an apple core out while cooking to absorb any unpleasant food odors such as fish. Simply cut an apple in half and leave it next to the stove while you cook.

To freshen carpet – especially to eliminate pet odor – sprinkle a carpet deodorizer on the carpet, let it sit for 15 minutes and then vacuum it up.

Put a handful of ice cubes, a few shakes of baking soda and a lemon down your garbage disposal to clean and deodorize.

Shake salt and ice cubes in your coffee pot to get rid of the coffee stains.

Add a touch of vinegar to your laundry load of towels to freshen.

Make cleaning a messy microwave simple by heating a bowl of water with lemon wedges for 3 to 5 minutes, let sit for 5 minutes then wipe with paper towels moistened with the boiled lemon water.

Keep a spray bottle with half water half vinegar handy in your bathroom and by your kitchen sink for quick cleaning. Adding orange or lemon peels will add a citrus scent.

Want More?
To find even more of great cleaning tips, see our posts over at the BISSELL Celebrate Messes website.
Disclosure: We're working on sponsored campaign to spread the word about the BISSELL PowerGlide Lift-Off vacuum.
For more cleaning ideas, follow our Cleaning Pinterest Board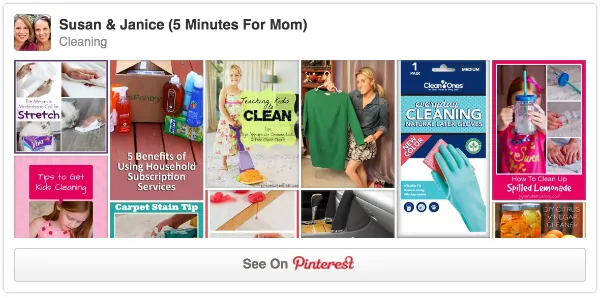 Follow all our Pinterest boards at pinterest.com/5minutesformom

Written by Susan and Janice of 5 Minutes for Mom
Join us at: @5minutesformom and Facebook.com/5minutesformom
Pin with us at http://pinterest.com/5minutesformom/