This post may contain affiliate links. Read my disclosure policy here.
It's time to spring clean — and we have ten tips to make your cleaning easier, faster, and even more fun!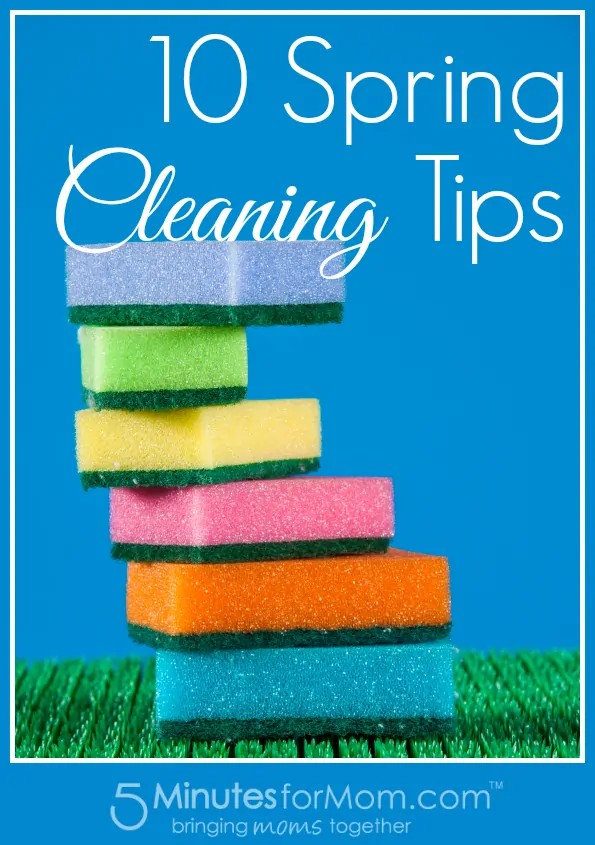 Our mom likes to tell us stories about spring cleaning when she was young. She loved the ritual of ridding the house of winter dirt and dust and beginning the new season as fresh as the flowers pushing out of their winter bulbs.
While we can't quite match her enthusiasm for cleaning, we do love the inspiration of a house scrubbed clean and ready for sunshine and spring flowers.
We've put together 10 tips to get your spring cleaning going…
10 Spring Cleaning Tips
Tip 1 — Open the Windows

Before you start your cleaning, open some windows to get fresh air in and the smell of cleaning products out.

Tip 2 — Make a Playlist

Have fun and clean faster by dancing your way through your cleaning. Make a fun playlist of upbeat music to keep you energized. Or, if you are in the mood to multitask, select an audiobook to keep your brain engaged while cleaning.

Tip 3 — Declutter, Donate and Toss

It always feels great to clear out the extra stuff that is filling up our houses. From outgrown clothes, to old books, to broken toys — spring cleaning is the perfect time to declutter.

Tip 4 — Stock Up for Natural Cleaning

As you get ready to dive into your spring cleaning, stock up on some natural cleaning product staples such as vinegar, baking soda and lemons.

It is amazing how effective and inexpensive natural cleaning can be.

For natural cleaning tips and ideas, check out our post 10 Tips for Natural Cleaning – With Easy DIY Homemade Cleaning Product Recipes.

Click Here To Continue Reading…

To find even more of great cleaning tips, see our posts over at the BISSELL Celebrate Messes website.


Disclosure: We're working on sponsored campaign to spread the word about the BISSELL PowerGlide Lift-Off vacuum.
Written by Susan and Janice of 5 Minutes for Mom
Join us at: @5minutesformom and Facebook.com/5minutesformom
Pin with us at http://pinterest.com/5minutesformom/