This post may contain affiliate links. Read my disclosure policy here.
Switching to "natural" and DIY/homemade cleaning products is easier than you may think. Laurie shares 10 tips for going natural with your cleaning.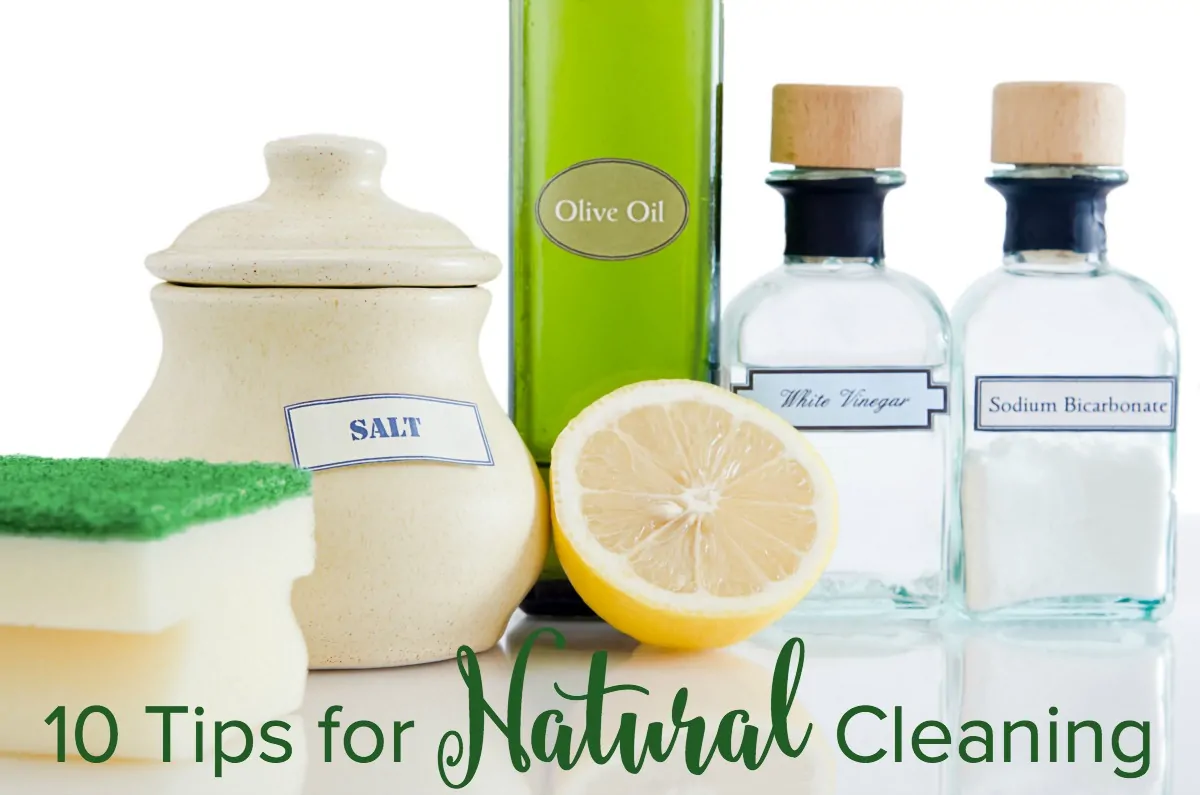 Studies show toxic chemicals contained in commercial cleaners are not healthy. Many commercial cleaners contain toxic substances such as formaldehyde, phosphates, ammonia, sulfuric acid, chlorine bleach, and more. When you open a bottle of commercial cleaner, you might breathe in toxic fumes. Those fumes are also released into your home's atmosphere, impacting the rest of your family.
Along with removing toxic chemicals from your home, there is a tremendous cost savings associated with natural cleaners. Switching to natural cleaners is a win-win!

Here are my top 10 Tips for Natural Cleaning:
Remove commercial cleaners from your home and resolve to not replace them. Getting rid of the toxic cleaners is the first step in moving towards natural cleaning.

Learn how to make natural cleaners. Recipes abound on the Internet. Check out your library for books on natural cleaners.

Replace paper towels with microfiber cloths. These are reusable and much cheaper in the long run.

Make orange or lemon scented vinegar to use as a cleaner and avoid the vinegar smell. (simply pour vinegar into a plastic or glass container, add orange or lemon peels, and allow to sit. Use a plastic cover as the mason jar lids will rust when they come into contact with the vinegar.)

Use salt and a half a lemon to clean pots and pans, as well as cutting boards. Wet surface, sprinkle with salt, then rub with lemon half, rinse.

To clean up spilled grease on your stove top, simply sprinkle baking soda over the greasy mess. Allow the baking soda to absorb the grease, then wipe away.

Use scented vinegar as a spray to clean and deodorize your refrigerator. On refrigerator cleaning day, empty it and then spray shelves with vinegar. Allow to soak, then use a cloth to wipe down the shelves.

Use white vinegar to whiten and soften your clothes. Add 1 cup of white vinegar to your laundry load and allow it to work its magic.

Utilize the sunshine for stubborn stains.  Wash well, then hang outside on the clothesline to let the sunshine get rid of that stain.

Make a simple homemade vegetable spray. The simple recipe will remove any nasty junk on your vegetables:

Combine 1 cup water, 1 cup distilled white vinegar, 1 tablespoon baking soda, and 20 drops grapefruit essential oil in a spray bottle. When ready to use, simply shake to mix well, spray on produce, allow to sit for 5-10 minutes, then rinse.

And a bonus tip — use olive oil as a furniture polish. Mix three parts olive oil to one part vinegar as a polish for wood furniture.

What tips would you add to my top 10 list?
Tell us in a comment below what you tips you have for natural cleaning.

Written by Laurie Bostwick of successfulhomemakers.com.
We first published this post on Oct 11, 2013.
Pin it for Later