This post may contain affiliate links. Read my disclosure policy here.
Tonya here… We are in full holiday mode here. Sure, our Christmas tree isn't up yet, presents haven't been bought, and I'm pretty sure no cards are going out this year, but, we are celebrating nonetheless. And, I'm going to show you a simple way you can spend time with your family and friends this holiday season, and on a budget too. Thank you to Goodwill® for sponsoring this post. All opinions are my own.
It's no secret that I frequent thrift stores. I love find things that others have discarded and finding ways to re-purpose them for my own home. Turning trash into treasure is great for the environment, and helps me save money, especially over the holiday season. So, I want to show you a really simple project you can do at home that will have you spending more time with your family.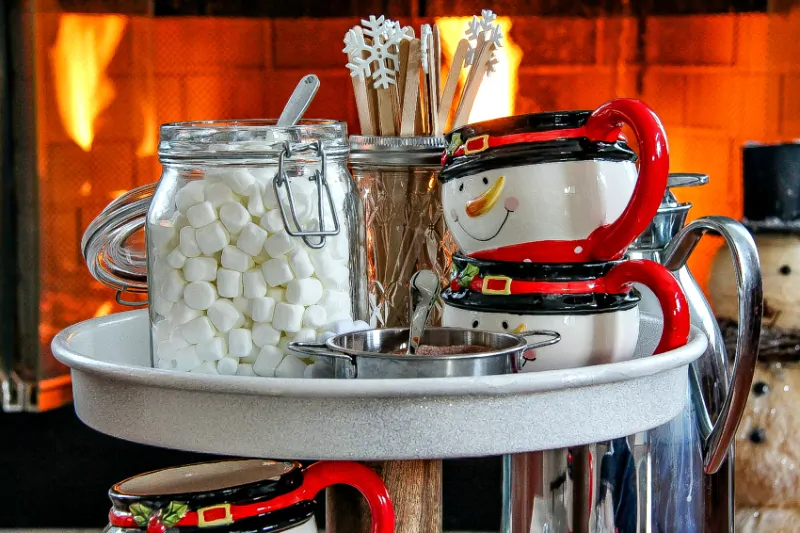 Everything on this tray (except the swizzle sticks and marshmallows, of course) was purchased at my local Goodwill store. I'm a big believer in mixing and matching items, keeping it simple, but also keeping it fun. And, it helps to add a little DIY in there too.
The DIY in the photo is the stand that I have our hot chocolate goodies on. This project is great if you have a small space for entertaining and need the extra room. You can put almost anything on this tray (but please don't put food such as fruit etc directly on the painted surface). You can however use it for cakes (with a base underneath it), cupcakes, eggnog, hot chocolate, holiday craft supplies, or just to put in the middle of the holiday table with jars filled with utensils, napkins, salt and pepper.
Here's what you need to make your own stand:
Tray (or dish)
A sturdy base. I used a wood ribbon spool, but you could use a candle holder, cup, vase, anything really. Tip: make sure whatever you use has a sturdy base so that when items are put onto the tray it doesn't topple over). You can see (in the photos below) the spool I used has an angled base at the top and bottom.
Drill
Spray paint – I used white, and silver glitter
A good project glue such as liquid nails
Screw (and I used a screw anchor too).
The tray and wood spool cost $5.98 at my Goodwill store. I already had everything else including the paint I needed.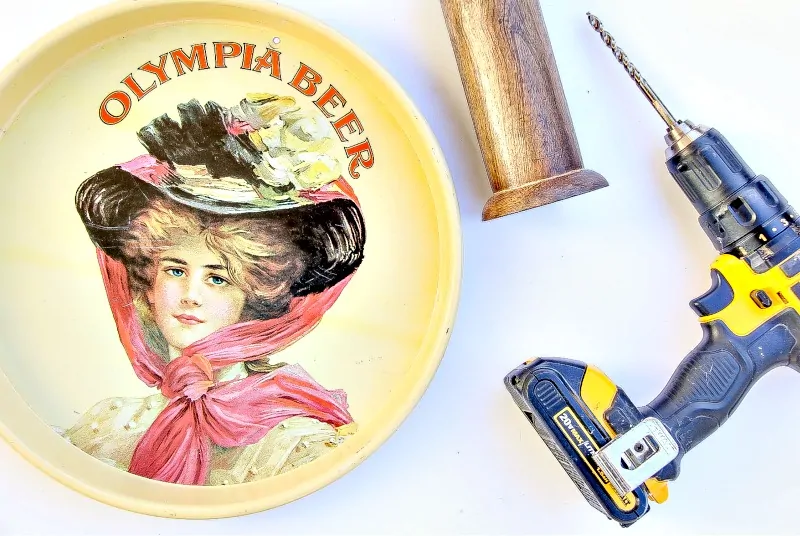 The first thing you need to figure out is how you are going to attach your stand to your base and it all depends on what you purchase. The wood spool already had a hole through the center, and I found that if I popped a screw anchor in there it fit perfectly. So I drilled a hole through the tray, then used a screw and washer to attach the two pieces together. I was still concerned that at some point the anchor might come loose, so decided to use liquid nails between the tray and base to ensure everything was firmly secure when screwed together.
Tip: Drill your hole before painting, but then paint your tray before securing it to the base, especially if you don't plan on painting the base.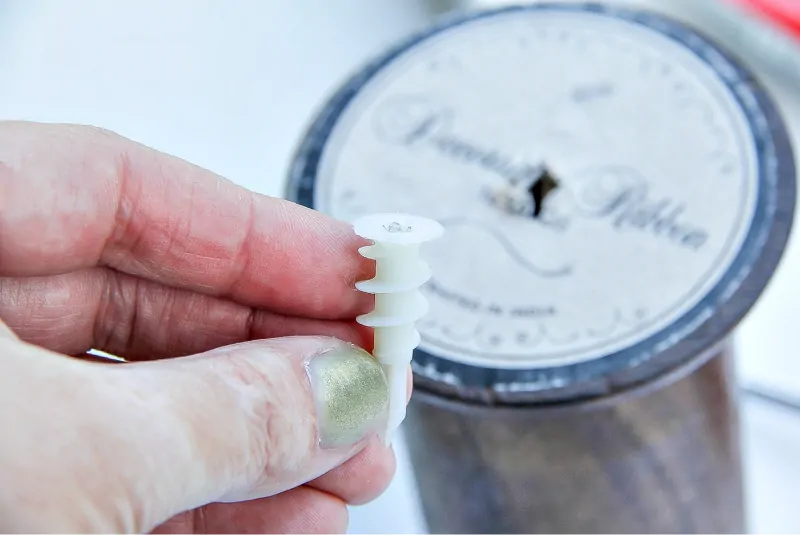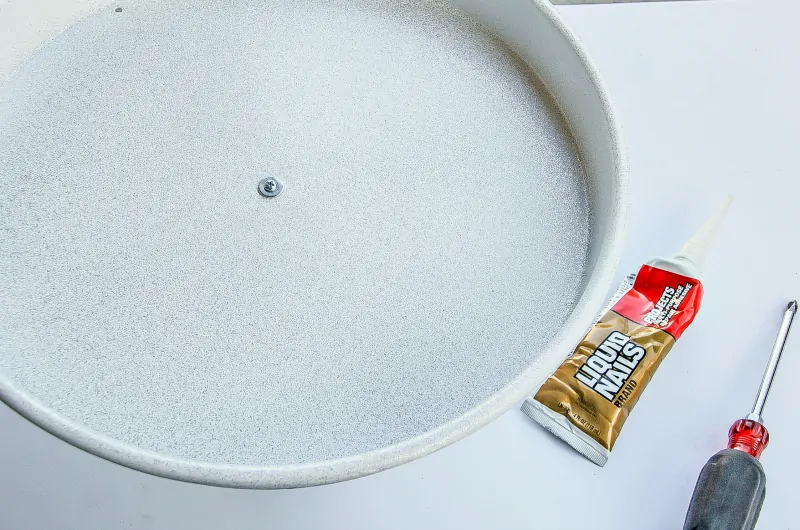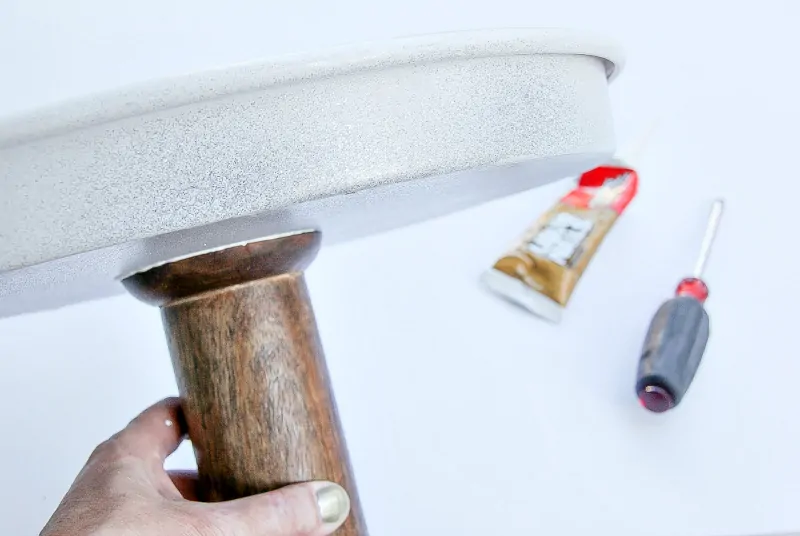 It took about 3 coats of paint on the tray, and then I sprayed a light coat of glitter spray over the top and left it overnight to dry completely. I didn't want to paint the wood base. I really like the contrast of the wood against the glittered tray.
And as you can see it not only puts items up a little higher, but you can put items underneath too saving a lot of space when entertaining.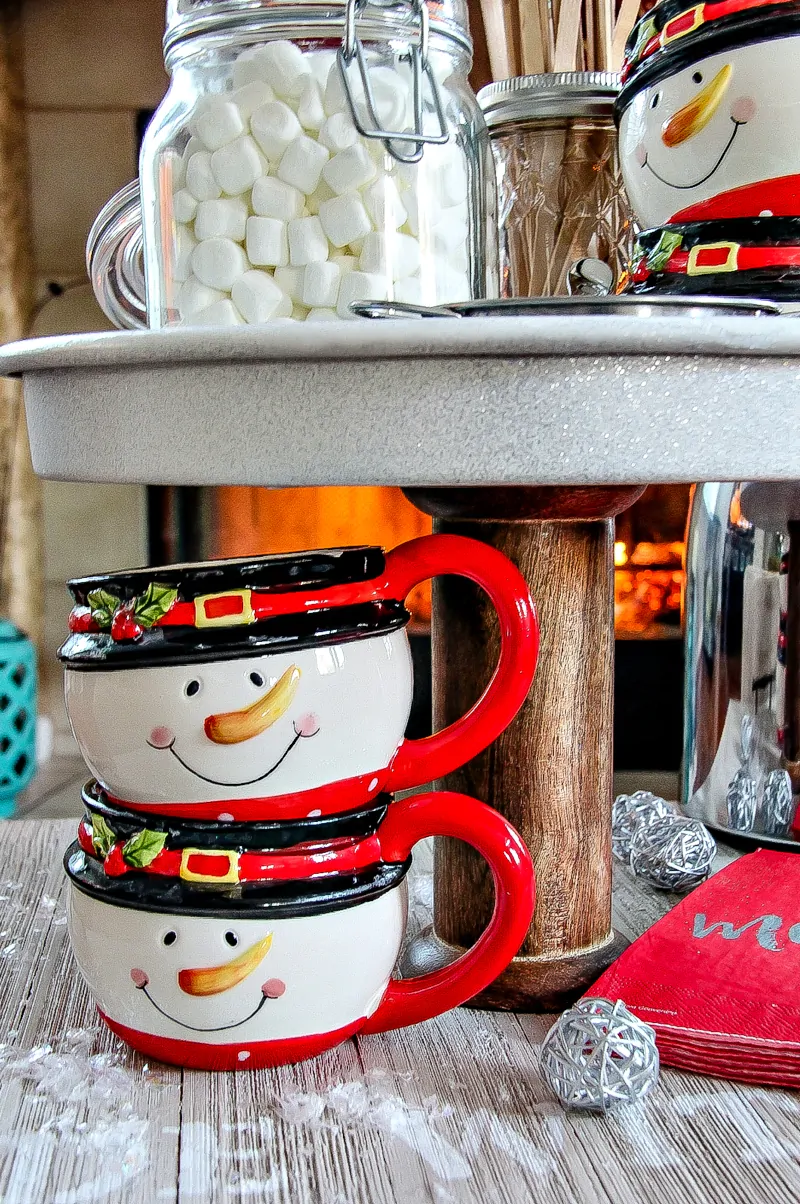 And, aren't those snowman cups absolutely adorable?
I found the set of 4, along with matching plates, at Goodwill for $6.99. There was supposed to be 2 other items in the set, but we looked high and low and couldn't find them, but I really only wanted the mugs anyway because they are perfect for hot chocolate in front of the fire all winter long – now, I did look on-line at similar sets and found that a cup and plate alone retails for around $14 and a set of 4 with a stand is around $47.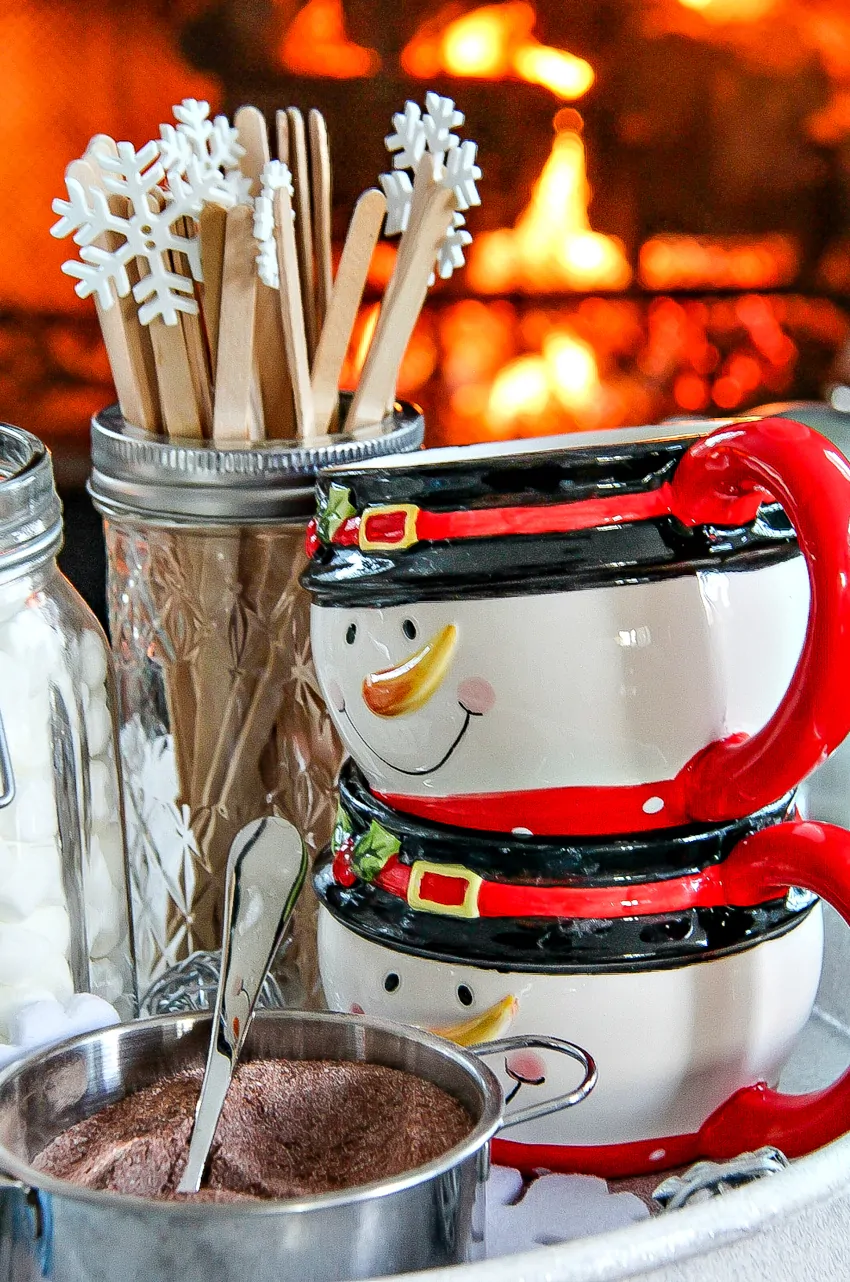 I didn't just purchase the tray, wood spool, or cups though. I also found the jar that I have the marshmallows in, the dish for the hot chocolate, and the jar that I have the wood stirring sticks in. Each was between 99 cents and $1.99. And are absolutely perfect to use for so many things.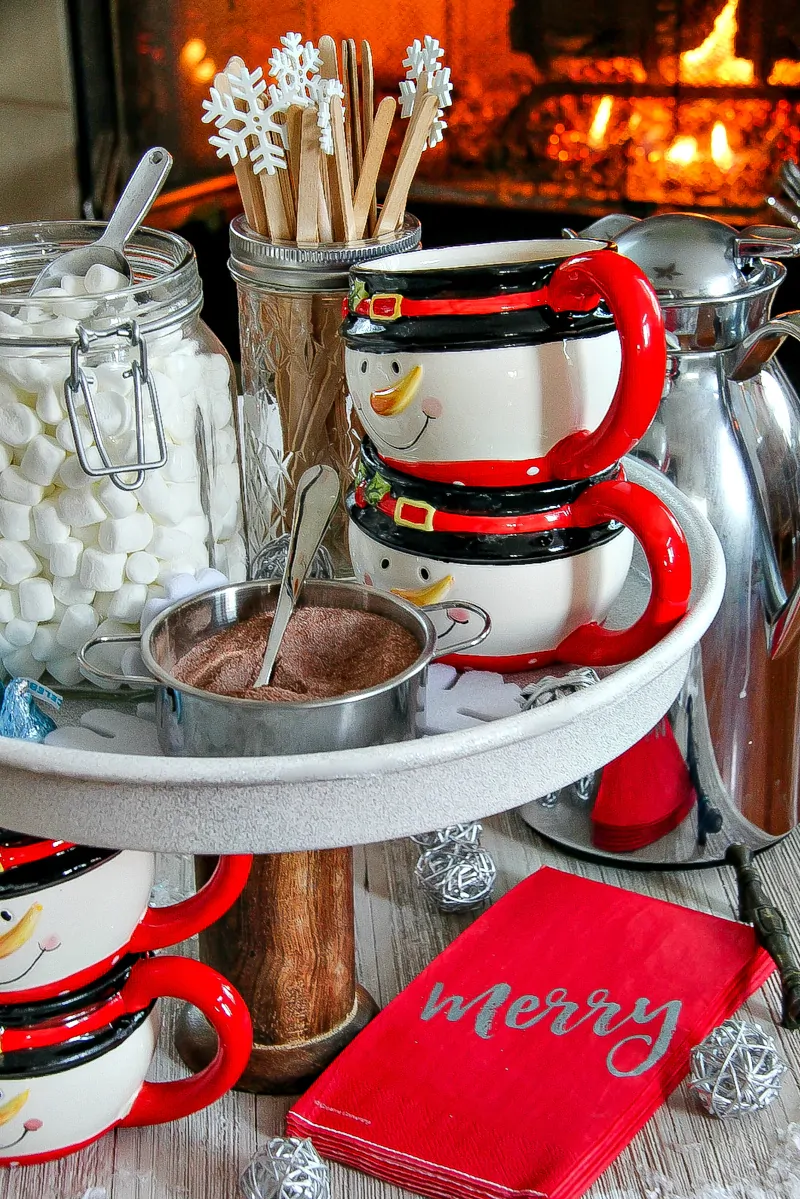 And this, is exactly how we love to spend our winter nights over the holiday season when it's chilly outside.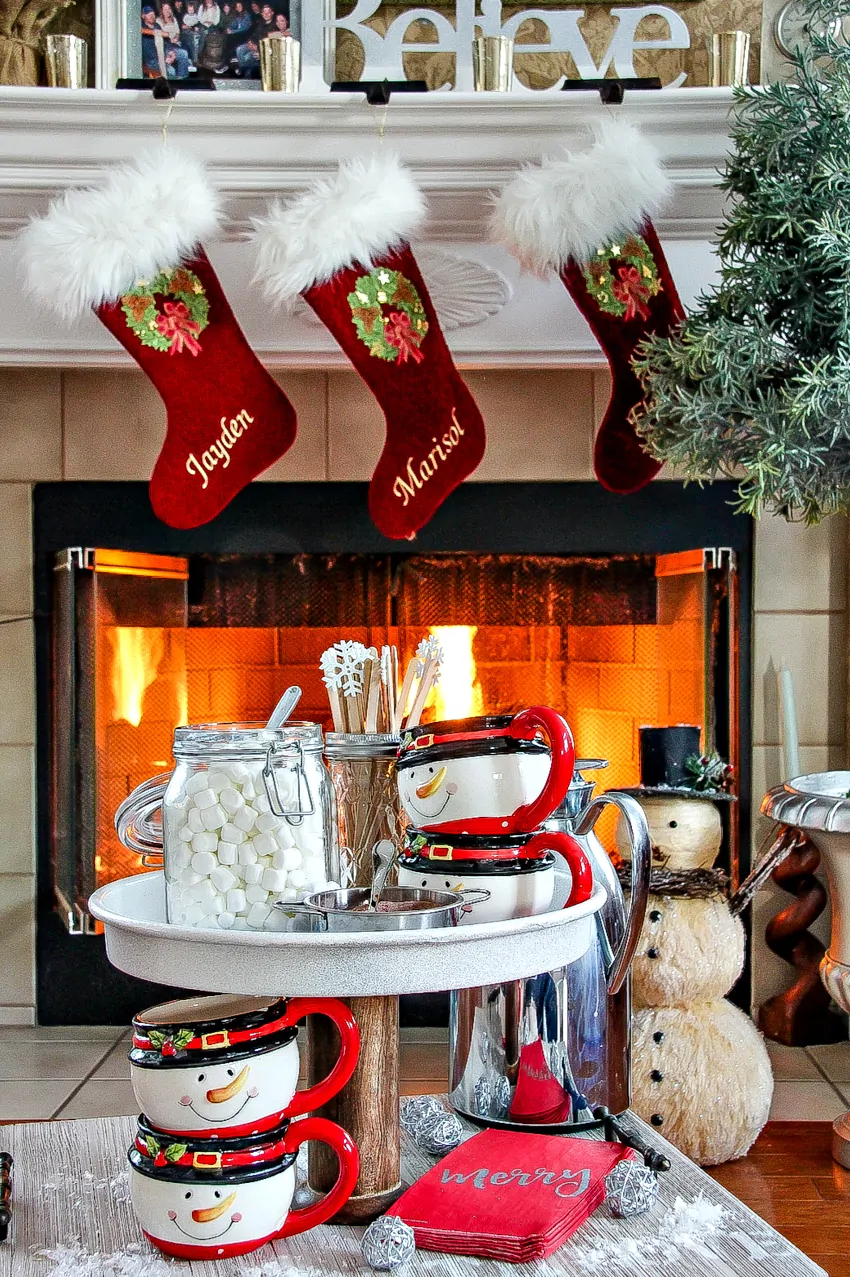 So, you don't have to spend a lot of money to create memories and have items that you can use for so many other things. All you need is a little imagination, and a trip to your Goodwill store.
When you create holiday crafts and gifts from items purchased at Goodwill, you create job opportunities and training in local communities. Every 23 seconds of each business day, a person served by Goodwill earns a good job. Goodwill provides job preparation, skills training, education assistance and support services to millions of people each year who are facing challenges to finding employment.
Learn more about Goodwill here:
Instagram | Facebook | Twitter | Store locator 
Goodwill is an entrepreneurial leader, environmental pioneer and social innovator of the "reduce, reuse, repurpose" practice. Through its entrepreneurial business model of collecting and selling donated goods, Goodwill helps communities extend the life of usable items in environmentally sound ways.
More Holiday Family Activities
Here are some more crafts and activities for you and your kids to enjoy over the winter break…
Pin It For Later

Holiday Gift Guides
We've gathered a collection of gift ideas to help you with your holiday shopping.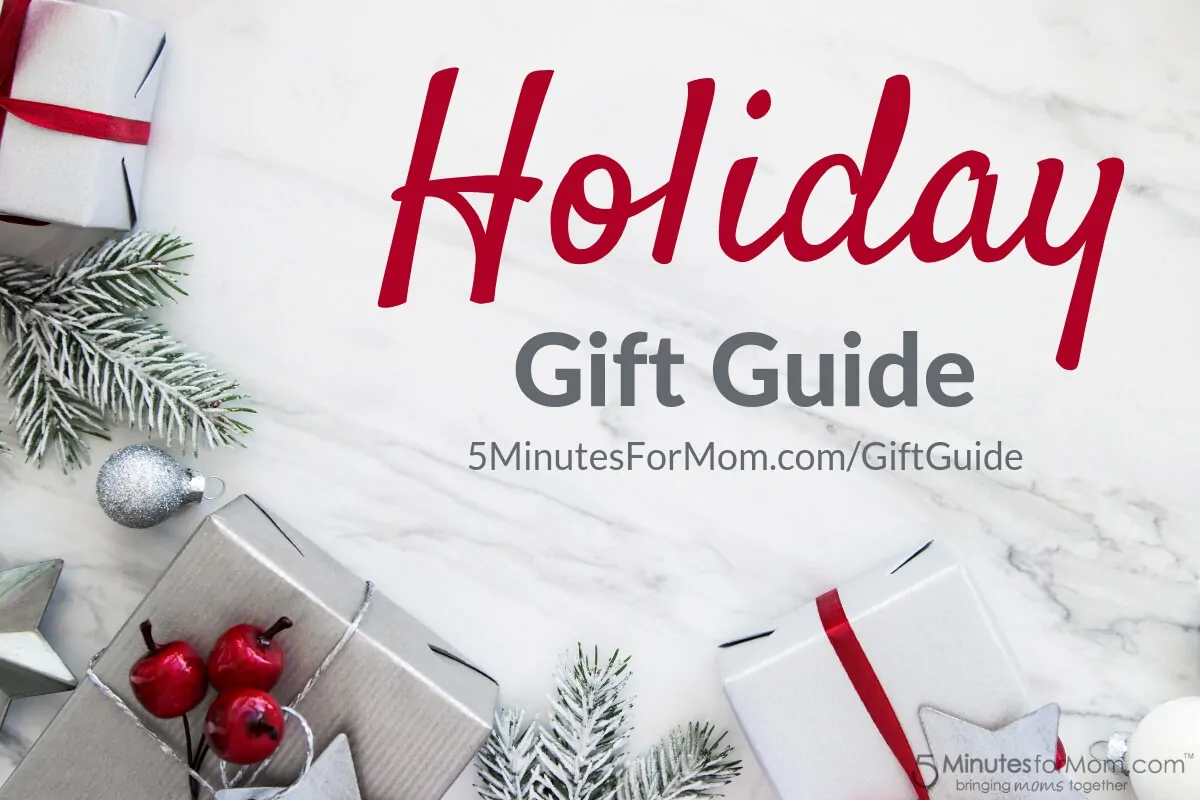 Be sure to check out each of our gift guides…
Disclosure: This post is sponsored, so extra thanks for reading and sharing.
Written by Tonya Staab, contributor at 5 Minutes for Mom
Talk with us: @5minutesformom and Facebook.com/5minutesformom
Pin with us at pinterest.com/5minutesformom