This post may contain affiliate links. Read my disclosure policy here.
It's getting dark outside, and you're facing a familiar battle. You arm yourself with a dinosaur toothbrush and bubble gum flavored toothpaste, and face your foe.
Then come the screams and whining from kids who don't want to brush their teeth.
If this situation seems all too familiar, you'll love these tips for getting your kids excited about brushing their teeth.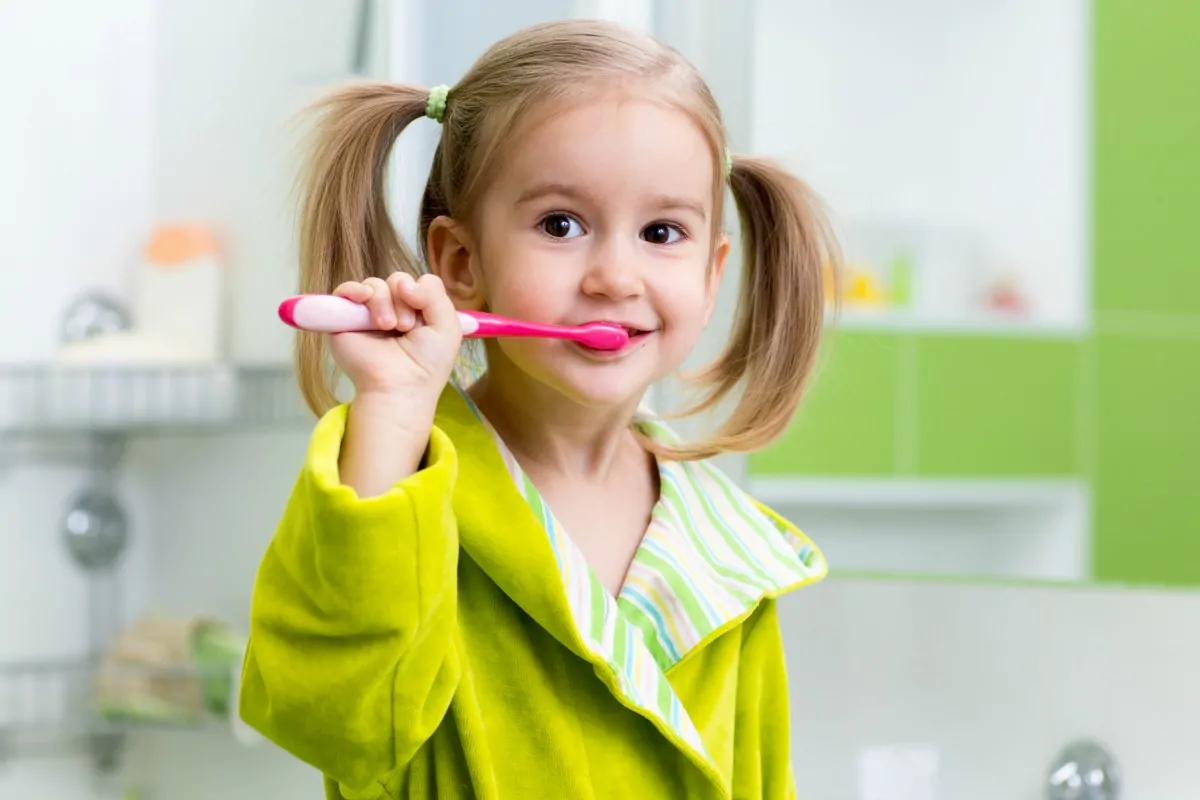 Here are eight hacks to help your kids want to brush their teeth…
1. Play their favorite music while they brush.
The American Dental Association recommends brushing your teeth for at least two minutes per session. Keeping the brush moving for that long can be very difficult—unless you put it to music. Play your kids' favorite song during the two-minute session, and encourage them to dance along.
You can also use apps like Brush DJ that plays upbeat songs for exactly two minutes. It's a great way to introduce variety to their teeth-brushing schedule and help them remember the importance.
Another fun way to help kids know how long to brush their teeth is to make these fun DIY Toothbrush Timers.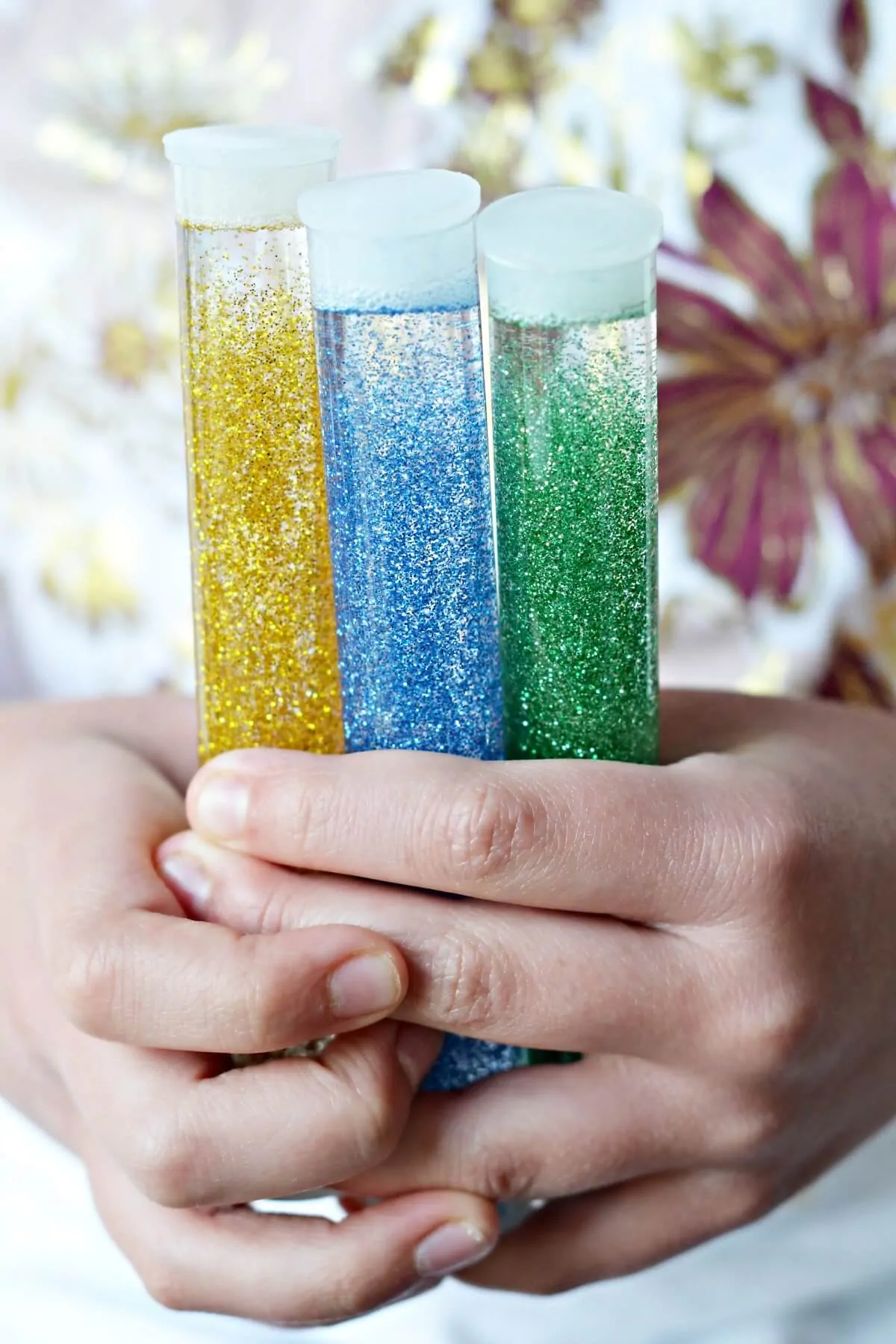 2. Take them to the dentist from an early age.
The National Institute of Dental and Craniofacial Research reports that 42 percent of children aged two to 11 get cavities in their baby teeth. They don't brush their teeth properly, and they don't see the dentist from an early age like they should.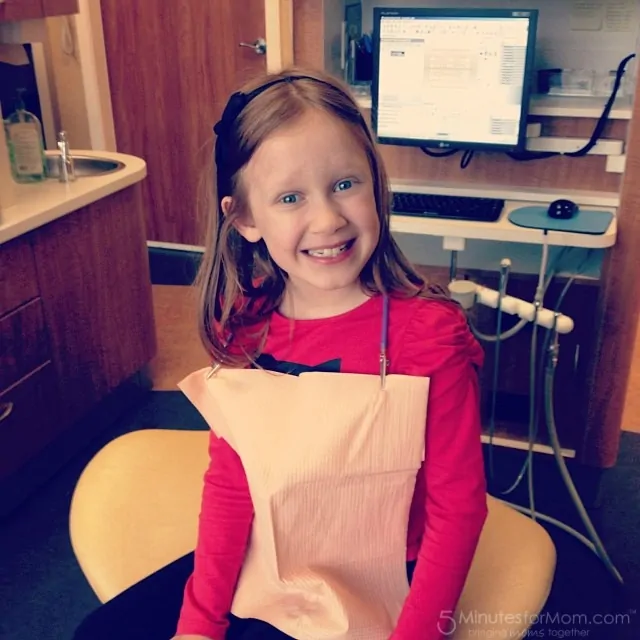 Kids as young as two years old should see a dentist regularly. It helps them get used to the dentist chair and teaches them the importance of good oral health. It's much easier to enforce habits if kids understand them.
3. Let them brush a toy's teeth.
Kids often avoid tooth brushing because they're either scared, or they feel like you're taking away some of their control. You can solve both problems by allowing them to practice tooth brushing on a doll or stuffed animal. It's a lot more fun for when there's a toy involved, and they'll see that it's not scary to use a toothbrush.
4. Give them enough time to get the job done.
As adults, we tend to move very quickly, but children like to take things more slowly. If you only give them five minutes for teeth brushing, you'll have a hard time getting them to do it. They often feel the need to take their time, getting comfortable in the situation, and moving at their own pace. Increasing the time given for teeth brushing will return some of their control and encourage a habit.
5. Reward tooth brushing to reinforce habits.
Some kids would never learn to potty train without a rewards system, and tooth brushing is the same. Create a calendar for each week or month, and let stickers signify every morning and night that teeth were successfully brushed. This tooth brushing app we recently reviewed makes it easy to reward regular brushing and good brushing habits.
Once you reach a certain point, you might even offer a greater reward like a new book or toy.
6. Make teeth brushing a nightly game.
Many parents have found success with the "sugar bugs" game. It starts with a story about how sugar bugs have invaded your child's mouth, and the only thing that can stop them is a secret weapon: toothbrush and toothpaste. Encourage your child to attack the sugar bugs liberally with the secret weapon.
To keep things interesting, add a little drama here and there. One night, tie a cape around your child's shoulders or play action-hero music to make the battle more intense.
Just be sensitive to your child's personality, since the notion of crawling bugs all over their mouth might be terrifying rather than exciting to a more sensitive child.
7. Let them choose their toothbrush and toothpaste flavor.
Take them to the store to pick out their toothbrush and toothpaste. As they choose from many options for children's toothbrushes, the concept of brushing their teeth morning and night will be like playing with a new toy.
Jennifer Dawn recently reviewed these tasty toothpaste flavors with her kids here at 5 Minutes for Mom.
Additionally, the toothpaste flavor has a lot to do with their willingness to brush. If they like the flavor of their toothpaste, they'll be excited to put it in their mouth. Just be careful that they don't like it too much and try to eat the whole thing!
8. Build a mouth monsters defense kit.
In another 5 Minutes for Mom article, you can read about helping kids want to brush their teeth with a "Mouth Monsters Defense Kit" from the American Academy of Pediatric Dentistry. It comes with printouts and charts that turn teeth-brushing into a thrilling game offering new and exciting adventures daily.
Once the adventure is completed, kids can receive a certificate for successfully banishing the mouth monsters and becoming an expert tooth brusher.
Some of these ideas may seem a little time-consuming, but it may be exactly what you need to encourage this healthy habit in your kids. A little effort on your part now will set them up for a lifetime of good oral hygiene.
Written by Jenna Cyprus, a freelance writer and business consultant who covers business, technology, and entrepreneurship.
Pin it for Later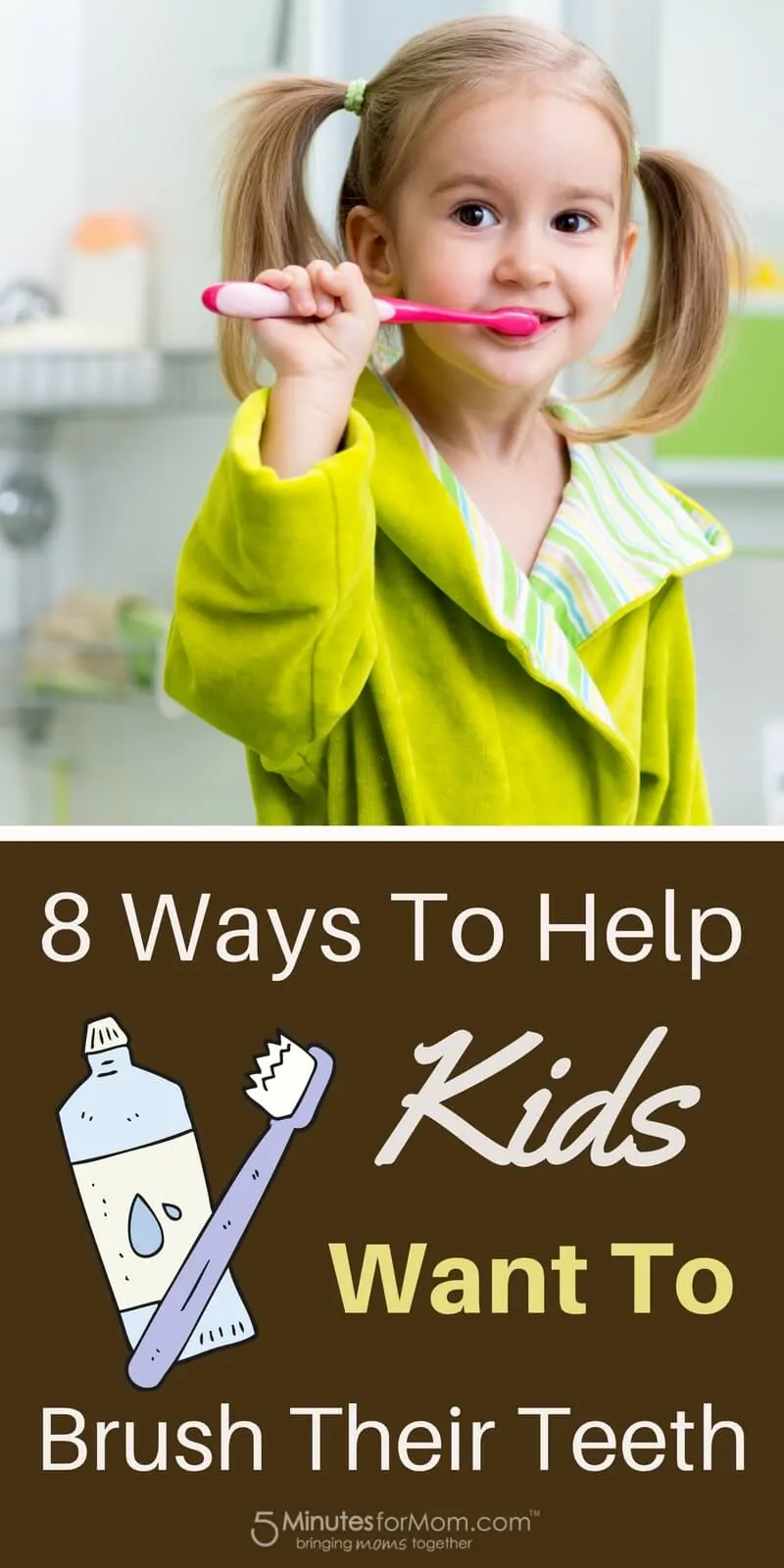 Have Kids? Don't Miss This…
Contacts For Kids? How Old Do You Have To Be To Wear Contacts?