This post may contain affiliate links. Read my disclosure policy here.
Would you like some fast, inexpensive, and really cute Halloween crafts ideas? You're in the right place…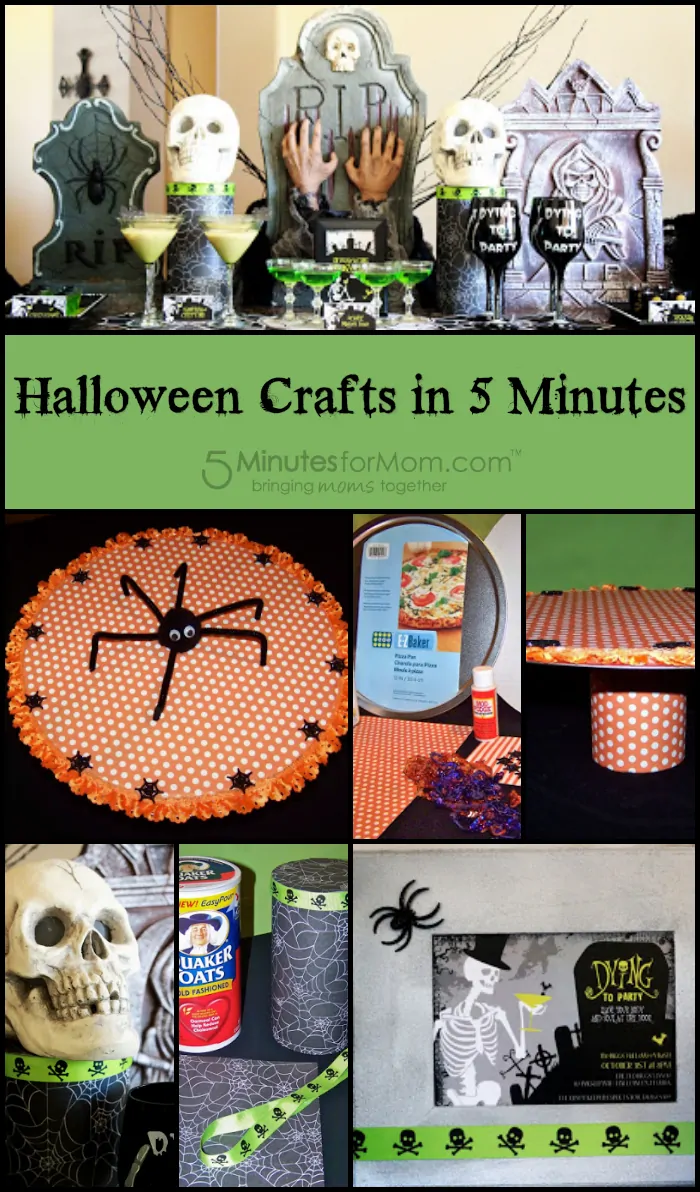 Like most of you, I am a super busy mom. I am sure you all know the craziness of school, homework, grocery shopping, cooking, play-dates, etc… We moms love being crafty and want to do it all, don't we? I know I do, but usually have little time to do so.
I wanted to share a few 5-minutes Halloween crafty ideas with you. They are cute and inexpensive, and just under $5!
Halloween cupcake stand
Materials:
Pizza tray from Walmart $.97 cents (you can use a cardboard cake circle as well)
Scrapbook paper $.25 cents
Mod podge $1.49 (with 40% off coupon from Michaels)
Lace or sequins by the yard $1.00 (1 yard will be plenty)
Glue gun
An unopened can of soup, corn or whatever you have in your pantry $.49 cents (you need it heavy so it can stand the weight of your cupcakes.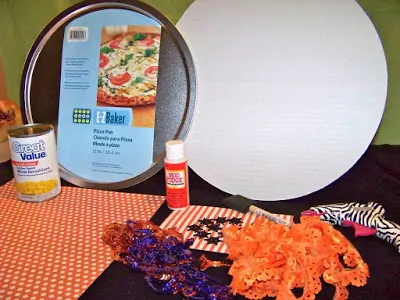 Take the pizza tray and flip it upside down. Cut the scrapbook paper in a circle to fit perfectly. Glue the paper to the pizza tray with mod podge. Do not use the hot glue for this because it will bubble really bad. Add the orange lace with the glue gun. Cut another piece of scrapbook paper and wrap around the can of soup. I did use the glue gun for this one, but just a little bit. Last step, use the glue gun to add the can to the bottom of the tray.
It will look like this when you are done: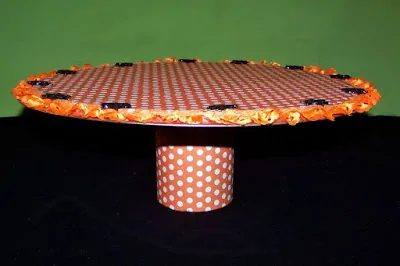 I had some cute plastic spider webs that I added around the stand too!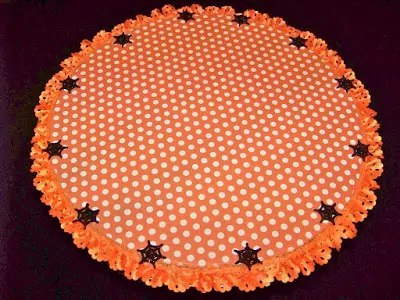 Halloween picture frame
Materials:
A plain photo frame from Michaels with 40% off coupon for $1.20
Halloween ribbon (about 1/2yd) $.75 cents
A plastic spider $1 (pack of 12)
Glitter spray paint (I purchased on clearance for $1)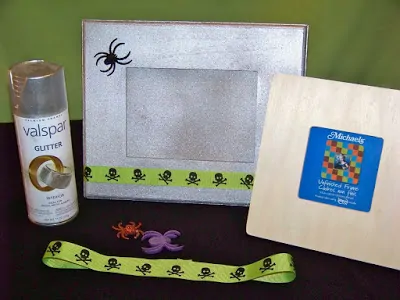 This craft take even less than 5 minutes. You will spray paint your frame on both sides. Add your Halloween ribbon with the glue gun and add a spider or two. You are done! I used mine to frame an invite for a recent Halloween photo shoot. This is what it looked like: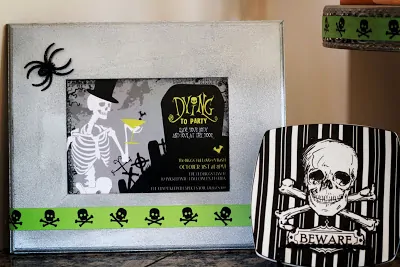 Halloween spiders
This is a fun craft to make with your kids!

Materials:
A black pom pom $1.00 from the Dollar Tree
Goggly eyes $1.00 from the Dollar Tree (50 in a pack)
2 pipe cleaners or fuzzy sticks $.77 cents from Walmart (pack of 25)
Glue gun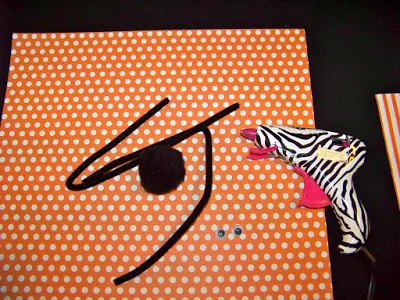 Cut the pipe cleaners in half. Fold each "leg" to look like an "L" and hot glue them to the pom pom. Glue the eyes on the pom pom as well and that's it!
I added the spider on the middle of the cupcake stand and it added a little fun centerpiece. You could add your cupcakes around the spider….super cute!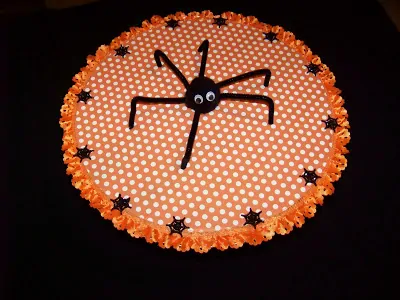 Halloween pillar stand
Materials:
1 sheet of 12X12 scrapbook paper
Halloween ribbon (1 yd is enough)
A recycled oatmeal container
Glue gun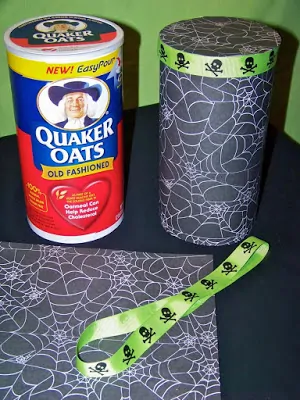 First, you will wrap and glue scrapbook paper around the container. You will cut around after it has been glued. Cut a circle to cover the top. Glue the ribbon around the top or you can add to the middle or bottom. I used this to set some skeletons for the recent Halloween photo shoot as well. They are cute to set some pumpkins or any cute Halloween decoration. **Note** Do not use to set candles on.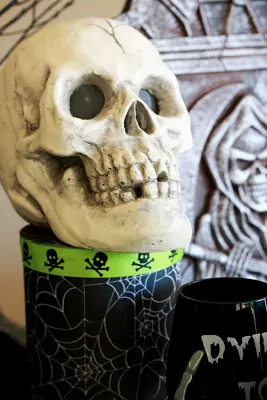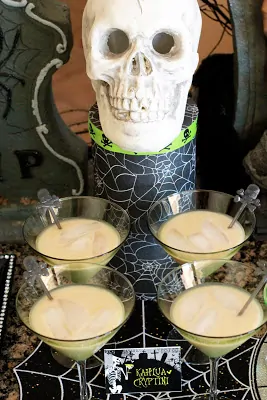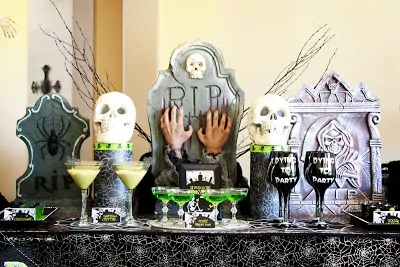 I hope you are inspired to make some cute and affordable crafts to decorate this Halloween! Thank you for allowing me to share. I love the community of lovely women on 5 Minutes for Mom!
More Family Fun Halloween Ideas
Try these creative Halloween recipes, crafts, and activities…

Written by Guest Contributor, Nancy Pfeifer, who owns an etsy shop called A to Zebra Celebrations.