This post may contain affiliate links. Read my disclosure policy here.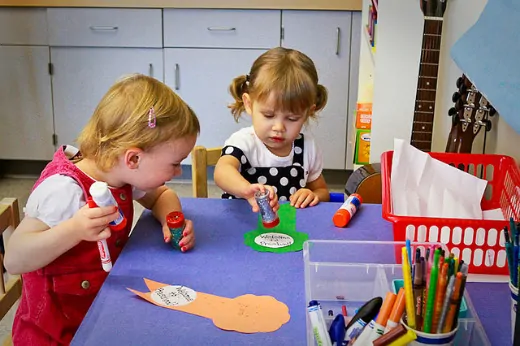 It's that time of year again… for me it is the most emotional time of the year.
Julia is going into first grade this year, so it's my fourth time sending her to school. She did two years of preschool then Kindergarten and now it's first grade. It's been pretty scary for us both each year, but we've made it through.
Last year's attempt to prepare my little Sophia for preschool seemed to go well, but after a few days it was clear she wasn't ready. Since her birthday is mid-October she was still two when school started and couldn't handle the separation anxiety.
I had suspected Sophia was too young, but where we live in Canada the school year age cut-offs are based on the calendar year and meant that Sophia was due to start her first preschool year before she turned three.
Janice's girl Olivia (Sophia's cousin) is only two weeks older than Sophia, but unlike Sophia, Olivia was ready and happy to be at preschool.
Sophia was excited and wanted to go, but when the excitement of the idea of school turned to reality, she couldn't stop crying.
This year Sophia is three turning four in October and I'm confident that now she will be ready and happy to be at preschool.
Here are a few steps we've taken to ease the transition:
Talking it up.Over the summer, we've been talking about preschool and all the fun she's going to have.
Bought special indoor slippers.At her preschool they must have indoor slippers, so I picked out an extra fancy pair of princess slippers that's she never had before.
Practiced the trip to school and played in the playground.Sophia is going to a different school than we attempted last year, so we've practiced going to the building and playing in the playground.
Read about it.Books about going to school and how to handle any fear can be really helpful. The book "The Kissing Hand" was critical in helping my older girl Julia get over her separation anxiety.
Playing school.We've been "playing school" with her sister Julia and her friends.
I am quite confident that my little Sophia is ready… but now the question is… Am I Ready???
I'm curious to know: What advice do you have for moms prepping for preschool? KinderCare will choose one lucky participant and make donation in their name to the Reach Out And Read chapter of their choice!
This is a sponsored conversation written by me on behalf of KinderCare. The opinions and text are all mine. Official Contest Rules.