This post may contain affiliate links. Read my disclosure policy here.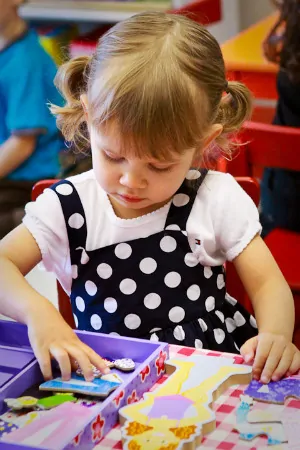 I'm always talking about how different Julia and Sophia are… but today I had a reminder that they are more alike than I may have thought.
It turns out Sophia is following the same pattern of developing separation anxiety at preschool.
Just like Julia, she was so excited on the first day of preschool that she didn't hesitate, fuss or cry at all. She ran right in and started playing.
But, the second day, when Olivia was a few minutes late arriving at class, Sophia started crying. And midway through class when Sophia noticed that Olivia had disappeared (she'd gone to the potty without telling Sophia), Sophia burst into tears again.
And, like Julia, the third day of preschool was even worse. More tears throughout the entire time at class.
Sophia is experiencing the same difficult type of separation anxiety that doesn't just resolve itself a few minutes after the initial separation. Unlike most children who cry for a few minutes at the start of class and then recover, Sophia continues to struggle going in and out of tears throughout the entire class.
She may become engaged in circle time or another activity for a few minutes and stop crying, but as soon as she remembers she's "alone", she begins to cry again.
Since Sophia and Olivia only attend preschool on Monday and Wednesday mornings, we'll have to wait until next week to see how Day 4 goes.
It took Julia about 2 months to get over her preschool separation anxiety but she did eventually start to love school. I hope Sophia has an easier, quicker path to preschool happiness. But, I'll keep you posted…

Written by 5 Minutes for Mom co-founder Susan.
You get our feed, right?