This post may contain affiliate links. Read my disclosure policy here.

Keeping glucose levels even is good for all of us…
When I was pregnant with Olivia I fell prey to my sweet cravings.
I am a dessert lover. I will ensure that I keep my house almost completely free of sweets so that when I am out for dinner or a special occasion I can indulge in DESSERT! And ladies — if you ever stand next to me in a dessert buffet, you will see what I mean!
But, early in my pregnancy with Olivia I was giving in and noshing on ice cream and nutella a little too often.
And when I went for my routine Gestational Diabetes testing, I failed. I had to go back for the nasty fasting tests. Yuch.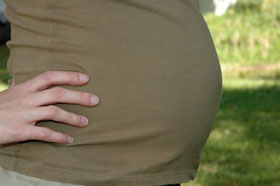 I was still tiny — this picture is my belly at 28 weeks. But I suppose I had some of that ice cream still flowing in my veins!
In the end, I only failed on one out of three parts of the Gestational Diabetes test. BUT, it was enough for my doctor to recommend a nutritionist and a Gestational Diabetes diet.
When I talked to the nutritionist she was happy with my regular eating habits, (minus of course the desserts I was allowing myself,) but she recommended that I cut out all juice and dried cranberries on my cereal or wraps.
She gave me some Gestational Diabetes diet information and meal plans and told me to focus on getting more protein, especially in the morning to help stabilize my glucose levels, since I had been spiking my blood sugar levels every morning with orange juice. The nutritionist also recommended that I exercise, such as a walk, after meals.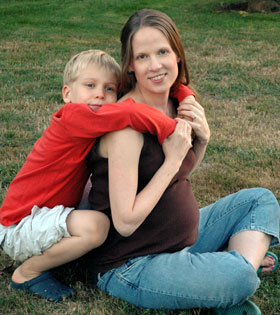 And ladies, it was amazing! With just a few changes, I was able to keep my blood sugar levels in check while ensuring I had adequate energy and nutrition.
Three weeks later, I went back for a check up and I had lost a pound. Remember — I was five months pregnant! I wasn't supposed to be losing weight! I was shocked at how effective the diabetic diet was!
So, I added a bit more calories to my pregnancy diet, and continued to follow the Gestational Diabetes Diet guidelines.
I gained only twenty pounds with my pregnancy and was able to easily drop them after giving birth — all because of watching my blood sugar levels and following Diabetic Diet Guidelines!
Weight Loss Tip #4 — Do it like the Diabetics
So, now that I am noticing that this extra ten pounds will NOT leave my thighs and waist, I am starting to get back to basics with the diabetic diet principles of eating a diet of low-carbohydrate and low-fat foods to control blo, with low glycemic value carbohydrates, and eating balanced, portion controlled meals throughout the day, with light exercise after each meal to help kick start the digestive system and prevent a spike in sugar levels.
Making wise high fiber, low fat food choices, controlling blood sugar levels, eating 5-6 small balanced meals, including protein, throughout the day, and exercising regularly — yes, the diabetics are doing it right!
Want to catch up with my previous Winter Weight Off posts?
Winter Weight Off
Weight Loss Tip #1 — No Dieting!
Weight Loss Tip #2 — Fill Up on Fiber
Weight Loss Recipe — Red River w Ground Flax
YOUR TURN:
Are you posting your Winter Weight Off journey too?

If you want to join me for healthy eating tips and healthy weight loss this spring in our "Winter Weight Off," I have posted a linky for bloggers to link up on my intro post. Feel free to join in and link up there, and find other bloggers who are participating.
As well, I post a new linky here so you can link up with a post you have written this week.
EVERY MONDAY AFTERNOON, starting February 14th, 2011, I post a fresh linky along with my Weight Loss Tip for the week. You can link up your latest Winter Weight Off posts every week in those fresh linkies. (And of course visit previous linkies to find our readers' own inspiring posts!)
Then, during the week, I publish one or two more Winter Weight Off posts here at 5 Minutes for Mom that relate to my Weight Loss Tip of the Week. Some of those will be written by me, and some weeks, I may feature some of you and link back to YOUR post of the week!

Link Up Your Winter Weight Off posts this week below:
Do you instinctively reach for the Low-Fat or Light versions?
What are your favorite LIGHT options?
Do you have favorite calorie-reduced recipes?
(Feel free to answer in your post or just post whatever you want to share with your readers about your healthy living journey.)

PLEASE NOTE: I am NOT a health professional, nor do I make any health or medical claims or advice here at 5 Minutes for Mom. I am simply sharing my opinions and personal experiences. Please consult your doctor about all medical issues and make sure you follow your doctor and health professional's instructions regarding your health and diet.
Written by 5 Minutes for Mom co-founder Janice.
To ensure you don't miss any upcoming posts, you can sign up for our RSS feed.