This post may contain affiliate links. Read my disclosure policy here.
Updated below…
Cheesecake, chocolate, pecan squares, pumpkin pie, eggnog, and oh so much more. The trouble started in October and it must end NOW.
The Cheesecake Slide…
I am a disciplined eater.
I eat healthy, fiber-rich foods and drink tons of water. Due to health problems, I can't do strenuous exercise and so, to maintain a healthy, comfortable-for-me, weight, I must be vigilant with what I consume.
My rule of thumb for healthy weight management is to rarely have sweets or junk food in our home and so when I am out, I can indulge a bit.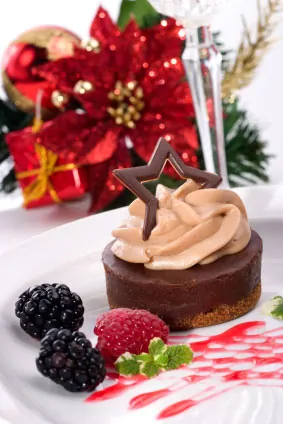 (Until a year or so ago, I didn't even drink coffee! I never had to worry about the temptation of a sugary-milky-caffeine source. It was always just water or herbal tea.)
But this fall, the slope got a little slippery — in fact it was a cheesecake slide!
Not only have I developed a Frapp and Latte habit, but I was traveling way too much. When I have to leave for the airport at 4am, I end up eating and drinking more calories by 12pm then I usually eat all day!
And when I was on those trips, oh the temptations! Desserts, drinks, all kinds of deliciousness — it all added up.
Then all of a sudden it was eating season — Halloween, Thanksgiving, Christmas, New Year's — and at the end of it all, I am ten pounds heavier than I was this summer.
NOW, "Ten pounds," you holler at me, "Is nothing to fuss about." BUT, if I let these ten pounds go, and let ten more join them, and then ten more — well I will have far too big of a "weight-off" on my hands.
Time for a Winter Weight Off!
SO, I am stopping this before it gets out of control.
I am going to lose my winter-weight. I am going to get back to my healthy weight management. And I am going to stay accountable here!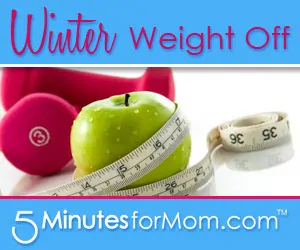 Now, this won't be easy. I will still be traveling often — fighting exhausting by eating and downing coffee that is the farthest thing from black!
But to keep myself motivated, I am going to have a series on weight loss tips and healthy weight management going on here at 5 Minutes for Mom called "Winter Weight Off."
Winter Weight Off isn't about an unhealthy obsession with being "thin."
This is about returning to my healthy eating routines and getting rid of the extra weight that is making my clothes too tight and making me feel uncomfortable. It is about catching my weight gain and my bad habits before they get out of control.
I will be posting recipes, photos, and healthy eating tips, as I get back to my regular healthy eating habits.
One of the tools I will also use will be Healthy Choice. Last summer I had signed up to be in their "Better for BlogHer" campaign, but being in Canada, I wasn't able to get the food in time to get going before BlogHer. So, instead of waiting till next spring to scramble and get the weight off before BlogHer11, I am starting early. Thanks so much to Healthy Choice for including 5m4m in your promotions.
TELL ME:
Did you gain extra weight this fall and winter? When are the most troublesome times of year for weight loss or weight maintenance for you?
Do you have weight you want to lose? Do you have healthy eating recipes or weight loss tips your want to share?
Do you want to do it with me?!?

If you want to join me for healthy eating tips and healthy weight loss this spring in our "Winter Weight Off," I will post a linky here and you can link up. (I will be posting my Winter Weight Off posts here at 5 Minutes for Mom once or twice a week for the next few months.)
This is about leaving holiday feasts and treats behind and focusing on healthier eating habits and choices.
Add the URL to your Winter Weight Off posts below. You can grab a button below too if you want.
UPDATED:
EVERY MONDAY AFTERNOON, starting February 14th, 2011, I will post a fresh linky along with my Weight Loss Tip for the week. You can link up your latest Winter Weight Off posts every week in those fresh linkies. (And of course visit previous linkies to find our readers' own inspiring posts!)
Then, during the week, I will publish a couple more Winter Weight Off posts here at 5 Minutes for Mom that relate to my Weight Loss Tip of the Week. Some of those will be written by me, and some weeks, I may feature some of you and link back to YOUR post of the week!
Banner Code:

PLEASE NOTE: I am NOT a health professional, nor do I make any health or medical claims or advice here at 5 Minutes for Mom. I am simply sharing my opinions and personal experiences. Please consult your doctor about all medical issues and make sure you follow your doctor and health professional's instructions regarding your health and diet.
Written by 5 Minutes for Mom co-founder Janice.
To ensure you don't miss any upcoming posts, you can sign up for our RSS feed.