This post may contain affiliate links. Read my disclosure policy here.
A smart way to lose weight is to fill up on fiber. This hot breakfast cereal is full of fiber and flavor – a nutrious way start your day!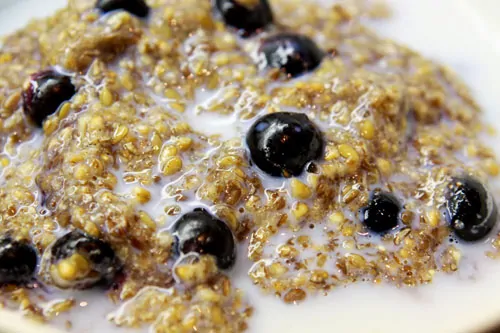 I am a complete fiber freak! I owe most of my weight management over the years to fiber and water. Really, when it comes down to it, those are the two main reasons I am able to keeping my weight level.
Also, due to my medication for anxiety and depression, I have to pay extra attention to ensuring that I have enough fiber and water to keep my intestinal tract – ahem – healthy and functioning.
This week, I have highlighted cereals and salads because they are my two favorite and easiest ways to increase fiber intake — and the two things I consume most in a week!
A staple in those cereals and salads is Flax. I use flaxseed to increase fiber and increase my omega-3 fatty acids. Flaxseed is high in fiber, omega-3 fatty acids and phytochemicals called lignans.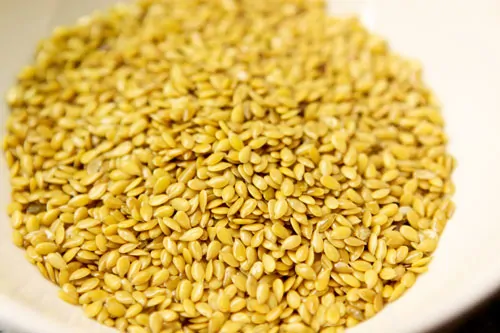 I prefer to use Golden Flax Seeds versus Brown Flax Seed because the golden has a slightly better, nuttier flavor. But golden flax seed and brown flax seed are similar in nutritional value, so whichever you are using will be great.
While I do use whole flax seeds, I focus most on using ground flaxseed in my hot cereals. Using ground flaxseed versus whole flaxseed is important because your body is better able to digest it. Whole flaxseed can pass through your intestine undigested, keeping you from reaping all it's health benefits.
I also prefer to use Ground Golden Flaxseed Meal versus Ground Brown Flaxseed Meal because, as I mentioned, I prefer the taste of the golden. But my health food store where I bought my Ground Golden Flaxseed Meal closed down and I am having a hard time finding it at other local health food stores. So for now, I am using Brown Flaxseed Meal.
However, you can also grind your own flax seeds with a coffee grinder. For some reason, I haven't tried that yet. I will have to!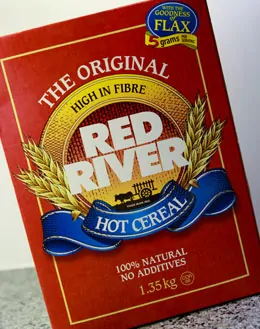 You can add ground flaxseed meal and flax seeds to ANY of your cereals — although it works best in hot cereals. If you love your oatmeal, start adding ground flax! It will give your oatmeal a nutty, richer flavor, while increasing your fiber and omega-3 intake.
I find starting the day off with a big bowl of cereal that is loaded with heart-healthy foods like whole grains and flax seeds not only helps keep you feeling full and energized, but it makes you feel good knowing you are looking after your body!
Here is a recipe I make for a SUPER high-fiber hot cereal with Red River. Red River is already a healthy, high fiber cereal, but I like to pump it up even further, and make it taste creamier and nuttier, with ground flax seed and whole flaxseed.
(Red River, I just learned from Wikipedia, is a Canadian cereal, with limited availability elsewhere. So, if you are unable to find Red River in your area, look for another hot cereal that is high in whole grains. Red River's ingredients are Cracked Wheat; Cracked Rye; Cracked Flax; Whole Flax.)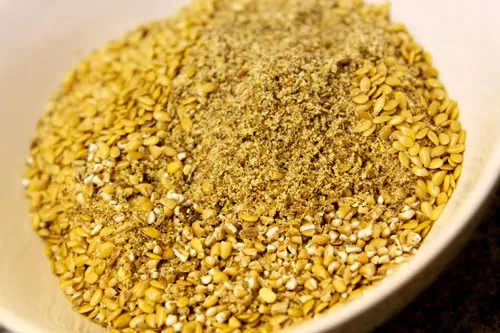 Note: It is key to not dump a ton of sugar on your bowl of healthy cereal! So, I find using a bit of salt in the water helps bring out the grain's natural flavors.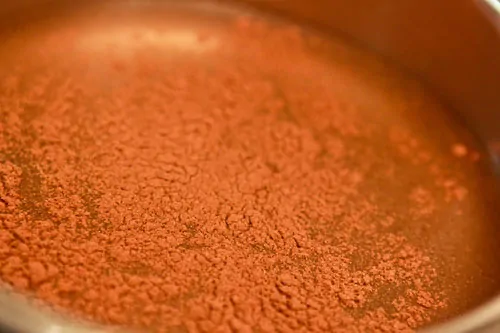 Also, I always use a ton of cinnamon — which not only makes the cereal taste delicious, but cinnamon has one of the highest antioxidant levels of any spice. As well, recent studies have show cinnamon health benefits. Cinnamon appears to help regulate blood sugar and reduce triglycerides and cholesterol.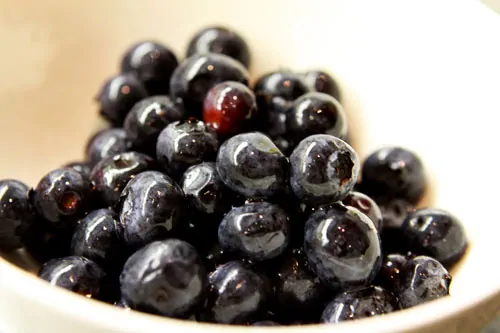 And, of course, I reach for my blueberry stash as well. Blueberries are little nutrient power houses — loaded in antioxidants, vitamin C, fiber, and manganese, with only 80 calories per cup. No wonder I freeze 200 pounds of organic blueberries every summer!
So, you can skip the sugar and add cinnamon and blueberries.
Red River Hot Cereal with Ground Flax Seed
SUPER high-fiber hot cereal with Red River. This recipe adds to the already healthy, high fiber Red River cereal and makes it taste creamier and nuttier, with ground flax seed and whole flaxseed.
Print
Rate
Ingredients
1 1/4 cup Salted Water I find the salt is essential to bringing out the flavor of the cereal so that adding sugar is unnecessary.
1/2 tsp Cinnamon
1/3 cup Red River cereal If you are unable to find Red River in your area, choose another hot cereal that is high in whole grains and fiber. Red River's ingredients are Cracked Wheat; Cracked Rye; Cracked Flax; Whole Flax.
1/4 cup Ground Flax Seed
1 tbsp Whole Flax Seeds
1 cup Fresh or Thawed Blueberries I add fruit to add sweetness, but it is optional.
1 cup Milk
Instructions
Bring salted water to a boil and add cinnamon. Add Red River cereal and return to a boil, then reduce heat stirring often for a minute or two.

Stir in ground flax seed and whole flax seed and add blueberries.

Simmer for a few minutes -- until cereal has reached desired consistency.

Pour cereal into a bowl -- makes one large serving or two smaller servings. (I eat the full bowl myself!)

Heat milk in the cereal pot (reduces dishes!) and serve on cereal immediately.

(I always warm my milk because it makes for a sweeter, more indulgent experience.
Notes
Note: I use less water to cereal ratio than the instructions on the Red River box. You may prefer to use more water. Simply just adjust the amount of water to your preference.

PLEASE NOTE: I am NOT a health professional, nor do I make any health or medical claims or advice here at 5 Minutes for Mom. I am simply sharing my opinions and personal experiences. Please consult your doctor about all medical issues and make sure you follow your doctor and health professional's instructions regarding your health and diet.
Written by 5 Minutes for Mom co-founder Janice.
To ensure you don't miss any upcoming posts, you can sign up for our RSS feed.