This post may contain affiliate links. Read my disclosure policy here.

I don't like to be hungry.
As much as I wish I could eat tiny portions and stay satisfied, it doesn't work for me. I like to feel full and not be starving one hour after I ate my last meal.
So the solution for me is FIBER — and tons of it!
Healthy weight loss tip #2 — Fill up on Fiber
By eating fiber with my meals and drinking lots of water, my healthy meals keep me full longer. And really, who wants to be hungry?!?
My healthy weight management secret weapon is All Bran!!!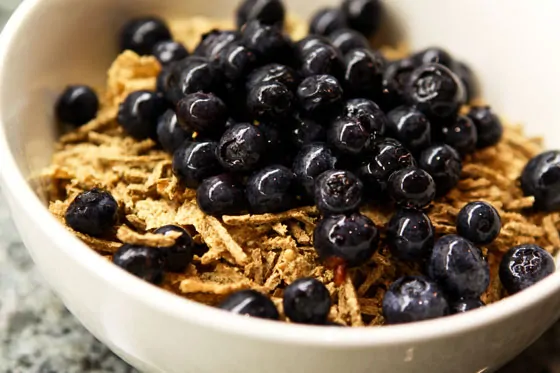 I eat cereal for breakfast and bedtime snack. (I hate to go to bed on an empty stomach.)
When I am eating cold cereal, (later this week I will show you my hot cereal fiber tricks,) I mix two parts of Kellogg's All Bran Flakes and one part Kellogg's All Bran. In the summer, I freeze about two hundred pounds of fresh blueberries, (we live in blueberry country,) and I add a cup of fresh blueberries to every bowl. Delicious!
Now, the KEY here is the All Bran. IF I just eat the Bran Flakes, I will be hungry in an hour. BUT, if I add a large helping of All Bran, the extra fiber keeps me full for three hours.
Note: Be generous with the All Bran — that dense fiber is what is going to keep you full and has less calories than the flakes.
Make your salad your biggest meal of the day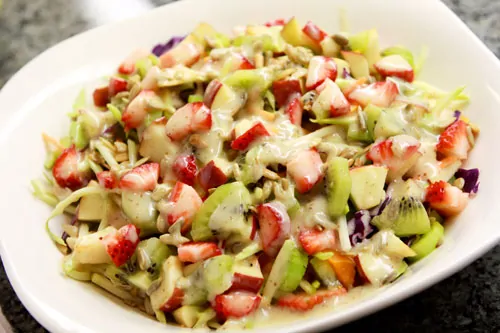 I can live on salads.
Actually, I do live on salads!
While sometimes I make smaller side salads to pump up the fiber content of my meal, most often I make my salad my meal!
I make sure to add enough protein, with chicken breast, nuts, and/or low fat cheese, and then add whatever raw vegetables I have in the fridge. I usually try to add some sweetness with fruit — apples, strawberries, and/or kiwi are my favorites.
In the winter, when my local spray-free lettuce isn't available, I reach most days for Broccoli Cole Slaw. (I used to make my own broccoli slaw by grating the broccoli stalks, but due to time constraints and ease, lately I have been purchasing this pre-made broccoli slaw. It is so quick to use, I have no excuse to not eat it!)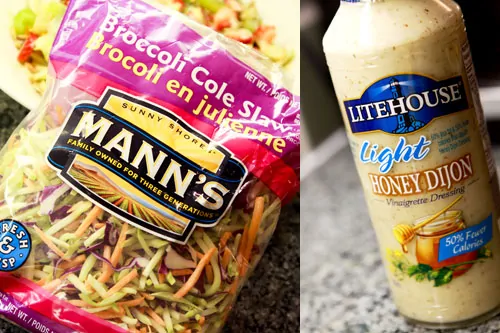 While I usually use an Olive Oil and Balsamic Vinaigrette that I make myself for most of my salads, for the Broccoli Slaw I like something a bit more creamy. My favorite, go to salad dressing is this Light Honey Dijon Dressing from Litehouse. It is fantastic!
Broccoli Slaw Fruit Salad with Chicken Breast
Every salad I make depends on what I have in the fridge and how much time I have to prepare. Some days my salads have four ingredients and some days they have ten. Just have fun with whatever you have on hand.
As I mentioned, a fast high fiber base to use for a salad instead of lettuce is Broccoli Cole Slaw. I use it all winter!
Broccoli Slaw Fruit Salad with Chicken Breast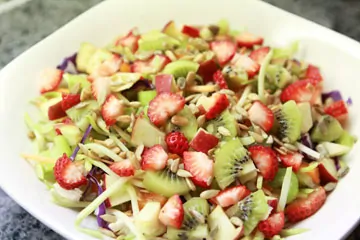 Ingredients:
Broccoli Cole Slaw
Bell Pepper
Celery
Apple
Kiwi
Strawberries
Sunflower Seeds
Chicken Breast
Start with about 2 cups of Broccoli Cole Slaw in a large bowl or plate
Add diced veggies and diced apples and diced chicken
Toss
Top with kiwi and strawberries
Sprinkle with Sunflower Seeds
Drizzle with Light Dressing — such as Light Honey Dijon
YOUR TURN:
Are you posting your Winter Weight Off journey too?

If you want to join me for healthy eating tips and healthy weight loss this spring in our "Winter Weight Off," I have posted a linky for bloggers to link up on my intro post. Feel free to join in and link up there, and find other bloggers who are participating.
As well, I will post a new linky here so you can link up with a post you have written this week.
EVERY MONDAY AFTERNOON, starting February 14th, 2011, I will post a fresh linky along with my Weight Loss Tip for the week. You can link up your latest Winter Weight Off posts every week in those fresh linkies. (And of course visit previous linkies to find our readers' own inspiring posts!)
Then, during the week, I will publish a couple more Winter Weight Off posts here at 5 Minutes for Mom that relate to my Weight Loss Tip of the Week. Some of those will be written by me, and some weeks, I may feature some of you and link back to YOUR post of the week!

Link Up Your Winter Weight Off posts this week below:
How do you keep yourself feeling full?
How do you incorporate fiber into your diet?
What are your favorite high-fiber meals and recipes?
(Feel free to answer in your post or just post whatever you want to share with your readers about your healthy living journey.)

PLEASE NOTE: I am NOT a health professional, nor do I make any health or medical claims or advice here at 5 Minutes for Mom. I am simply sharing my opinions and personal experiences. Please consult your doctor about all medical issues and make sure you follow your doctor and health professional's instructions regarding your health and diet.
Written by 5 Minutes for Mom co-founder Janice.
To ensure you don't miss any upcoming posts, you can sign up for our RSS feed.