This post may contain affiliate links. Read my disclosure policy here.
I am crazy about salad. Seriously. I can live on salads.
Today, I am sharing my Summer Salad over at A Southern Fairytale. (I was going to post it here for you all — but I adore Rachel and she asked me to post it there, so over there it is!)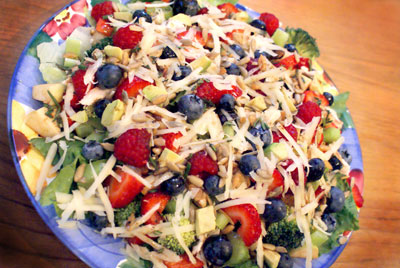 So make sure you hop on over to Rachel's sweet Texan home – she really does have A Southern Fairytale of a life – and check out my recipe.
Since I eat salads at least five times a week, I go through a ton of dressings! Here is my homemade dressing that I make most often.
I don't have a name for it — so I didn't know what to call this post. LOL It is a basic olive oil and balsamic dressing, kicked up with Dijon, fresh herbs and lemon. I also never measure when whipping up this dressing. Just eyeball it and it will turn out great. I promise.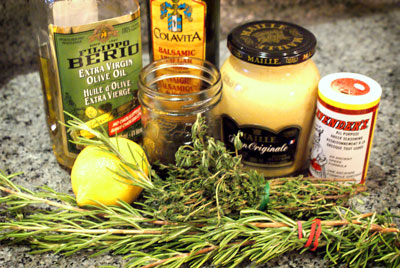 I also use Cavender's Greek Seasoning, (it comes in a Salt Free version as well that I usually use.)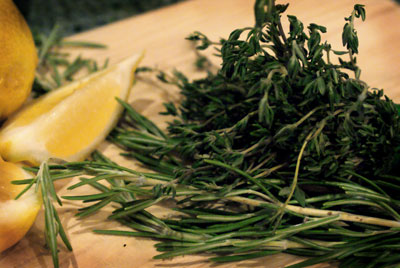 I love the smell of fresh herbs — but since I don't have my own garden, most days I use dried herbs. But I am definitely starting a new habit of keeping fresh herbs on hand. For this dressing, I use Oregano and Rosemary.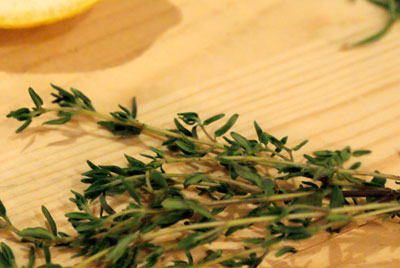 Ohhh, oregano smells so good!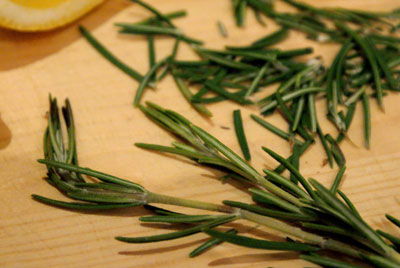 Not only is Rosemary one of my favorite herbs, Dr. Oz said on Oprah that this fragrant offering actually makes you smarter! Load me up!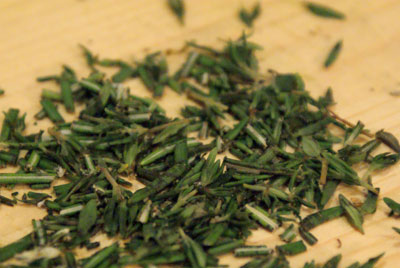 Remove the leaves and chop.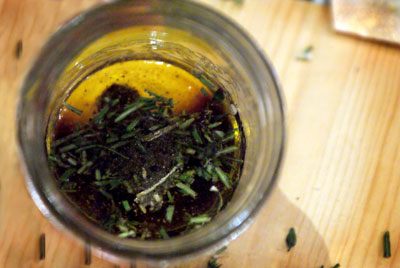 Add two parts Extra Virgin Olive Oil, one part Balsamic Vinegar, a splash of lemon, Greek Seasoning and Herbs.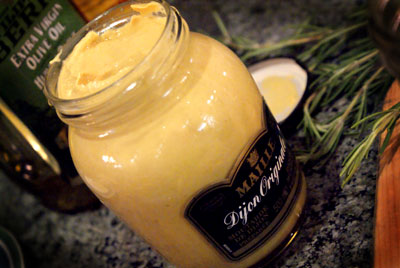 Time for the Dijon! Dijon Mustard adds flavor and a little kick. Add a little or a lot. I add between 1/2tsp to 1tsp.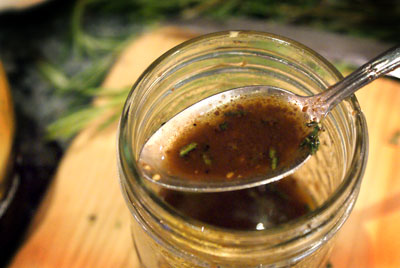 Time to mix it up. I find putting a lid on the jar (or some press n seal plastic wrap) and shaking blends the dijon and balsamic best. Here I had just stirred it (I don't know why – I always shake. Silly me!) and it isn't blended as well as when I shake. So I gave it a shake and poured it on…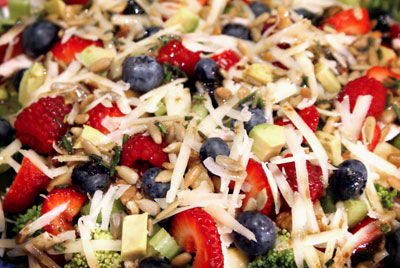 I LOVE to make this Olive Oil dressing because it is so simple to whip up, it tastes incredible, and, most importantly, it is healthy! I am not ruining the healthy aspect of my salad with a high fat, creamy dressing. Dr. Oz says that we should eat Olive Oil everyday — and I have no problem following along with that recommendation!

As I mentioned, I never measure for this dressing. So coming up with measurements is pretty much impossible for me. Depending on if I am making just enough for one salad or more, I just increase or decrease amounts accordingly. Just eyeball it and I am sure it will work for you too. 🙂
Olive Oil and Balsamic Dijon Salad Dressing
Two parts Extra Virgin Olive Oil
One part Balsamic Vinegar
A splash of lemon (I use fresh lemons or lemon juice if I don't have fresh lemons on hand.)
Greek Seasoning (to taste — I use about 1/4tsp to 1/2tsp I think – but I have never measured!)
Oregano
Rosemary
Dijon Mustard (about 1/2tsp to 1tsp — increase for more flavor and kick)
Add ingredients to a jar and shake! Serve immediately.
Written by Janice – co-founder of 5 Minutes for Mom
You get our feed, right?