This post may contain affiliate links. Read my disclosure policy here.

You have a choice… Take the LIGHT road…
If you look in my fridge, or in my shopping cart, you will notice a theme. Light… Low Fat… Fat Free…

If a food item has a lighter, less fat, less calorie, healthier version — I will take it!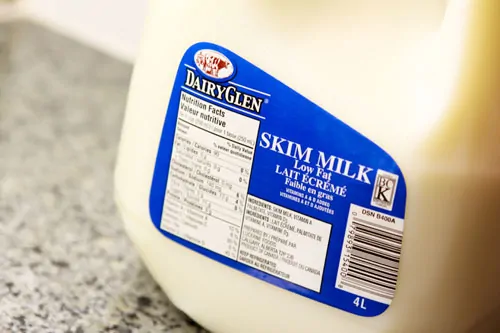 So I reach for the light cream cheese, the non-fat Milk, the light salad dressing, even the fat free ice cream, (if I am going to be naughty!)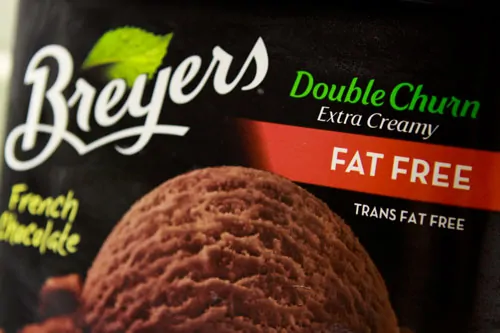 Sure, I would prefer the taste of the indulgent full fat, full calorie version, but that is like choosing to pay full price when the item on sale is sitting right there!
If you added up in a week the calories and fat you safe from "taking the light road" it would be remarkable. In fact, if you regularly choose the full calorie versions, switching to light and non fat would probably revolutionize your weight loss alone!
So, a challenge for you: Look for the Light!
If you drink low fat milk (1 or 2% milk) try switching to non fat (skim milk.) When you buy a salad dressing, choose the light options. If you are looking for quick meals, go for a "healthier" version.
Thanks to ConAgra, I have been using Healthy Choice meals when I need a quick lunch or dinner. These fast meals taste good AND they really are healthy choices!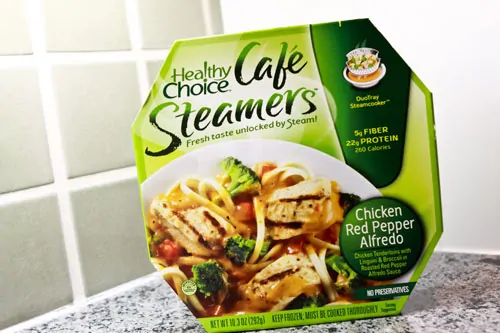 Even at fast food restaurants, you have lighter, healthier options! Go for the grilled chicken burger. Have a salad and skip the fries! If you need a treat, choose a small plain ice cream or frozen yogurt versus the candy loaded blends.
When it comes to healthy weight management and weight loss tips, choosing light options really is one of the easiest and most painless things we can do to achieve our weight goals!
Just imagine you are standing in a clothing store with a full priced sweater and a sale priced sweater. They both are great options — which one are you going to choose?
Want to catch up with my previous Winter Weight Off posts?
Winter Weight Off
Weight Loss Tip #1 — No Dieting!
Weight Loss Tip #2 — Fill Up on Fiber
Weight Loss Recipe — Red River w Ground Flax
YOUR TURN:
Are you posting your Winter Weight Off journey too?

If you want to join me for healthy eating tips and healthy weight loss this spring in our "Winter Weight Off," I have posted a linky for bloggers to link up on my intro post. Feel free to join in and link up there, and find other bloggers who are participating.
As well, I post a new linky here so you can link up with a post you have written this week.
EVERY MONDAY AFTERNOON, starting February 14th, 2011, I post a fresh linky along with my Weight Loss Tip for the week. You can link up your latest Winter Weight Off posts every week in those fresh linkies. (And of course visit previous linkies to find our readers' own inspiring posts!)
Then, during the week, I publish one or two more Winter Weight Off posts here at 5 Minutes for Mom that relate to my Weight Loss Tip of the Week. Some of those will be written by me, and some weeks, I may feature some of you and link back to YOUR post of the week!

Link Up Your Winter Weight Off posts this week below:
Do you instinctively reach for the Low-Fat or Light versions?
What are your favorite LIGHT options?
Do you have favorite calorie-reduced recipes?
(Feel free to answer in your post or just post whatever you want to share with your readers about your healthy living journey.)

PLEASE NOTE: I am NOT a health professional, nor do I make any health or medical claims or advice here at 5 Minutes for Mom. I am simply sharing my opinions and personal experiences. Please consult your doctor about all medical issues and make sure you follow your doctor and health professional's instructions regarding your health and diet.
Written by 5 Minutes for Mom co-founder Janice.
To ensure you don't miss any upcoming posts, you can sign up for our RSS feed.
Note: I work with ConAgra on their blogger advisory panel, and the Healthy Choice meals were sent to me as part of their "Better for BlogHer" campaign. However, my opinions about Healthy Choice are 100% my own.