This post may contain affiliate links. Read my disclosure policy here.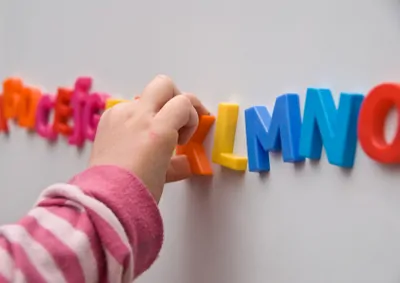 Names are the most important words our children ever learn.  They are, in a sense, the first "gifts" we give to our babies.  And not many of us gave a thought–while flipping through our baby name books–that one day the letters of this name would be the first letters our kiddos recognize, the first words our children spelled, or the first words they'd ever write.
Names are super-important, especially when it comes to early literacy because if we know what to do, we can help our emerging readers in a number of important ways.
Here are some quick and easy activities that will surprisingly support learning in oral language development.
Oral Language:
Pronunciation: Always pronounce children's names correctly, no matter what.  Even if your Sarah calls herself "Saywah" and you think it's the cutest thing ever, she has to hear her name said the correct way by the adults in her life.  That's not to say she can't be your "Sarah Bear" or "Sweet Sarah", but when we repeat children's incorrect pronunciations–in any words– we'll just end up confusing them in the long run.  No need to correct them or harp on them until they pronounce it properly; they all pick up speech sounds at different times.  Just repeat the word correctly–that's it–and move on.
Beginning Sounds: Make beginning sound connections with your child's name.  When you see a neighbor's dog, say, "Hello, Spot!  Hey, 'Spot' starts with the same sound as your name, Sam! Ssspot, Sssam.  Wow–you two are lucky, you both begin with 'S'!"
Ending Sounds: Talk about the similarities in ending sounds of people you know: "Listen to how 'Mommy' and 'Daddy'  sound the same at the end. Can you hear it? (Stress the 'e' sounds.)  Who else do we know whose name ends that way? 'Davey', 'Jenny', 'Mary'–"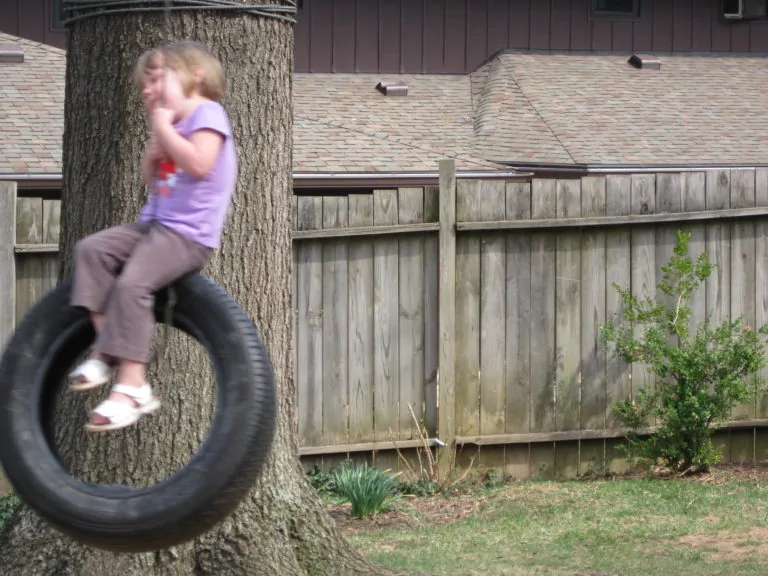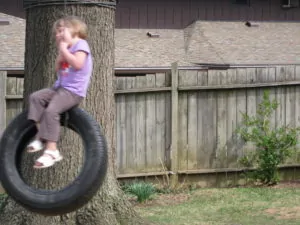 Rhyme Sounds: Play name rhyme games anywhere, any time–on the swings, on a walk, or in the car.  At the mall, at the post office, or at church.   As you're driving to Open Gym with little ones in the back seat, say, "Let's play a rhyme game! I am going to say all of the words that rhyme with 'Jack'.  Jack, black.  Jack, snack. Jack, pack. Jack, sack.  There are so many words that rhyme with your name, Jack! You are so lucky!  Now let's do 'Tina'–"
Depending on the age of your child, you could go back and forth, each saying a word that rhymes with the names of the people in your family, or see who could come up with the most rhyming words.  (And keeping count throws a little math learning in the mix as well!)
Clapping Syllables: My kids love this, and it's great for when children are on the swings, since each push of the swings draws out syllables.   You could even do it in the sandbox or at the doctor's if you need to buy time waiting in line.

Talk about the number of "beats" or syllables that are in your child's name.  Say, "Hey Trevor, did you know that your name has beats in it, just like beats in music? Listen, Tre-vor (clap for each syllable).  Tre-vor has two beats, or syllables.  Mom-my (clap for each syllable) has two as well.  'Max' has one.  Max (clap once).   'Christina' has three.  Listen: Chris-ti-na (clap three times).  That's three syl-la-bles  for Chris-ti-na.  Who else's names should we try?"
We clap-out syllables to determine how long someone gets on the swing: "We'll clap out Cora's full name–first, middle, and last–and then it's Owen's turn on the tire swing."  How fun?!
Sneak these connections in when you can, several times a day with different names and different words.  If we make a big deal about how awesome our children's names are, they'll be more apt to want to learn about them, play with them, and own them.
Playing with names–and developing oral language along the way–is super-important for our little ones because "a child's own name is a singularly important benchmark in early literacy development" (Both-de Vries and Bus, 09/01/09).  And any games we can play to promote phonemic awareness–taking words apart, putting them back together, listening for sounds, and changing them–helps build a solid starting point for literacy development.
Inspiration gleaned from Patricia Cunningham's Phonics They Use, 2000, along with other  reliable sources.
Next time: Celebrating Names in Written Language