This post may contain affiliate links. Read my disclosure policy here.
Susan here to share with you a wonderful book series for young girls ages 8 to 12.
My girls and I recently started reading this series together over the Christmas holidays and we're now on the 5th book out of 8 titles.
Reading aloud with my girls is my favourite way to spend time together.
UPDATE: When I wrote this blog post several years ago, I did not yet know that both of my girls have Dyslexia. I wish I knew then… and if your child is a "reluctant reader", I encourage you to get them tested for Dyslexia. My youngest daughter went to private Orton Gillingham tutoring and it has really helped.
I'll be honest that despite my love of reading and my great desire to raise children who love to read, both my girls have been what you might call "reluctant readers".
While I've read aloud to them an incredible amount all their lives, getting them to read alone has been a struggle.

You see, my oldest daughter — who is now 10 years old — has ADHD and had a tough time learning to read. Thankfully, she did get past those initial challenges, and now is reading quite well. But she still doesn't tend to want to read as she prefers other types of play.
My youngest daughter — who is now 8 years old — often imitated her older sister in saying, "I don't want to read". She has also gotten past the initial challenge of learning to read, but is not yet loving reading on her own.
I try hard to not let myself get upset or pressure my girls too much and try to force them to read when they don't want to as I fear that will make the issue worse.
Instead, I invest hours and hours reading aloud with them. We'll take turns with me reading a chapter and each of them reading a few pages or a chapter followed by me reading more.
They LOVE this time reading together and we can spend literally hours with them continually asking to read another chapter.
Reading together has turned into some of my favorite times of bonding and critical conversations discussing important topics such as friendships, bullying, religion, faith and more.
When we read books aloud together and sensitive topics come up, it helps put my kids at ease that they can talk with me openly about issues that might otherwise have seemed embarrassing.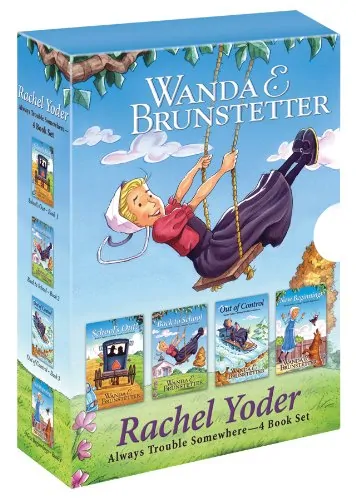 In the series we're currently reading,
Rachel Yoder "Always Trouble Somewhere", we've been able to talk extensively about God, faith, differences in lifestyle and more.
I've especially loved my girls hearing about a way of life where children work hard and are not spoiled.
Whether you read aloud with your children, or they love to pick up books and read on their own, I highly recommend this series.
While the series is intended for boys and girls ages 8 to 12, I think it's especially suited for girls ages 8 to 12. If you're reading aloud or if your children are strong readers, then 6 and 7 year old girls may also enjoy it.
Since I don't have boys myself, it's hard for me to say whether boys would enjoy the series. Since the main character is a 10 year old girl, personally I tend to think it will resonate more with young girls.
Note this post is not sponsored, but does include an Amazon affiliate link.
Written by Susan Carraretto, co-founder of 5 Minutes for Mom
Talk with me: @5minutesformom and Facebook.com/5minutesformom
Pin with me at pinterest.com/5minutesformom
You May Also Like
Here are a few more ideas to get help kids fall in love with books…