This post may contain affiliate links. Read my disclosure policy here.
For the month of August, here at 5MinutesForMom.com we've been excited about Back-to-School.
We've hosted Back-to-School giveaways, blog post roundups, photo shoots and a shopping guide.
We've been sharing the excitement of kids throughout North America as they return to school on various days throughout the month.
But we haven't mentioned one huge snag for Janice, myself, our kids and all the families living in BC, Canada.
Our kids are likely NOT going back to school any time soon.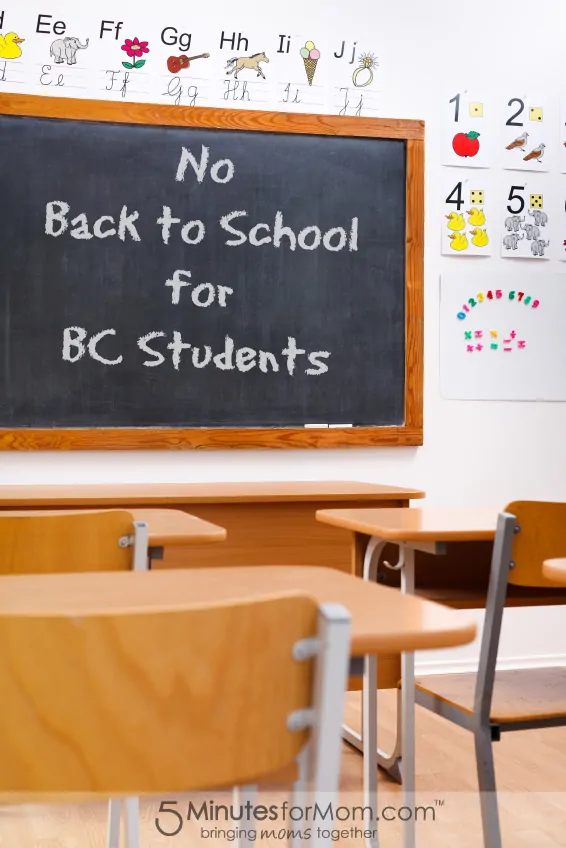 While many of our readers and American friends don't realize it, Janice and I are actually Canadian. We live in British Columbia where the teachers have been on strike since 2 weeks before the scheduled end of school in June.
We try and stay out of politics and not discuss divisive issues here at 5 Minutes for Mom because our mission and site tagline is "Bringing Moms Together". That's why we haven't even mentioned the strike.
We feel for the teachers and understand their requests. We know they're fighting for what's best for our kids. We all want teachers to be well compensated, class sizes to be as small as possible and awesome support for special needs.
So my frustration is not to say I don't want those needs met.
But I want BC kids to go back to school!
It's so devastating for students and teachers to not be able to welcome a new school year with enthusiasm and excitement for an upcoming year of learning.
With both sides being miles from even mediation, I fear this dispute will last far too long and spoil any hope for our kids to have a successful September.
So for all of my friends outside of BC, please be thankful that your child actually gets to experience "Back-to-School" this year.
And for my friends here in BC, we share your pain and frustration. We all want our kids to go back to school.
Petition for BC Parents
A group of parents started the petition "Minister of Education Peter Fassbender & BCTF President Jim Iker: Resolve the teachers' dispute and get our students back in the classroom" and need your help to get it off the ground.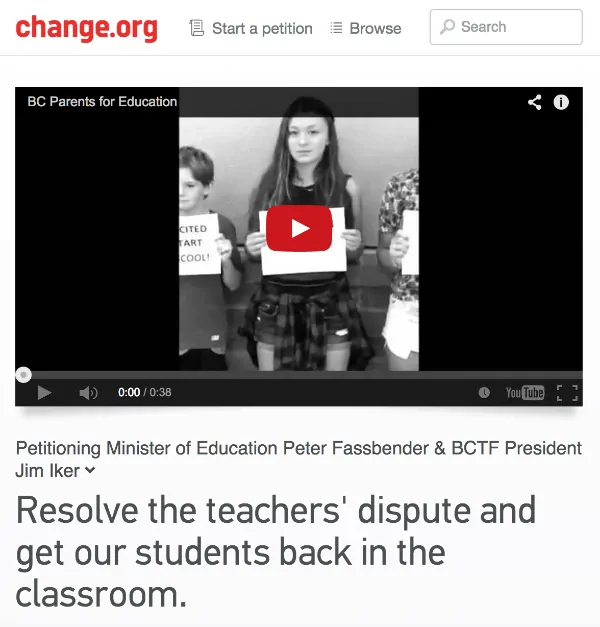 If you're a BC parent, will you take 30 seconds to sign it right now? Click here to sign the petition.
I was not involved in creating this petition, but I've signed it. Here's a message from the parents would made it…
Why This Petition Is So Important

We are asking mothers, fathers, and other family members or caregivers of BC public school children to sign our petition to send a strong message to the BC Liberal Government and the BCTF to end the teachers' dispute.

This petition gives a voice to BC parents to end the dispute and ensure our children begin the school year by September 2nd. By this date, our children will have been out of the classroom for approximately 75 days, already a significant disruption to their learning. The uncertainty surrounding the beginning of the school year has raised frustration and anxiety in parents concerned about their children's education, finding reliable childcare, and their own ability to work. The per-diem promised by the government will not cover the cost of a day of childcare and does not consider the struggle many parents will face finding this care.
Temporary Education Support
BC Parents with children 12 or under can register for Temporary Education Support for $40 per day during the BC Teachers Strike. Click Here to Register Now.
While, this temporary support won't solve the complex issues caused by this strike, it will be some help for parents of young children who need to pay for child care. You can share the link to the form with your friends, by retweeting the tweet below.
BC Parents – Here's where to Register for Temp Education Support for $40/day during BC Teachers Strike http://t.co/YuviIcyjMN #BCTF #bcpoli

— 5minutesformom (@5minutesformom) August 31, 2014
Written by Susan Carraretto, co-founder of 5 Minutes for Mom
Talk with me: @5minutesformom and Facebook.com/5minutesformom
Pin with me at http://pinterest.com/5minutesformom/