This post may contain affiliate links. Read my disclosure policy here.
Julia and Sophia love books with strong leading characters who are girls. These are their favorite chapter book series…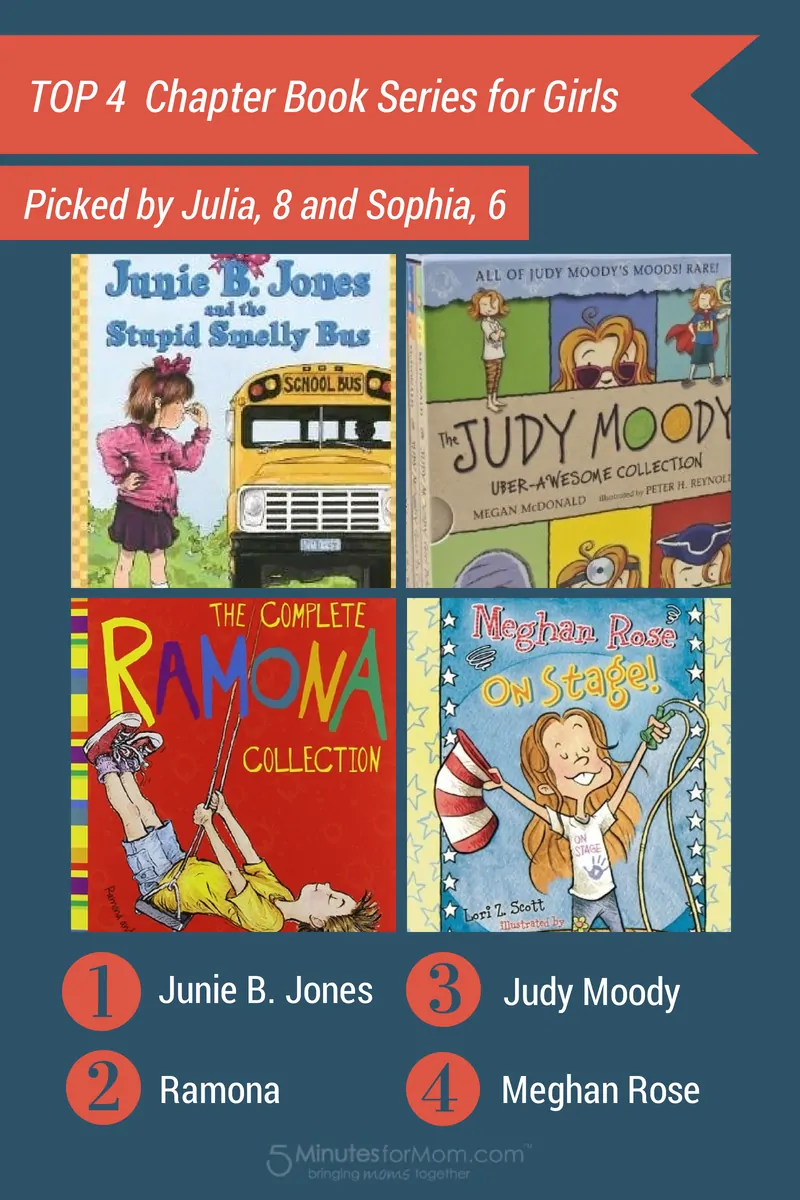 #1 – Junie B. Jones
My girls screamed laughing throughout all the books in the Junie B. Jones series!
Junie B.'s Books in a Bus! (Books 1-27!)
I'll admit, I purposely did NOT introduce my girls to Junie B. Jones at first. I was thinking, "Why would I have my girls read a book with 'STUPID' in the title when I tell them NOT to say it?"
But, after hearing over and over how fabulous the series is, I decided a few "bad" words wouldn't hurt my girls.
I had never seen my girls experience such pure delight from a book as when they got to know the sometimes silly Junie B. Jones.
She is their all-time favorite character.
Click Here to Find Junie B. Jones
#2 The Ramona Series
Scenes from Beezus and Ramona have been playing out in my mind for the last 30 years.
I will never forget Beezus and Ramona getting their haircut at the Beauty Shop!
I'm absolutely loving sharing The Ramona Collection
with my daughters. I'm reading these books aloud to my girls right now and laughing not only about the stories, but the differences in life in the "old days" and my memories of the stories as we go. The story lines are also helpful in triggering important conversations about money and responsibilities.
I think by relating to the Quimby's struggles with money, my girls have come to better understand our own financial troubles and my situation of being a single working mother trying to pay our bills.
I highly recommend reading Beezus and Ramona and the rest of the Ramona series aloud to your children, even if they are strong readers themselves. The conversations it will spark are phenomenal.
Click Here to Find Beezus and Ramona
#3 – Judy Moody
My girls fell in love with Judy Moody and her little brother Stink.
They laughed out loud and screamed for more throughout the The Judy Moody Uber-Awesome Collection: Books 1-9
.
I was worried at first about Judy being a bit of a brat and a little rude to adults, but my girls took such pleasure in being shocked by her behaviour. They recognized it wasn't appropriate, but funny to read in a book.
Since my goal is getting them to love reading, I took the risk of exposing them to a little bad behaviour and it worked. This series really kicked up their love for books.
Click Here to Find Judy Moody
.
#4 – Meghan Rose
Meghan Rose is the perfect book series if you're avoiding the "bad words" and snarky attitudes of Junie B. Jones and Judy Moody.
I introduced my girls to the delightful Meghan Rose
before any of the other characters in this list.
My mother picked up these books at our local Christian bookstore and I was thrilled with them. I read the books aloud to my girls a couple years ago and the story lines triggered many good conversations.
These are easy to read books and are the perfect early chapter books for young readers… especially when you want them to pick up good behaviour and learn some great life lessons while practicing their reading.
I only wish there had been more titles in this sweet series about Meghan Rose.
Click Here to Find Meghan Rose
What Are Your Favorites?
I'd love to hear what children's book series top your lists. Please leave me a comment and let me know what my girls should read next.
Join Us On Pinterest
I love sharing book ideas and great educational posts I find on Pinterest… Follow us at 5MinutesForMom.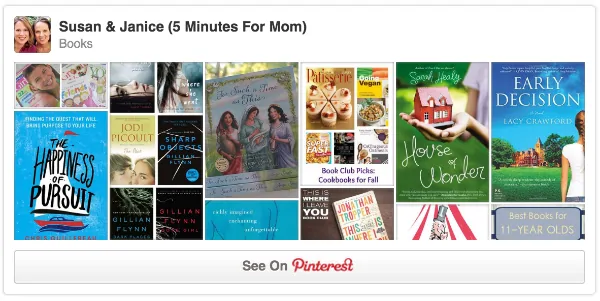 Follow all our Pinterest boards at pinterest.com/5minutesformom

Dislosure: This post contains Amazon affiliate links, which means we earn a very small commission when you purchase any of the books through the links in this post. This is at no extra cost to you. Thank you for supporting "5 Minutes for Mom".
Written by Susan Carraretto, co-founder of 5 Minutes for Mom
Talk with me: @5minutesformom and Facebook.com/5minutesformom
Pin with me at http://pinterest.com/5minutesformom/