This post may contain affiliate links. Read my disclosure policy here.
One of the easiest ways to bond with your children over the holidays is to spend time reading together. Children of all ages love when you read aloud to them.
This is part of a sponsored campaign, written by 5 Minutes for Books managing editor Jennifer D.
I love sharing books with my kids. They are old now (9 and 15), so we are past the sit in the lap and cuddle reading stage, but sharing books is still so meaningful for us. Whether we are reading aloud together, or swapping favorite books when we are finished with them. It is truly a great way to share and connect, and if you aren't reading aloud with your older children, I highly recommend it. I don't want to sound as if I'm supermom and gather my children around me for hours of reading each night. We don't. I wish we could. But during holiday breaks like this one or the summer, we do have more time, and I do generally make an effort to spend more time reading. E-books are so convenient to take anywhere (especially if you use an app and have them loaded on your phone!), so when you are in the car doing Christmas shopping or driving to visit family, you can be reading too. We usually take turns reading, so if I'm driving or cooking, I'll ask my child to read, and then I'll take over when I can and let him listen.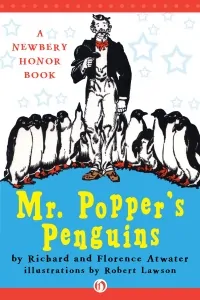 One book that I read with both of my children (at different times, though it's the kind of book that you could read to kids from 5 up to 12 all at once) is Mr. Popper's Penguins. My daughter and I read it long before the movie came out, but my son and I read it in anticipation of the Jim Carrey movie. The movie is very different, but it was still a good way to get him interested in this classic children's novel.
What I love in particular about this book is that the plot is sort of outlandishly silly, yet also heartfelt, which is the kind of thing that appeals to most children and is fun for adults to experience as a break from our everyday grind as well. Some of the vocabulary and language is quite different from what kids today read, since it was published in 1938, which is another reason it's great to read aloud.
Both of my kids ended up reading well at a very young age, which is a challenge if they have to find books "on their level" for school or if you want to challenge them to make sure they are still increasing their skills. Classics are a perfect way to do this. They won't run into content that is too old for them, the stories are timeless and wonderful, and they will be challenged.
The Boxcar Children by Gertrude Warner is another series that would be fun to read aloud or appropriate to give your younger child who reads on a more advanced level.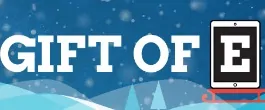 Find out more about how easy it is to give e-books for the holidays at my previous post.
Holiday Ideas for your Family
Here are some more fun ways for you to enjoy the holidays with your kids…