This post may contain affiliate links. Read my disclosure policy here.
Education, Rehabilitation, Inspiration…
This past May, I visited SeaWorld and Busch Gardens during the Manta Media Day trip sponsored by SeaWorld and IZEA. In February, I had reviewed Discovery Cove at SeaWorld with my family, (passes provided by Discovery Cove for review purposes,) but this was my first visit to SeaWorld and Busch Gardens.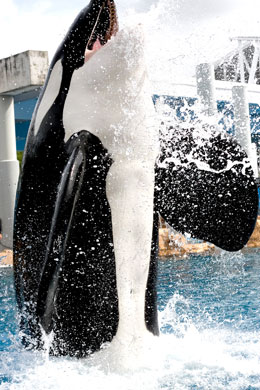 For a dolphin-loving, photo-taking girl like me, SeaWorld is bliss! I just wish I lived in Orlando so I could take my kids regularly to experience all it has to offer. (Florida residents can enjoy the park year round for the price of one single day admission!)
To me, the magic of SeaWorld, Discovery Cove and Busch Gardens comes from the combination of education, rehabilitation and inspiration.
I love that the parks are educating the public about wildlife and the importance of protecting wildlife and preserving their natural habitats, as well as doing critical rehabilitation work with rescued animals.
And inspiration? Well, it is life changing for a child – even an adult! – to interact with wild animals. SeaWorld, Busch Gardens, and Discovery Cove allow us to see wildlife we would never otherwise have the chance to see. It is simply inspiring to observe and experience these incredible animals with whom we share our world.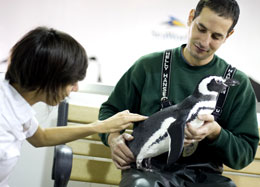 Through all of the work I saw at the parks and the interaction of the staff with the animals, I saw respect and concern for wildlife. The animals are treasured and treated with care and consideration. (In this shot, Gwen Bell interacts with a penguin at SeaWorld.)
Although some may argue that parks are taking animals out of their natural habitats for the mere purpose of entertaining people, I believe that the opportunities these parks are creating for educating, rehabilitation and inspiration are helping make the world a better place for all wildlife — and for our planet!
When I was at the parks, I heard about SeaWorld and Busch Gardens Adventure Camps, where campers get to care for, study and interact with animals.
I was so impressed to hear that more than 150 former Adventure Campers are now employed in the zoological departments at SeaWorld and Busch Gardens. Yes, the education and inspiration these camps offer are definitely life changing!
If your child would love to have a career with animals, check out this video about how Adventure Camp was the beginning of these animal trainer's careers:
In addition to Adventure Camps, there are lots of programs set up for the public to interact with the animals, such as the "Trainer for a Day" experiences.
SeaWorld Orlando's Marine Mammal Keeper Experience

Work side-by-side with marine mammal experts and understand what it's like to care for these amazing animals during a day. Get an intimate look at feeding and behavior patterns and work with the animals just like the pros do. (Must be 13 years of age or older to participate. Can be substituted for Beluga Interaction which is 10 and older.)


Keeper for a Day at Busch Gardens

Spend a day assisting in the care and feeding of some of the world's most exotic animals. Discover the satisfying sense of purpose that comes from knowing you've contributed to their care and learned a little bit of the language that connects all species.

No matter what kind of work you return to when you leave, you'll take away a special connection to these animals and their cousins in the wild after getting to be a keeper for a day – one we hope will inspire you from that day forward. (Must be five years of age or older to participate.)
Thanks to SeaWorld and Busch Gardens, one of our readers can win the opportunity to be a "Trainer for a Day" OR "Zoo Keeper for a day" at EITHER SeaWorld Orlando, SeaWorld San Antonio, SeaWorld San Diego, OR Busch Gardens Tampa.
(All travel to the city will be the winner's responsibility. SeaWorld will honor the prize within 1 calendar year of winning.)
If you want to win, just leave a comment below.
Don't forget you can earn additional entries: subscribe to our Feed, sign up for our 5M4M Newsletter, add our 5 Minutes for Mom button in your sidebar, write a post and link back to this contest on your blog, and spread the word via Facebook, Twitter, or email! (Just make sure you leave extra comments letting us know. Your comments are your entries.)
Please see our site's Terms and Conditions of Use for a complete list of our contest and giveaway rules.
This giveaway is open to US and Canadian shipping addresses and will end on Friday, July 17rd. We will announce our winners on Saturday, July 18th.
Busch Entertainment Corporation (BEC) operates 10 Worlds of Discovery, including five in Florida — SeaWorld, Aquatica and Discovery Cove in Orlando, and Busch Gardens and Adventure Island in Tampa. Other Worlds of Discovery include the SeaWorld parks in San Diego and San Antonio, Busch Gardens Europe and Water Country USA in Williamsburg, Va. And Sesame Place near Philadelphia.
Additionally, BEC created the SeaWorld & Busch Gardens Conservation Fund, a non-profit, private charitable foundation committed to supporting wildlife and habitat conservation, research, education and animal rescue programs worldwide. Learn more at SWBG-ConservationFund.org.
P.S. My Busch Gardens photos and my SeaWorld shots from the Manta Media Day, are at our Flickr account.
Written by 5 Minutes for Mom co-Founder, Janice Croze.
Thanks to IZEA and SeaWorld for sponsoring this media trip.