This post may contain affiliate links. Read my disclosure policy here.
The Manta had me flying!
Until today, I had only been on one rollercoaster in my life. I was 12 years old. It was the Scream Machine at Expo 86 and not only did I scream, but I practically drew blood from Susan's hand as I dug my fingernails deep into her flesh.
I hadn't been on a rollercoaster since.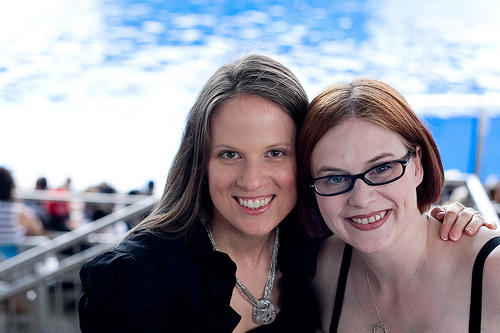 Ladies – I may be terrified of being whipped around the sky, with no one heeding my cries for mercy, but a blogger must do what a blogger must do.
(Especially if it involves a free trip to SeaWorld with the chance to hang out with blogging buddies!)
Yes, I jumped at the chance to see SeaWorld. Luckily for me, Susan is still nursing Sophia so I keep getting to go on all the fun trips. This time, Susan missed the chance to peek into the oceanic wild of Manta Rays, Killer Whales, Dolphins, Polar Bears, Alligators, Manatees, Sharks, Penguins, and more.
I had a ton of fun with my cameras, switching between my DSLR, my video camera and my iPhone. (We were all tweeting like crazy!) I will post more pictures soon and I have some of my shots up at Flickr.
(By the way, everyone is welcome to take copies of those shots from my Flickr Manta Media Day set.)
But let's get back to the reason SeaWorld flew us bloggers to Orlando.
May 22nd is the official opening day for the Manta and we were included in the Media Day to test the experience firsthand. The Manta is "the only flying roller coaster of its kind in the world." You ride head-first, face-down and you feel like you're flying. And if you can keep your eyes open, you'll feel the thrill of the up-close animal encounters.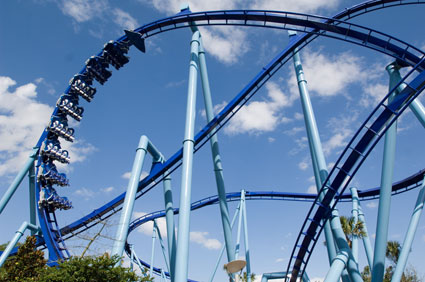 Photo courtesy of SeaWorld
So, despite my stomach churning fears, I strapped on a microphone and took my seat. It was time for me to ride the Manta.
SeaWorld filmed and provided this video of us riding the Manta. Riding (and screaming) with me is Katja Presnal, Gwen Bell, and Melissa – one of the fabulous SeaWorld reps.
We laughed, we screamed (and Gwen likened the experience to something I won't type here! LOL)
It was a BLAST! And much to my surprise, I can't wait to ride it again!
Written by Janice, co-founder of the mom blog 5 Minutes for Mom.
Have you subscribed to our RSS feed yet?