This post may contain affiliate links. Read my disclosure policy here.
#SEOchat was such a success — we are doing it again!
Last Monday, we had a fantastic open source Search Engine Optimization (or SEO) call with Susan, Gwen Bell, and Seth Jenks.
The call was so popular, we even turned #SEOchat into a trending topic on Twitter!
Seth and Susan answered questions about how to research and select keywords to use in anchor text (linking text), titles, tags and content. They also explained PageRank, Link Juice and the nofollow tag.
It was basic SEO stuff that everyone can benefit from.
But if you missed it, no problem! We recorded the SEO conference call.
Click over to get to the podcast, and you can read the Twitter chat conversation by searching #SEOchat.
(Btw, the podcast is totally open to anyone to take and embed on their own site. It's FREE.)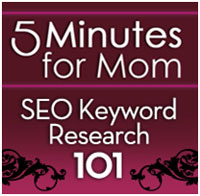 Since it was such a great success, we are doing another call next Monday night, March 16th at 8pm, EDT (5pm PDT).
Once again, our very own Susan Carraretto, co-founder of 5 Minutes for Mom, along with the fantastic Seth Jenks will be our SEO experts on the call.

Since Gwen Bell is on her honeymoon, we will have @magsmac stepping in as moderator for our discussion.

We will be covering:

Why keywords are important
How search engines use keywords to serve up results
Finding keywords that are relevant
Basic Keyword research
Onpage Keyword implementation
Tracking your results in the SERP's
And, of course, we will be answering your SEO questions!
So mark your calendars for March 16 at 8pm, EDT (5pm PDT) and join us!
Email 5minutesformom at gmail dot com or DM @5minutesformom on twitter to get the dial-in details.
(And feel feel to spread the linky love and tweet about this call or link to it. We really appreciate it!)