This post may contain affiliate links. Read my disclosure policy here.
Don't you hate that feeling when you know you need to talk about something uncomfortable with a friend or family member and you just don't know how to start?
I think as parents, when we think of difficult conversations we're going to have to have in the future, we immediately think of the tough talks with our kids.
But…
What about those tough talks that we need to have with OUR own parents.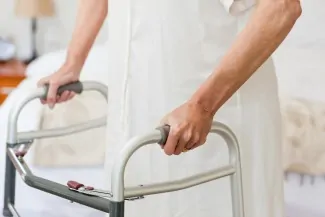 Many of us are part of this new generation of parents who not only have to worry about caring for our children, but we also have to worry about caring for our aging parents.
And it can get complicated.
In my family, I only have one aging parent that I'll likely be responsible for looking after… my dear 70 year old mother who is currently still holding her own as the Matriarch of our family.
I hope and pray that she lives another 20+ years like her mom did, and I know that I'll take charge of caring for her as she ages.
I have three siblings… most well known to you all would be my twin sister and co-blogger here Janice… but we also have an older brother and an older sister.
I trust we will all help with any financial needs that arise as my mom ages, but I've talked to my mom many times about how I want her to live with me and my family when she gets older. She's often joked about us "putting her in a home" and I know that she dreads it. So I've reassured her that when the time comes, she will be living with me as long as it's medically possible.
But not all families joke around and talk openly about such serious issues as long term care. Who is going to be financially responsible and who's going to do the day-to-day work of caring for family members can be a very difficult discussion.
What About Your Family…
How does your family talk about uncomfortable issues such as planning for care of elderly or disabled family members?
Have you talked about such things? How did you start the conversation?

Read the rest of the posts in our series about planning for our financial futures…

Is Choosing To Be A Stay-at-Home Mom Risky?
My Nana lived to be 93. What if I do too?
How Is The Housing Market Where You Live?

This sponsored post is part a series we and several other bloggers are writing for Genworth Financial to raise awareness amongst moms about the importance of taking an active role in planning for our financial futures. To find out more about long term care planning or to talk to a financial professional visit Genworth Financial.
Written by Susan Carraretto, co-founder of 5 Minutes for Mom.
Wanna chat? Find me at: @5minutesformom, @susancarraretto and Facebook.com/5minutesformom.
Images purchased from 123RF Stock Photos.