This post may contain affiliate links. Read my disclosure policy here.
For many women, staying at home with their children is the ultimate blessing. I've felt the warmth of those blessings but I've also been a little chilled by the challenges and risks of being a stay-at-home mom.
I'd like to share some very personal experiences with you, many of which I've never blogged about. I hope that by talking about some of these difficult issues, we can help each other through similar and even vastly different situations.
First let me tell you that this post is the first in a series that we and several of our fellow bloggers are writing as part of a compensated campaign with Genworth Financial to raise awareness amongst moms about the importance of taking an active role in planning for our financial futures.
I love my mom.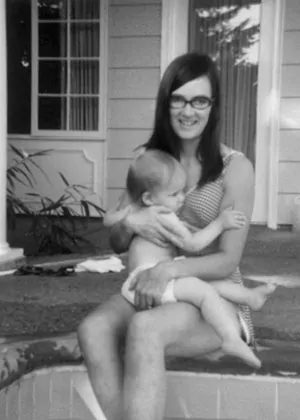 I've learned so very much from her. She taught me everything from how to write and edit an essay to how to ensure my laundry is washed, folded and organized to perfection. Some of these lessons I learned well and others I didn't. (Hint… I fail on all counts with my laundry.)
But as all children do, mostly I learned from watching her move through life — making mistakes and learning along the way.
I've made some of the same decisions as my mom and many different ones. And as I'm living my own life as a mother, I'm making my own mistakes and learning along the way.
Just like my mother, I succeeded well in school and work but then gave up my career once I had children. My children meant everything to me, and I chose to be a stay-at-home mom.
And like my mother, my life of being a stay-at-home mom and a wife supported by a husband, didn't stay that way.
We both were impacted by 2/3 of what I see as…
Three Risks of Being A Stay-at-Home Mom
No-Resume… Need To Make Money
It-Won't-Happen-To-Me… Divorce
Unthinkable… Death of Your Husband
No Resume… Need To Make Money
When we become mothers, our instinct to guard, love and teach our children becomes paramount. Some women choose — and are able — to leave behind their jobs and careers to focus as much of their time as possible on being at home raising their children.
But what so many women discover part way down that road is that their family needs more money and they have to bring in additional income.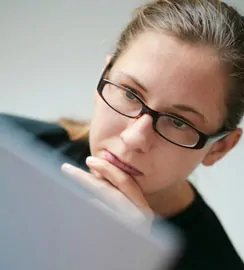 After years out of the work force, my mother lost her license to practice pharmacy and went to work as a secretary for my father.
I gave up my career as a software developer and business consultant to be at home. But when we needed extra money, I fortunately had also been working-at-home while staying-at-home and built up an income online.
As stay-at-home moms we need to remember that we might need to return to work in one way or another.
We need to constantly be learning and growing our skills even if it is in areas different than the careers we left.
Because as we all know, raising kids tends to cost more money than we think it will.
And unfortunately there is a second risk…
It-Won't-Happen-To-Me… Divorce
When you start out, divorce seems like it could never happen to you. And I truly hope you stay in the group that was right and you never experience divorce.
Well, it happened to me.
I won't go into details. The point is I never thought it would happen and I wasn't financially prepared.
So many of us women leave the financial "stuff" to our husbands. As Laura and Susan, founders of Golden Girl Finance say, "too many smart women let their financial situation be ignored, swept under the rug, or dictated by others."
As women and mothers we need to understand and play an active part in the financial decisions and planning for our families.
Whether you are left without a partner through divorce or the third — and worst case — scenario…
Unthinkable… Death of a Husband
Thankfully most young mothers don't have to feel the ultimate blow of the death of a husband. But whether you're a young mom with an infant, or part way down the path with kids heading to college, or helping with your grandchildren, you need to be financially prepared in case your husband dies.
My father died at only 56 years old.
His grandchildren weren't even born yet. His wife had years ahead of her and without him had no income at all. (She did work, but FOR him and without him, she had no paycheck.)
Thankfully he had life insurance. My father wasn't a perfect man, but he was always a good provider. He knew that if something happened to him, his family would need to be financially looked after.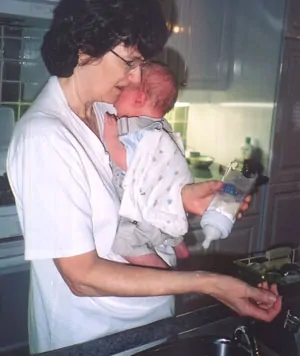 My mom had (and still has) years ahead to look after herself and as it turns out… six grandchildren and her own four children who unfortunately also need help time and time again.
Even now at age 70, she works with us in our online businesses as she continues to build for her own financial future, but I can't even let myself think what would have happened had she been left at 58 with no source of income, a mortgage to pay and the never-ending costs of life as a mother of four.
Sadly, so many families face the ultimate tragedy and then have to deal with financial devastation as well.
My friend Jennifer shared with me how she was recently reminded of the importance of life insurance when her friend who had been a stay-at-home mom for years suddenly lost her husband and did not have any life insurance.
Jennifer said…
Here was my friend, with no job, a recently deceased husband, and a family to care for — with no money or means of an income whatsoever!

I asked her, "What are you gonna do?" to which she replied, "I don't have the faintest idea. My husband always took care of all this stuff. How am I gonna be able to live?"
We all have such different stories to tell, and unfortunately some are more tragic than others.
Yes, I've learned many lessons from my beloved mother and I hope to pass many of them on to my own daughters. As for these lessons of watching for the risks of life as a stay-at-home mom, I hope I can also pass them on to you.
What About You?
Do you have any experiences you can share? I believe we can learn so much from each other and we'd be honored to hear your stories. Please leave us a comment…
Disclosure: This post is part of a compensated campaign with Genworth Financial. Together we hope to educate and empower women to take an active role in planning their families' financial futures.

Written by Susan Carraretto, co-founder of 5 Minutes for Mom.
Wanna chat? Find me at: @5minutesformom, @susancarraretto and Facebook.com/5minutesformom.