This post may contain affiliate links. Read my disclosure policy here.
Happy Holidays, y'all! It's Danielle again from Busy Mom's Helper, and I'm totally getting into the spirit of the season with this beautiful and festive Holiday Ruffle Wreath!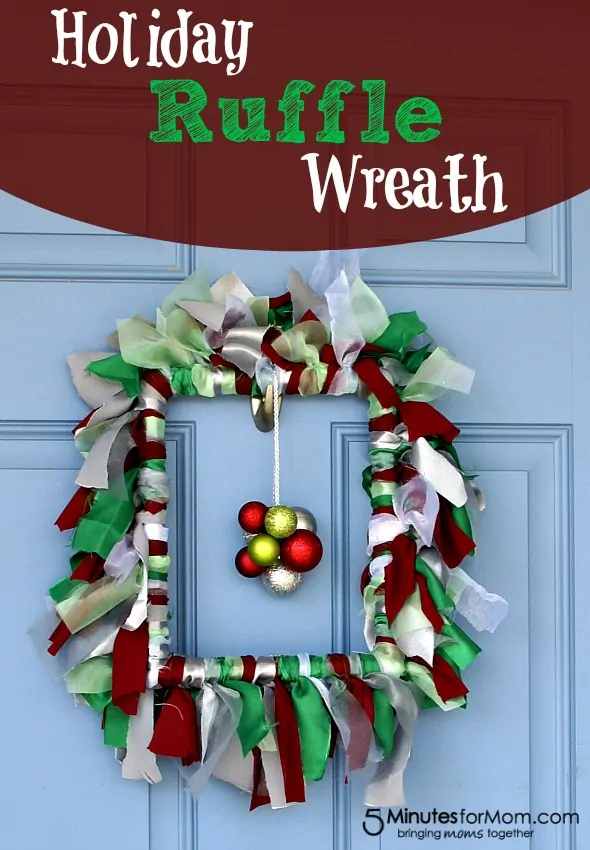 Are you the type to get your Christmas decorations out the soonest you can, or do you have a set date such as 'not until Thanksgiving is over'? My family's somewhere in between, usually setting everything up right around Thanksgiving, often the day of, because it's such a fun family activity for us. The kids love helping choose where things will go and remembering items from past holidays. We turn up the Christmas music, sing like the crazy bunch we are, and just enjoy ourselves. I love it!
Since this is only our 2nd holiday in our house, we still only have a small amount of decorations. This is totally fine, but I'm slowly-but-surely adding to our boxes as the year goes on. One item I was super excited about took hardly any time at all, and I was able to use things I had on-hand! I love how our holiday ruffle wreath turned out, and am already displaying it festively on our front door!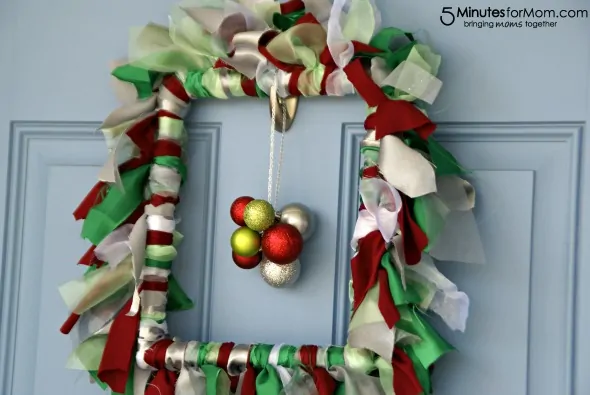 Supplies Needed
Frame of desired size (I just did an 8×10)
Scraps of fabric in desired colors and various types
If desired, wrap for around the frame, and hot glue to secure it in place
Ribbon
Random ornaments of choice
Directions
If you want, wrap some fabric around your frame and hot glue into place. I did this because there were some rough patches on the frame I used and didn't want them showing or catching on the scraps. 
Get your pile of scrap fabric together, then start at one corner and work your way around tying various ones to the frame.    
Just keep tying, just keep tying…. 🙂 Go the entire frame!
String some ornaments of various sizes on a string of ribbon, then loop it and tie so they hang in the center of your wreath.  That's it!
If you want, you can leave the scraps so they stick to the side AND the middle of the frame….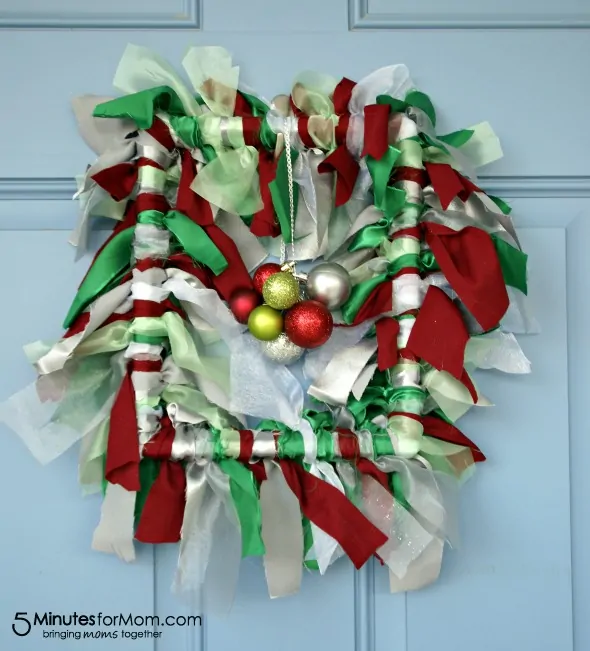 Or push them so it's tied on the side, and all the ruffles go out away from the center. This makes your ornaments stand out more as a focal point.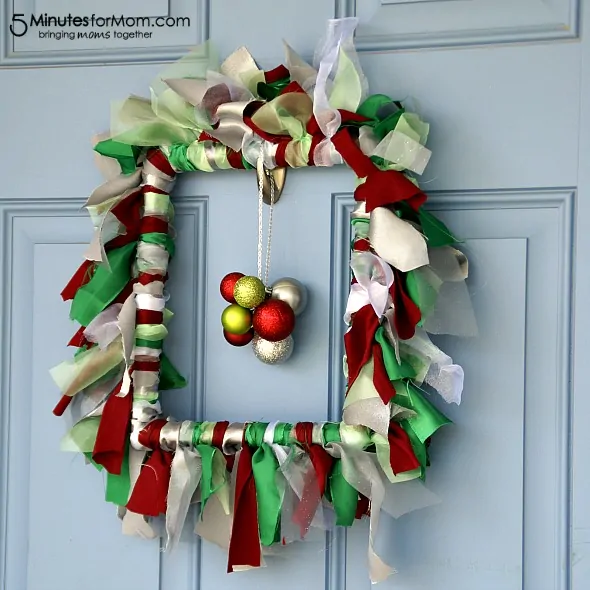 What fun holiday colors are YOU going to decorate with? I'm excited to try a pretty silver and blue one next 😀
Find more DIY Crafts by following us on Pinterest!