This post may contain affiliate links. Read my disclosure policy here.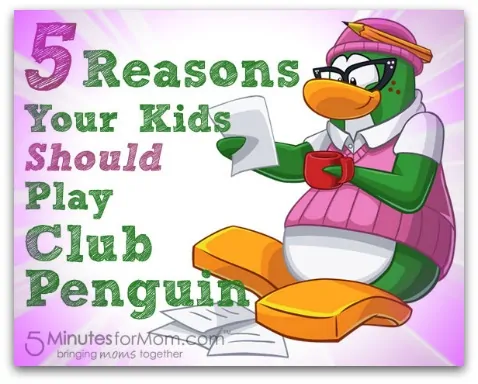 Club Penguin is a virtual world created and carefully monitored to allow kids a safe online playground to socialize and play games.
If you're a parent who isn't yet familiar with Club Penguin, you need to know it's more than a video game. It's actually a fantastic way for your child to discover online friendship and community, while using their creativity and imagination in a new world of exploration and discovery.
I recently attended the Club Penguin Media Summit and I discovered how helpful Club Penguin can be for kids.
5 Reasons Your Kids Should Play Club Penguin
Learn How To Use Social Media Properly

Your children are growing up within a world changed by social media. Depending on your own job or pastimes, you may or may not be fully immersed in new media, but your kids will be.

Sadly, they are likely already watching social media be used negatively.

Kids need to see positive examples of social media in action and be shown how to participate in a safe and useful way.

Club Penguin is social media with training wheels.

Practise Reading, Writing, Spelling, and Typing

As parents, we want our kids to be continually improving their reading and writing skills.

While kids play and interact within the virtual world of Club Penguin they are constantly reading and writing. The safe chat technology that offers autocomplete word suggestions helps children learn to spell and type.

Stay Safe Online

These days, it's not a question of whether or not kids should be online, but instead where they should go online.

They are naturally attracted to social networking, but sites like Twitter, Facebook and Instagram can be dangerous for young children.

Facebook doesn't even allow children under 13, yet many elementary school students do have accounts.

There are an endless number of tragic stories of cyberbullying and children's safety being compromised on those networks that are designed for adult interaction.

Kids need to be shown how to stay safe online and interact appropriately on public social media sites and they need to be helped by tightly enforced rules to keep them within safe boundaries.

Use Their Imaginations

Creative play is critical for children. The virtual world of Club Penguin provides a framework and set of tools for kids to imagine and create stories endlessly.

They exercise their minds while playing games, decorating their igloos, dressing their penguins, naming their puffles, and creating elaborate scenarios in which their penguins can participate.

Many super fans even go outside the platform to create artwork, write blogs and even create videos inspired by Club Penguin.

Have Fun

Most importantly, Club Penguin is fun.

Kids don't log in to Club Penguin because they're going to learn. They log in day after day because it is incredibly fun.
The best part of childhood is playing. Club Penguin uses technology to give kids a safe virtual playground where they're continually learning and growing their creativity while having a blast.
If you'd like to know even more about Club Penguin, read my Full Inside Story of The #ClubPenguinSummit.
Disclosure: My travel and accommodation expenses were covered by Disney for me to attend the summit.
Written by Susan Carraretto, co-founder of 5 Minutes for Mom
Talk with me: @5minutesformom and Facebook.com/5minutesformom
Pin with me at http://pinterest.com/5minutesformom/