This post may contain affiliate links. Read my disclosure policy here.
The number of gifts your kids will receive throughout their childhood is shocking! Trust me… my girls are now 14 and 16 years old, and I cannot get over the amount of money I've spent on presents for them for birthdays, Christmas and other holidays over the past 16 years. But that's not even the bulk of it… kids get gifts from grandparents, aunts, uncles and other family and friends, as well as stacks of gifts from their own friends at birthday parties.
All those gifts will take over every ounce of free space you have in your house. And you'll regularly be carting boxes of stuff off to donate.
So every chance you get to give your child books for gifts is an opportunity to fill the most important spot in the house… their bookshelves.
I wrote the following post several years ago in 2012 as part of a compensated campaign with I See Me! Personalized Children's Books.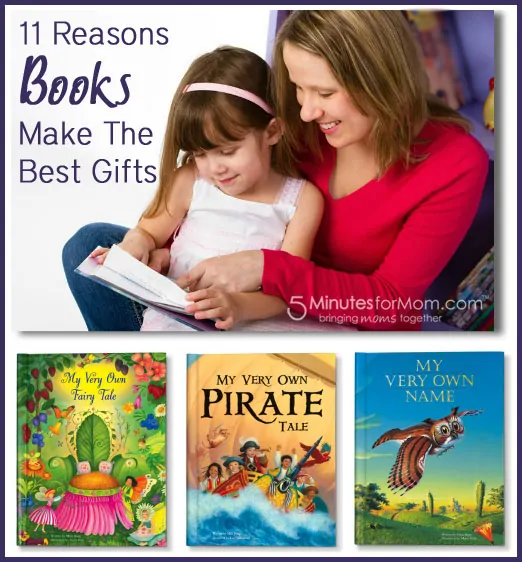 When you become an aunt, uncle, or grandparent, whether you like it or not, you've signed up for a life-long contract of gift giving.
Parents of course have it the worst, because not only do they have to buy hundreds of presents for birthdays and holidays for their own children and relatives, they've got to shop for years and years worth of their children's classmates' birthday parties.
It can get expensive and repetitive. After several trips down the toy aisle at your local WalMart, you'll likely start saying, "They've got too many of those… and those…"
But there's one gift category that never runs dry… BOOKS!
CONTINUE READING 11 Reasons Books Make the Best Gifts…


Disclosure: This post is part of a compensated campaign with I See Me! Personalized Children's Books. My opinions and passion for books are all my own.
Written by Susan Carraretto, co-founder of 5 Minutes for Mom
More Creative Gift Ideas and Activities For Kids
Here are more gift to inspire kids' creativity…