This post may contain affiliate links. Read my disclosure policy here.
Summertime and the living is easy. It's time for sunshine, swimming, parties and backyard barbecues.
My husband and I recently purchased our first grill and are looking forward to hosting several fun backyard parties this summer. In fact, we have one in store for July 4th, and I am so excited.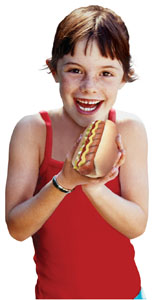 Thanks to Hebrew National, my 4th of July barbecue is bound to be a blast. Not only am I looking forward to friends, family and food, but I love, LOVE that I also get to enjoy Hebrew National hot dogs at my event.
I have been a fan of Hebrew National since I was a child. It was the only, and I mean ONLY, hot dog brand that my parents would purchase. Now that I have kids of my own, I too make sure that we only eat Hebrew National hot dogs.
All Hebrew National kosher beef products are made with premium cuts of 100% beef and have no fillers or by-products, no artificial flavors or colors.

When I feed my family Hebrew National, I know that I am serving my family the best, all-beef hot dogs for a quality, fun family meal.
This week, as I prepare for my upcoming 4th of July barbecue, I will be sharing with you some fun photos and videos, sure to get all of you in the festive fourth mood.
And believe me, you will need to get festive, because Hebrew National is giving one lucky reader a $1,000 American Express Gift Card to hold a 4th of July barbecue of their dreams.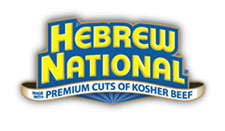 If you win, not only will you be able to stock up on your favorite grilling meats, including of course, Hebrew National kosher beef products, but you will have enough money to even hire a maid service to clean up after the party is over.
Heck you could even throw in some bouncy castles for the kids or hire someone to do the cooking for you. Invite your co-workers, your friends, even your neighbors. It is sure to be a 4th of July to remember.
To enter, please leave a comment below. You can also earn additional entries: subscribe to our Feed, sign up for our 5M4M Newsletter, add our 5 Minutes for Mom button in your sidebar, write a post and link back to this contest on your blog, and spread the word via Facebook, Twitter, or email! (Just make sure you leave extra comments letting us know. Your comments are your entries.)
I am so impressed with Hebrew National's "4 No's" — no fillers or by-products, no artificial flavors or colors. In your comment tell me, what are your "No's" when it comes to feeding or raising your kids.
Please see our site's Terms and Conditions of Use for a complete list of our contest and giveaway rules.
This giveaway is open to US shipping addresses only and will end on Sunday, June 28th. We will announce our winner on Monday, June 29th. Be sure you don't miss our winner announcement on the 29th, so we are sure to get your shipping address right away. We want you to receive your $1,000 gift card in time for shopping for your 4th of July bash.

As our winner, we will also ask you to share some pictures from your 4th of July barbecue of your dreams to be posted on 5 Minutes for Mom.


Hebrew National would also like to give the winner a chance to give back to the charity of their choice by turning your backyard barbecue into a Picnic with a Purpose. You can even use some of your winnings and/or let your guests know that they can make a small donation if they'd like as well, to help a cause near and dear to your heart. Or you could come up with some other creative ways to support a charity.

This spring various bloggers all over the country participated by throwing their own Picnic with a Purpose. Some had their guests donate used clothing, some painted pots… check them out and get your creative juices flowing about how you can turn your July 4th bash into a Picnic with a Purpose.

And yes, I'll say it again, you could win $1,000 to throw a 4th of July barbecue of your dreams.
Oh, and the 4th of July fun doesn't end there. 5 Minutes for Mom will be holding a virtual barbecue this 4th of July, where we will give you the opportunity to link up to your 4th of July party posts all week long, for a chance at winning another fun prize. Stay tuned for more details.
Hebrew National is also on Facebook. Become a fan of Hebrew National on Facebook
Written by 5 Minutes for Mom contributing editor: Erica from Butterfly Kisses