This post may contain affiliate links. Read my disclosure policy here.
Okay, ladies — how are your New Year's weight loss resolutions or goals going?!?
On January 1st, we told you all about a fantastic site designed to help you lose weight through Visual Motivation called www.weightview.com.
The idea is simple. And it is FREE! You send in a photo of yourself and tell them your weight loss goal. They modify the photo to show you what you could look like after you reach your goal.
You use that "after" photo to motivate you to lose weight.
We also love that, since support from friends is key to your success, the weightview site has a great community where you can share your journey and have fun while getting healthy.
Testing WeightView.com
We even had three of our 5 Minutes for Mom readers be our TESTERS and sign up at www.weightview.com and submit their photos.
We promised to follow these ladies and check in with them at the end of the month to see how much closer they are to their goals.
And now, it is check in time…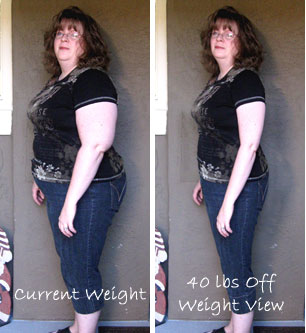 I am a Christian Stay at Home Wife and Mama. I have struggled with my weight ever since I was young…like junior high young!
The only time I was ever really slender was when I was single and B.C. (before child).
I want to be healthy for my 15 year old son, my 2 year old son (whom we are in the process of adopting), and for my husband.
I'm actually starting a "15% Club", and have blogged about it at MamaBearGetsChatty.blogspot.com. I've invited any woman who wants to lose 15% of their weight or more, to come and join me on this journey to health, energy, and being able to shop for clothes that aren't "plus sizes"!
UPDATE:
I really like www.weightview.com.
It's so motivational for me! I can look at that photo, and think "That's going to be me in just a few months!"
This has motivated me so much, that I have started a "club" for gals who want to lose at least 15% of their weight. It's called "The 15% Club".
We have a private blog that only "club members" can view and post on. Some of the gals have even submitted their own "before" picture to www.weightview.com!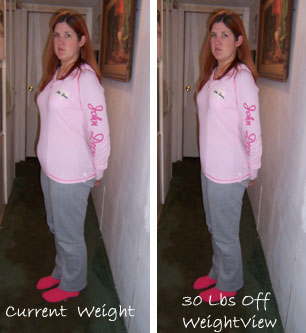 My name is Shelly Burns. I am a 35 year old teacher, blogger, and reader. My husband and I live on 9 acres where we raise paint horses.
On my blog, I review books — mostly children's books, but also YA, and adult titles.
I have never been small, weight wise, but because I am tall I can carry more weight. About 3 months ago, I started to notice that my body was taking on a different shape, and my pants started to fit differently.
So, I decided that, Jan. 1, I was going to do something, anything. That's when I heard about weightview.com from 5 Minutes for Mom and knew that was the motivation I needed.
UPDATE:
WeightView is a great site!
The submission process was a breeze. Once I logged on, I was walked through each step and found it very user friendly. All in all, it took me less than 10 minutes to set up a profile, add my pic and get started.
It has been motivating to have the before picture instead of just a goal in my head. I have that "look" staring me in the face and the thought that I don't want to look like that anymore.
WeightView sends out motivating newsletters to help keep you going, and I've found that helpful as well.
So far, I've lost 11 pounds, even with cheating now and then. Thank you for sharing this site with me.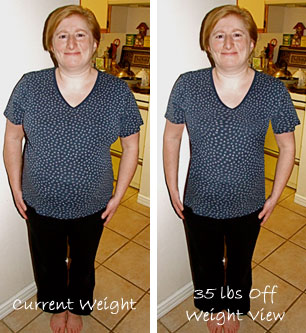 I have always had a little tummy but now after my daughter was born three and a half years ago I still haven't lost my baby weight.
I hope to lose 35 lbs give or take 5 or 10 lbs. I plan to eat more salads, fruits and vegetables and go to the gym while DD is in pre-school or art class. My after picture is the incentive that I need for motivation.
Join me on my weight loss journey as I blog about it at Michelle's Family Journal
UPDATE:
I do find that WeightView is helping me to lose weight,
I've done very well if I say so myself at not buying junk food but eating fresh fruit and vegetable. I have avoided pop for the most part which is hard it's like the cup of coffee to other people.

I can fit in my capris that I haven't worn for awhile so that makes me very proud!
I look forward to spending a lot more time browsing www.weightview.com in the evenings when I've time to look at exercise and meals that are low fat.
I want to have more energy for chasing and keeping up with my daughter. Plus I'm tired of being asked "When are you due?!"
WeightView.com Will Give One of You A Wii Fit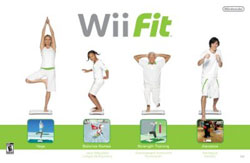 So now… what about you?
How are YOUR New Year's weight resolutions going?
Has WeightView helped you keep motivated this month?
IF you participated in our WeightView contest earlier this month, you are eligible for a chance to win ANOTHER Wii Fit or a cash prize of $160.
To enter to win in this special Part 2 of our contest SIMPLY tell us your opinion of the weightview.com system for a chance to win.
Yes, this is our SPECIAL REWARD contest for those of you who participated in our New Year's WeightView contest.
ONLY those of you who tried out www.weightview.com and submitted your photo and entered our contest with a comment here telling us you signed up are eligible to enter.
We wanted to say THANKS to our readers who entered and say CONGRATS for trying to improve your health in 2009.
So, if you were one of our contestants in Part 1 of our New Year's WeightView contest, then LEAVE A COMMENT here telling us your opinion of the weightview.com system and how you are doing with your weight loss goals.
This giveaway is open for entry until Friday Jan 30th. We'll announce the winner on Saturday, Jan 31st.
Please make sure to check our site and your email address to see if you have won the prize. We must receive your reply within 5 business days.
This contest is open to US and Canadian addresses but the Wii Fit prize option is only available to US shipping addresses. A Canadian winner will only be eligible for the cash prize.
As previously explained, this second giveaway is limited to participants of the first giveaway. To be eligible for this giveaway you must have entered the original contest posted on January 1st, 2009, by leaving a comment and signing up with weightview.com.
If the winner selects the Wii Fit prize, the Wii Fit will be purchased by weightview.com and shipped to the winner's mailing address. (Shipping charges will be covered by weightview.com.) If the winner chooses the cash prize, the winner can choose to receive $160 USD by check or by paypal.
Please see our site's Terms and Conditions of Use for a complete list of our Contest and Giveaway Rules. This promotion is void where prohibited.