This post may contain affiliate links. Read my disclosure policy here.
Our Christmas Giveaway is well underway and we're showering the blogosphere with toys. But while the Holiday Season is often a time for toys, it's also a time for travel.
Do you have to travel far to celebrate with your family and friends?
Life spreads families throughout the globe and holidays bring them back together. When you're traveling with children and during the busy holiday season, you want to be extra prepared.
If you've got any distance to go, you want to first make a stop at FamilyTravelGear.com. Linda and her husband Kevin are the dedicated owners of Family Travel Gear. They personally hand select each product to ensure that it makes "travel time with the kids easier, safer and a lot more fun!"
Whether you're traveling by car or plane with babies or teens, you'll find the gear you need.
Browsing through their site, you may also discover great stuff you didn't even realize you needed… but you'll be soooo thankful someone else figured it out for you.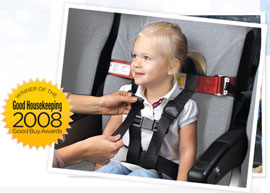 For instance, on their site I discovered the CARES Child Aviation Restraint System.
I've always worried about the safety of my children while traveling by plane, but I had no idea there is a safety solution.
This CARES Aviation Restraint System is designed for "children age 1 and older who weigh between 22 and 44 pounds. These youngsters are old enough to be in their own seats, but are too small for the seat belt alone to protect them."
You'll have peace of mind knowing your precious child is safe. And you'll love how light it is to carry and simple it is to use.
If you have a toddler or preschooler and who will be flying this holiday season, consider the CARES Child Aviation Restraint System.
We have one CARES Child Aviation Restraint System to give to a lucky commenter. Check out FamilyTravelGear.com and then leave us a comment letting us know what product would best help you at travel time.
But don't wait to find out if you won! Stock up on your travel supplies now and if you are the lucky winner, Family Travel Gear will reimburse you for the value of the prize, $62.00 USD.
We'll draw a winner on Saturday, November 29nd.
This contest is open to US and Canadian shipping addresses. Due to legal restrictions, this promotion is not available in Arizona or Quebec. Please see our site's Terms and Conditions of Use for a complete list of our Contest and Giveaway Rules.