This post may contain affiliate links. Read my disclosure policy here.
The other day, I overheard a surprising and profound conversation between my six year old Julia and her 4 year old cousin Olivia that makes me wish we'd all see the world with the wisdom of children…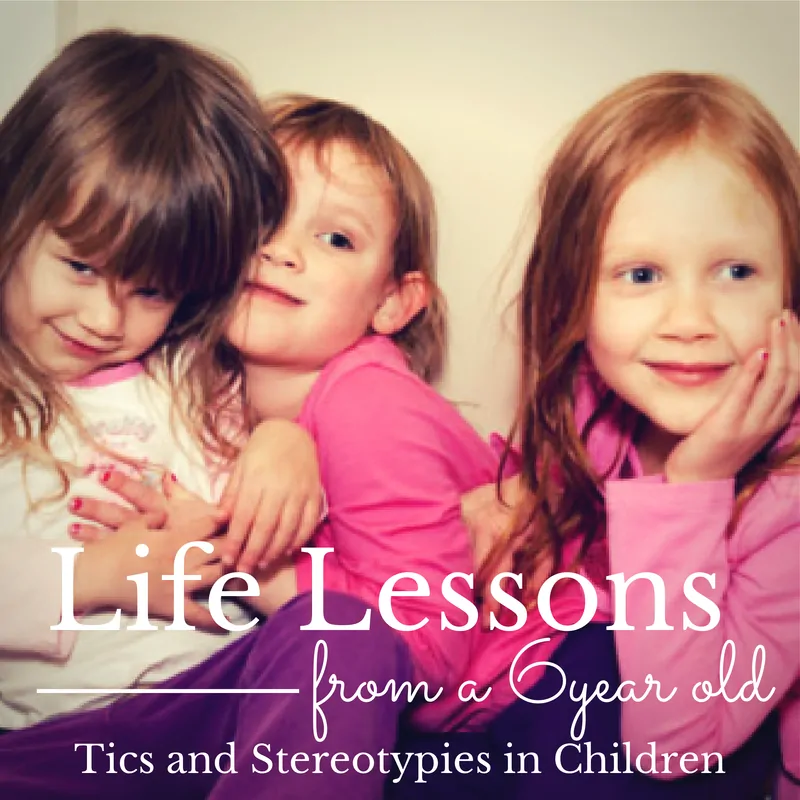 My 4 year old Sophia had been chewing on her shirt sleeves again and I was changing her into a dry shirt.
Julia: "Sophia has a really bad habit of chewing on her shirt sleeves."
Olivia: "That's not a REALLY bad habit. A REALLY bad habit is "ticking".
Olivia has stereotypies which are involuntary repetitive movements often seen in autism spectrum disorders, (such as arm flapping,) and in her case stereotypic movement disorder, which can occur in typically developing children like Olivia.
Olivia's stereotypy is a very noticeable clenching and contorting of her jaw, hands and body — almost resembling a small seizure.
Stereotypy is sometimes called stimming in autism, and while it's technically different than "tics", we often have used the simpler name to explain it to the kids. We sometimes say "Oh that's just her tics."
As soon as Olivia mentioned her "tics", she seemed a little embarrassed, changed her mind and started to make up something else to claim to be a bad habit… but Julia interrupted her…
Julia: "No, ticking isn't a bad habit. It's just part of who you are."
My jaw dropped. Wow.
Me: "Thank you Julia! That is so very true. Thank you for pointing that out. High-Five!"
Julia: "Yeah, a really, really bad habit is SMOKING!"
Me: "Yes, Julia. You are so very right!"
What is Stereotypy? Is it the same thing as Tics?
Unlike tics, stereotypies usually begin before the age of three. In Olivia's case, her stereotypies began as a newborn and were diagnosed shortly after her second birthday. Because Olivia is so young, it has only been in the last year or so that Olivia has understood people talking about her stereotypies or "tics."
2021 Update: Recently we shared what we've learned over the last 10 years about Complex Motor Stereotypies and Stereotypic movement disorder…
Olivia has only referred to her "tics" a few times, but of course Janice, (my twin sister and Olivia's mom,) and I have often worried about how her stereotypies will affect her socialization and her self esteem. To hear Olivia actually refer to them as something that was "wrong" with her was heart breaking, but having Julia meet her insecurities with a confident reassurance made me so grateful.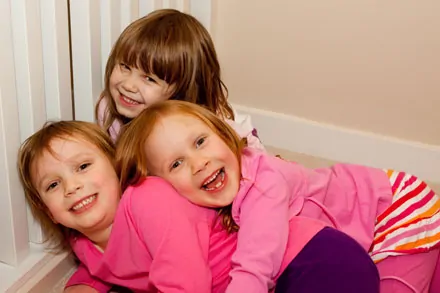 The bond that Olivia has with my girls, Julia and Sophia, is one of Janice and my greatest joys in life. Olivia has a big brother, Jackson, but no sisters. So the opportunity for Olivia to have cousins who are as close to her as sisters of her own, is incredible.
While our girls are so attached to one another and crave each other's company, I realize they will at times wound and disappoint one another as all siblings do.
But hopefully, as Olivia deals with the ramifications of this noticeable "difference" between her and her peers, her cousins will continue to remind her that stereotypy isn't something that is "wrong" with her, it is just part of who she is.
And she is fabulous!
Additional information about tics and stereotypies:

"Like tics, stereotypies are patterned and periodic, and are made worse by fatigue, stress, and anxiety. Unlike tics, stereotypies usually begin before the age of three, involve more of the body, are more rhythmic and less random, and are associated more with engrossment in another activity rather than premonitory urges.

Examples of early tics are things like blinking and throat clearing, while arm flapping is a more common stereotypy. Stereotypies do not have the ever-changing, waxing and waning nature of tics, and can remain constant for years.

Tics are usually suppressible for brief periods; in contrast, children rarely consciously attempt to control a stereotypy, although they can be distracted from one." — Excerpt from Wikipedia

You can also read more about Olivia's diagnosis and an update on Olivia's stereotypic movement disorder in Janice's post, Diagnosis: Stereotypy
UPDATE on Olivia
It has been a few years since I wrote this post. Olivia is now almost seven and is starting second grade next week.
Olivia still has her stereotypies. Her movements are quite challenging for her — any time she has to wait or try to stay still, she is likely to begin the movements. She is not in control of them or when they happen.
It is particularly difficult at school or any time when she is trying to sit or stand still and listen to instructions. When her movements take over, she cannot listen or follow what someone is saying.
Olivia has a great attitude and takes it in stride, but we are obviously concerned how her movement disorder will impact her learning and self esteem.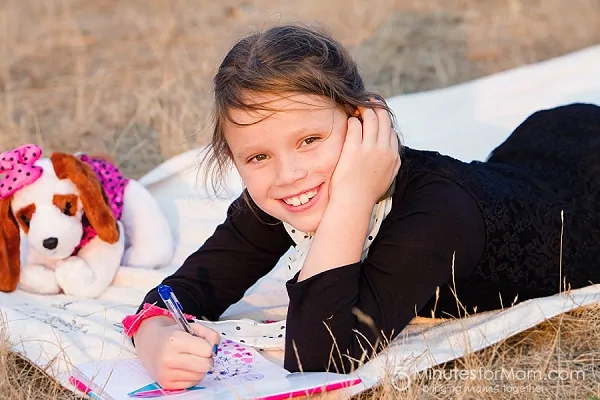 Thank you so much for your concern and interest in our sweet Olivia. We will continue to keep you updated and let you know if we learn more about how to help Olivia and other kids with tics and stereotypies.
Update at Age 13: See how Olivia is doing now…
Written by Susan Carraretto, co-founder of 5 Minutes for Mom.
Wanna chat? Find me at: @5minutesformom, @susancarraretto and Facebook.com/5minutesformom.