This post may contain affiliate links. Read my disclosure policy here.
I hate horror movies. I've never been able to understand why someone would find it entertaining to tease their mind with panic and fear.
There is far too much anxiety and fear toying with me on a daily basis to add any extra in for "fun." (Well – except for roller coasters. After a lifetime of being too afraid to get on one, I discovered that they ARE fun!)
Anxiety attacks have been a part of Susan's life and my life for as long as we can remember, only no one had named them as "panic attacks". We didn't even really know that it wasn't normal to throw up before tests or have our minds spin out of control with catastrophic thoughts.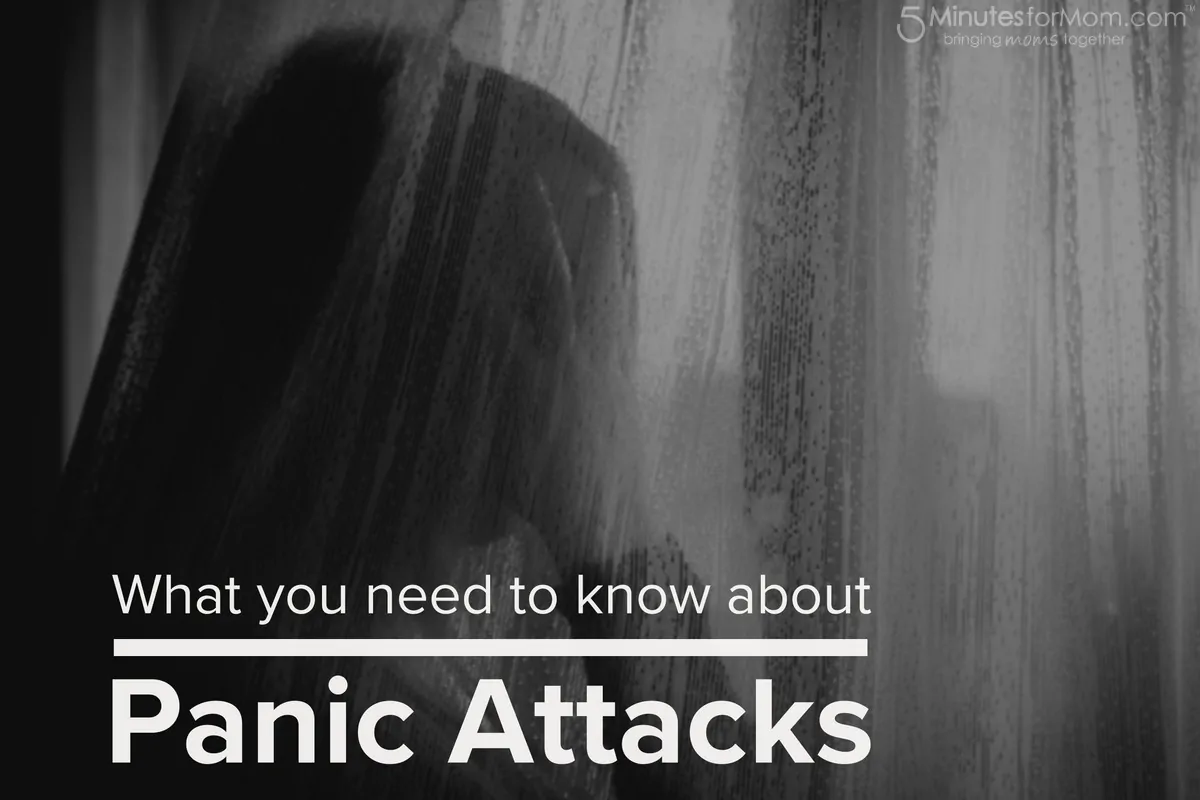 It wasn't until we were adults, diagnosed with depression and anxiety, that we could look back and see that anxiety had been with us all along. And we weren't the only ones. Our other two siblings, our older brother and sister, suffer with them too.
When I got pregnant with my first child, my history with anxiety morphed into full blown, life consuming antenatal depression and anxiety. I discovered what it was like to not have control over my mind, to feel like I could no longer hold on.
In this last decade, I have had my share of panic attacks. And while they are not nearly as severe and terrifying as my twin sister Susan's anxiety attacks, they are debilitating enough!

But a conversation I had with my older brother, when I had my first baby in my arms and my mind was a tornado of fears, has always stuck with me, promising me that I would make it through:
A panic attack is ultimately just fear of fear. It won't kill us, even though we are often sure it will.
The panic attack WILL end.
Sure, we may pass out, throw up, etc., during it. But, as long as we can ensure that we are in a safe place and not able to harm ourselves, we WILL survive it. The tornado will not actually rip us apart.
And when it passes through, we will still be shaken, trembling. Our pain will still be real, our fears still plaguing us. But it won't be as bad as it was in that horrible climax, the center of the attack.
For me, the most terrifying thing in life is fear. The whole, "We have nothing to fear but fear itself," concept does nothing to encourage me because I am AFRAID OF FEAR!
What trips me into a panic attack is the fear that I will not be able to handle the pain of the future. Those fears are unbearable to me.
But even so, I force myself to remember, that the panic WILL end. The center of the anxiety attack will pass through and I will no longer be as afraid as I was during it. It won't kill me. The good part of a panic attack is that it will end eventually.
PLEASE NOTE: If you suffer from anxiety and depression please talk to your doctor and get help! If you had a lump in your breast, you would go to the doctor and get help. So don't deny yourself the medical attention you need for mental illness.
Also, just so you know, in order for Susan and me to be able to endure our panic attacks and live happy lives, we do NEED medication. We are both on medication for our depression and anxiety. Please do not feel ashamed or weak if you need medication. Cause really — who cares if your body requires medication for high blood pressure, diabetes, etc., or for mental illness?!? It is all just taking care of your body with the gifts of modern medicine.
Written by Janice Croze, co-founder of 5 Minutes for Mom.
Find me at: @5minutesformom and Facebook.com/5minutesformom.
Note: We first published this post on Oct 24, 2011. And over the last five years, Janice and I have both endured many more panic attacks. I wanted to share this post again because I think it is so important that people know they aren't alone when they're struggling with anxiety, depression or other mental illnesses.
You may never know which of your friends, family, acquaintances, or even social media followers are battling mental health issues. So please share this and other stories that help people know they aren't alone.
[Tweet "What you need to know about panic attacks…"]