This post may contain affiliate links. Read my disclosure policy here.
I get out of bed and the waves of depression almost knock me over. I want to give in and crawl back into the comfort of my covers.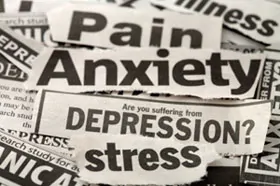 I make my way to my computer and try to focus. The depression keeps crashing over me. I want to give up and go back to bed, but I know giving in isn't an option.
I phone my husband, just to say out loud to someone, "I am soooo depressed."
"Why?" he asks.
"No reason. Just chemical."
And that is the curse with which I live — messed up brain chemistry.
Sure, I am stressed and sad about numerous things. But it isn't situation that rocks me everyday as I sit down to face my to do list. It is chemical.
Like nausea in the first trimester, my depression simply is.
But want to know something even worse?

Anxiety is waiting inside me too. Later in the day it will start burning inside my chest, racing my thoughts, stressing me out.
I will have a hard time staying calm when my ADHD, ODD son starts acting out. I will feel waves of panic as my daughter has fits of tics.

SO you ask — are you TAKING anything for all of this Janice???
Yes, the answer is yes. I just started with a new psychiatrist who is trying out a new medication for me. I have been on Paxil for years. I am still taking the Paxil — but adding Seroquel.
It is messy inside me right now as we play with the dosage. I am not sure about the Seroquel. Not sure at all. But, I will give it a bit more time I suppose.
It definitely is reducing my anxiety and evening out my mood swings. But I feel sedated and weak — exhausted trying to work and be creative.
Which brings me back to the title of this post, "If I tell you I am depressed, does it make you think less of me?"
Susan has written about her anxiety and panic attacks, (she is also on Paxil and Seroquel,) and I have written about my postpartum depression, but I still resist writing about my struggles.
I worry that people will read and judge me, that they will think I am weak and incapable of doing my job.
But I refuse to give into those selfish fears.
Those of us who struggle with depression and anxiety need to know we are not alone. We need to know that there are other strong, capable people out there who are also fighting the same battles.
And those who DON'T struggle with mental illness need to know that just because some of us battle it, doesn't mean we don't win. It doesn't mean we are weak. In fact, we are strong. We fight every day.

So, while some who read this may look at me differently now, I need to write anyway.
Not only does someone else out there need to read this, but in writing it, I just beat back some of those waves and I am breathing a little easier…

YOUR TURN: Do you struggle with depression or anxiety? What was your first thought when you read the title of this post?
Written by Janice, co-founder of 5 Minutes for Mom.
You get our feed right? And please tweet with us — we love to talk with you!