This post may contain affiliate links. Read my disclosure policy here.
My Grandmother killed herself. Or drank herself to death. No one can tell me for sure.
But, after a lifetime of numbing her pain with alcohol, my grandmother was found dead at her kitchen table, empty bottles of pills next to her.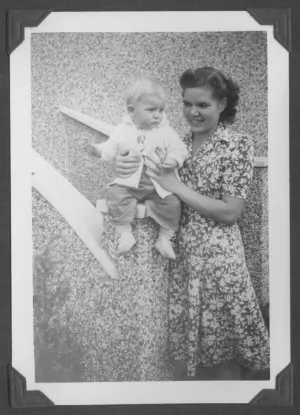 I never met my grandmother from my father's side. I have only seen a few faded pictures of her as a young mother holding her first born (my father) and her as a new grandmother holding her first grandchild (my older sister). All I was ever told about her was that she an alcoholic — a "sick" drunk who took to her bed.
Now, as an adult, I know what was wrong with my Grandmother — as well as what was probably wrong with countless others of my family members, including my late father. It was not hard to figure it out, to look at the patterns, the generations of hurt, knowing now what my siblings and I have inherited.
Chemical imbalances are as prevalent in our family as dimples and freckles are in others. Crippling depression, anxiety and/or panic attacks affect all three of my siblings and myself. (I have even passed the genes on to my own son.)
All of us know what it is like to have our minds betray us, to be knocked over and held to the ground by invisible waves of pain.
And so I am sure that is what my Grandmother faced.
But she was all alone.
No one talked about their emotions in those days. No one understood depression. If anything they were "sent to bed" with a "nervous breakdown," hushed whispers seeping under the door jam, confirming the unspeakable fears. They were crazy, weak, useless, a burden.
I get angry when I think of the world in which my Grandmother lived — a world that kept her in shame. I feel horrified that she had no medication to help her, except what she could find in a bottle of alcohol.
I know that if I didn't live in this world — a place where I can talk about my depression and anxiety, a place where medication exists that allows me to face every day — that I would have probably ended up like my Grandmother, holed up in a bedroom, drinking myself to death.
Because depression and anxiety can be so unbearable, there is no way to endure it alone. It will kill you.
Thankfully, every morning I have little pills that change my world. They adjust the chemicals in my brain so that I can cope — almost as well as the rest of the world.
And even more importantly, there are hundreds of thousands of people now talking about their struggles, sharing their own stories.
It took Susan and I quite a long time to write about our depression and anxiety on this site. Still, we felt judged. What if people thought we were too weak? What if they thought we couldn't run our businesses?
And then we realized what we were doing — how we were contributing to the cycle of shame.
So, we wrote. And we spoke. And we told everyone.
Because we wanted you all to know, that it is okay. It is normal and common and (somewhat) treatable.
I recently was accused of making women look weak by talking about people struggling with anxiety. I was so enraged. It is NOT weakness! It is not the plight of just women either.
The men and women who fight through each day, pushing through the force of depression and anxiety are the furthest thing from weak.
So bloggers keep writing. Keep telling the stories of struggles and pain. Of loss and hurt. Because baby — weakness IS strength.
Written by Janice Croze, Mom Blogger and 5 Minutes For Mom Co-Founder
Stay with us… grab our RSS feed, tweet with us and join our email list.