This post may contain affiliate links. Read my disclosure policy here.

"When God thought of mother, He must have laughed with satisfaction, and framed it quickly—so rich, so deep, so divine, so full of soul, power, and beauty, was the conception." — Henry Ward Beecher
In our youngest years we drink in our mother's love unaware of our good fortune. But the older we get, the deeper we understand the gift.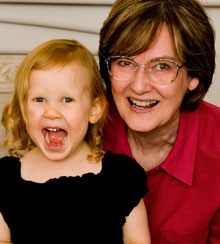 My mother turns 70 this week and for 37 years she has loved and sacrificed for me.
The older we both get, the more I understand her and appreciate all she's done and continues to do for me, my sisters and my brother.
To me, she's a mother, a friend, and a business partner.
She is an inspiration.
Inspire Us With Your Story
Does your mother inspire you? Or is there another inspirational mom in your life?
ARM & HAMMER® has two $200 American Express gift cards to give away, one for you and one for the inspirational woman in your life. You will also receive an ARM & HAMMER® Power Gel laundry prize pack.
Click Here to Enter our Power Of Moms Giveaway.
Written by 5 Minutes for Mom co-founder, Susan.
Oh my gosh… are you NOT on our email list? You better get on it now!