This post may contain affiliate links. Read my disclosure policy here.

No influence is so powerful as that of the mother.
– Sarah Josepha Hale
As I write this post, I am sitting at the kitchen table at my parents' house, where I came to visit for the Thanksgiving holiday. The trip took some unexpected turns, as we had to have my mom rushed to the hospital on my first morning in town.
She was having an awful seizure. It was horrible to witness. A vision that I am fairly certain will always stay with me.
Hospital stays seem to be a pretty common occurrence for my mom, who has battled Multiple Sclerosis for the past twenty-one years. Last year she suffered a mild stroke that almost claimed her life. Since then she has been in and out of the hospital, about every three months or so, due to violent seizures.
What amazes me is her strength and humor. As she struggled to recover this week from the seizure, she was having a difficult time trying to speak. She kept laughing it off, with a smile on her face, as she babbled what sounded like nonsense.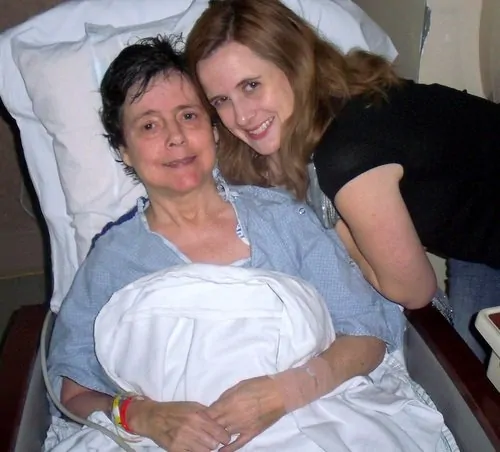 It's the same upbeat spirit that she has had since receiving the Multiple Sclerosis diagnosis.
The diagnosis was handed down at the young age of 38. Soon she was horribly fatigued, in constant pain, and caught off guard often, as some mornings she would wake up unable to see or walk.
Today, her bladder no longer functions normally. She needs a walker or scooter to get around, and usually needs my dad or caregiver to feed her. Her short term memory is also pretty much shot. I compare it at times to the same deterioration that can be seen in Alzheimer's patients. She will forget who she is, where she lives, who my dad is, who I am.
Thankfully, my mom has spunk. She laughs at herself and smiles even while struggling. She amazes me. She is a true inspiration. I am proud to call her, my mom!
Is there an inspirational mom in your life? Share your story and win!
ARM & HAMMER® wants to hear about the powerful women that you are inspired to know.

In what ways does she show strength? How does she touch lives? What does she do that makes her stand out from the rest?

Share your story in your own blog post or in the comments section below. If you would like to keep your story private, you can email your story to us as well. Send the email to info(at)5minutesformom(dot)com.

If you share the inspirational story in a blog post, please use the linky below to link to your post.
ARM & HAMMER® has two $200 American Express gift cards to give away, one for you and one for the inspirational woman in your life. You will also receive an ARM & HAMMER® Power Gel laundry prize pack.
You Must Comment in Order to Win
To enter to win, you MUST leave a comment in the comments section below. We will draw randomly from the comments section. If your story is emailed to us or shared on your blog, be sure to leave a comment for your entry. You can simply write in the comments section that your story was emailed or posted, and you will be all set.
You have until Friday, December 30th to share your story. Our winner will be drawn and announced on Saturday, December 31st.
Take a Button
Feel free to include this Power of Moms button in your blog post or on your sidebar, to link back to our Power of Moms post. This isn't required, but buttons are always fun, right?
Here's the code:

This giveaway is part of a paid campaign with ARM & HAMMER®. Thank you ARM & HAMMER® for supplying a total of $400 in gift cards, as well as a laundry prize pack for our winner.
ARM & HAMMER® Power Gel Laundry Detergent, America's first gel detergent, is tough! ARM & HAMMER® Power Gel Laundry Detergent is unique since it unites trusted ARM & HAMMER® Baking Soda with the strength of twice the OxiClean® stain fighters. This powerful combination works by removing odor and grabbing and eliminating even the toughest stains. The gel detergent easily dissolves in the wash and rinses clean, without leaving residue behind."
Link Up
This post was written by 5 Minutes for Mom contributing editor, Erica.