This post may contain affiliate links. Read my disclosure policy here.
Moms aren't the only ones rocking the internet these days…
Grandmothers are doing it too!
Most of you probably don't know that Susan and I have a secret weapon — a tool more powerful than Susan's software background, a resource more valuable than Susan's techie husband, we have OUR mom!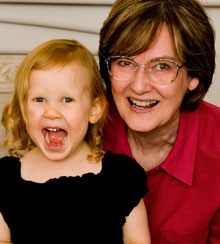 Our mom, Joan Winter, is our business partner and the reason we are online talking to you right now!
After our father's sudden death in 1998, our mom found herself in a whole new world. After working with my father for more than twenty years, she was suddenly retired and alone. She sold her house and moved out to the suburbs to be near her grand kids.
But then, when the economy started to slump and her retirement fund was not performing as planned, Joan came up with a crazy idea to open e-commerce stores. She researched and did market analysis for a year and then started building. When she hit her technological limit she hollered for Susan. Soon after, I quit my job to join their team and work at home too.
Today, our 68 year old mother isn't relaxing on a beach or out for lunch with the ladies from church. No, Joan is in New York, trekking from booth to booth at the world's biggest Toy Fair, searching out new toys to add to our two online stores, www.PedalCarsAndRetro.com and www.A-Rocking-Horse-To-Love.com.
While Susan and I often feel guilty that our beloved mom isn't kicking back and enjoying her retirement years, we are thrilled and so proud of all she — and all the other grandmother entrepreneurs out there — are accomplishing.
Yesterday, Joan had a very special meeting with two other talented grandmothers who aren't slowing down just because they have hit their retirement years — the legendary Lennon Sisters!
With a dozen years of performing on the Lawrence Welk show, the Lennon Sisters went on to star in their own television variety show and have sung for seven U.S. Presidents. Today, Kathy and Janet, together with their younger sister Mimi, perform for thousands of fans in Branson, Missouri where they share special childhood memories and sing their favorite famous harmonies on stage. Their celebrity has lasted for over 50 years. The Lennon Sisters are true American Legends.
As Joan neared their booth, she heard their familiar voices and saw their heirloom dolls. "It brought me right back to the fifties…" my mom told me on the phone today, "Their dolls are just incredible, beautifully replicated versions of their own handmade dolls that they had on display."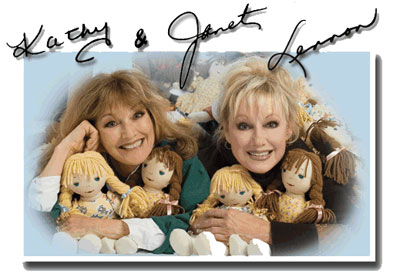 Yes, Kathy and Janet Lennon, of the Lennon Sisters, are also hard at work at the New York Toy Fair. They are introducing the latest additions to their awarding-winning Best Pals line of children's music, soft rag dolls, paper dolls and play sets. (They also helped Joan get to the Toy Fair this year with a sponsorship that helped pay a portion of Joan's travel fees.)
"We are thrilled with the response to our line, and are excited about sharing our newest introductions at Toy Fair," stated Kathy Lennon. "It is also gratifying to us to realize our dream of bringing a product line to market that is sweet and wholesome, and to have it recognized for its play value."
Among the introductions is a new children's music CD entitled Best Pals Sing Together. The CD also features two brand new original songs, written by Janet's husband John Bahler and 9-year old granddaughter Lia! On the CD, Kathy and Janet sing with Janet's three granddaughters Lia (age 9), Ana (age 7) and Jenna (age 4), who also perform with them on stage in Branson, Missouri annually. YES – another family business!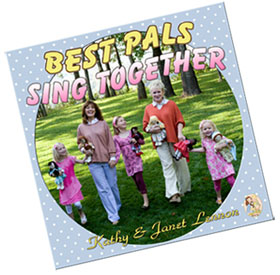 The Best Pals line was designed to offer children, and the people who purchase gifts for them, a wholesome alternative to many products in the marketplace today. The soft ragdolls are based on a set of dolls that were given to Kathy and Janet Lennon in 1949, which were handmade for them by their mother and their Nana.
Joan was so impressed with the Best Pals line, she is planning on adding them to our store's line this spring! We will be honored to carry such classic, timeless toys — so lovingly created by Kathy and Janet Lennon.
AND – guess what – if you want to WIN their latest CD, head over to 5 Minutes for Giveaways. Five commenters will receive their own copy of Kathy and Janet's latest CD, Best Pals Sing Together.
So head over and enter to win. AND also head over to the Lennon Sister's site to get a closer look at their beautiful line, especially their incredible dolls! What a wonderful gift idea for a little girl!
Thanks so much Kathy and Janet for your incredible line and for taking the time to visit with Joan at the Toy Fair. AND thank you Joan for all you do for our stores!

Grandmothers are the best kind of mothers!